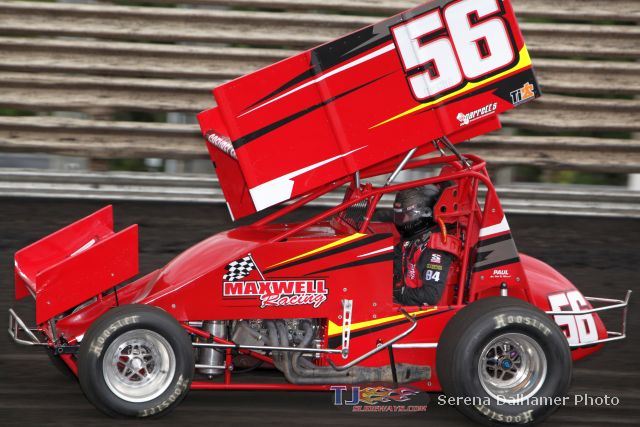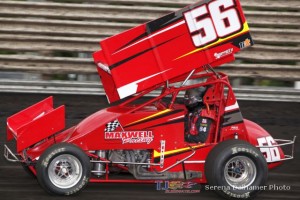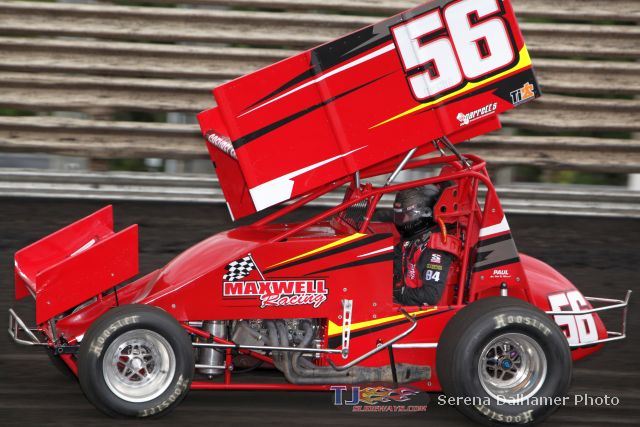 From Greg Parent, Terry Lehnertz and Sarah Lehnertz
St. Croix Falls, WI — (July 26, 2013) — A passing rain shower momentarily dampened the spirits of the crowd at St. Croix Valley Raceway as a mini-burst arrived just as Friday's Thunder in the Valley #4 was set to begin.  But the rain quickly ended and the subsequent rainbow to the track's east set the stage for an evening filled with excitement for the first annual Dan Grams Memorial featuring the Upper Midwest Sprintcar Series (UMSS) winged sprint cars, with whom Grams often competed during his career.
A strong field of 25 winged sprints was on hand for the first running of the UMSS Dan Grams Memorial.  When the final double checkers waved, Davey Heskin of St. Michael, Minnesota hustled his Donnahue Motorsports sprint car around the 1/4 mile dirt oval to record his first UMSS sprint car feature victory and become the first winner of the UMSS Dan Grams Memorial.  It was Heskin's birthday, and he certainly gave himself a fine present with a feature race victory.  The win was not without some anxious moments for Heskin though, as the pace was slowed under caution on several occasions for minor altercations or spins.  With about five laps remaining in the 26 lap feature, Brooke Tatnell attempted to pass Heskin with a slide job going into turn one.  Heskin waited patiently for Tatnell to clear, then immediately turned down under him to retake the lead exiting turn two.  Heskin led all 26 laps en route to his inaugural series win and the $1,313 payday.
With several members of the Grams family in attendance, Lowell Grams brought his son Dan's #13 sprint car to the track and it was parked in Victory Lane prior to feature race action.  A smiling Heskin presented the commemorative Dan Grams Memorial poster-style print from Track Rat Photos to Lowell following the post-race celebration with Dan's sprint car serving as the backdrop to Victory Lane.  Heskin made sure to autograph the print afterwards, in what was a class move on his part to help honor the memory of Dan Grams.
Following the usual double round of qualifying races that the UMSS utilizes, Brooke Tatnell was high point driver.  Tatnell redrew the #6 pill putting Heskin and Rick Kobs on the front row.  With the race distance being twice the number of Dan Gram's #13 sprint car, 20 drivers were set to do battle for 26 racing laps.  Heskin immediately got the lead from his pole starting spot, as he locked his sprint car into the cushion up top.  A series of five yellows waved in the first half of the race.  At the halfway mark, Heskin held the top spot over Kobs, two-time 2013 winner Scotty Thiel, Tatnell, and Jason Tostenson.  By the time the final caution blinked on with 17 laps scored, Tatnell had moved to second for what would be the final nine lap green flag run to the finish.  Tatnell, the leading winner in UMSS history, was just returning to action after sitting out about a month with a broken foot and was looking for his third UMSS win of the season.
Tatnell stayed close to Heskin and made the one failed attempt to gain the top spot.  Shortly after that, the track took some rubber up top and Heskin was able to hold off Tatnell for the win.  In the final nine laps, Tostenson drove a strong race to finish third ahead of Thiel and Tony Norem.  After spinning on the opening lap, Norem restarted 19th and made a tremendous charge forward to the top five.  Rounding out the top ten finishers were Kobs, current UMSS point leader Chris Graf, Tony Kaus, Ryan Wilson and two-time UMSS Champion Jerry Richert, Jr.
Ultimate Sprint Heat race wins went to Heskin, Kobs and Jared Goerges.  Tatnell and Norem topped the two Challenge Races.  Lee Grosz had a throttle stick open entering turn three in his heat race and ended upside down in turn four.  Although the damage to the 4J car did not appear too serious, Grosz was done for the evening.  Various mechanical gremlins kept Jordan Wilmes, Sye Anderson, Joseph Kouba and Brandon Allen from making the 20-car starting grid for the main event.
It was an emotional night for several UMSS competitors, as Jason Tostenson, Chris Graf, Brandon Allen, Jordan Wilmes, and Cam Schafer had raced with Dan Grams on numerous occasions primarily at Arlington and Redwood Falls.  Tostenson and Grams were close personal friends, and Jason practically drove the wheels off his #36 sprint car in an effort to get to the front.  In the end, Tostenson ranked highest amongst those drivers who had raced quite a bit with Grams.  Tostenson also drove several parade laps in the Grams #13 sprinter during intermission.  Several members of the Grams family were in Victory Lane during the break to have their photos taken following a brief tribute to Dan Grams on behalf of the UMSS.
Prior to the featured sprint car attraction, the Pure Stocks did their best to warm the crowd that endured unseasonably chilly north winds with some hot, heart-pounding action.  Second heat race winner Jason Havel and Tim Baxter paced the field to green and Havel got the early jump on Baxter and led in the early going.  Baxter, a feature winner two weeks ago, kept Havel honest with a series of high-side attempts around Havel, but Havel was equal to the challenge each time.  Behind the battle for the lead, Krysta Swearingen was putting on a driving clinic.  Swearingen, who grenaded her power plant last Thursday, suffered more mechanical woes in her heat race and had to start the feature in the last row.  Within a few laps, Swearingen was already up to fifth place and sizing up first heat race winner Ben Kaphing for fourth.  With Havel continuing to fend off Baxter, Swearingen had dispatched Kaphing and "Jet Lag" Wigchers and began reeling in the lead duo.  With five laps to go, it was a three car battle for the point, and with three circuits left, Swearingen worked around Baxter for second place.  Fending off all challenges, Havel went on to win his fifth of the year over Swearingen, Kaphing, Robert Thompson and Wigchers.
Three of the seven starters in the Future Four main event were women, and one of the three came within a few hundred feet of winner her first feature.  Derek Reding and Nickin DuBois brought the field to green and Reding got the early jump on the field, leading the first two laps.  On the third lap, DuBois powered to the front and a lap later, fourth-starting Damon Roberts charged by Reding as well.  Through the white flag and beyond, DuBois masterfully drove her #62 in front of Roberts, already the owner of three feature wins this season.  The leaders were side-by-side through the last set of turns and just a few feet was the margin by which Roberts bested DuBois at the stripe.  Reding came home third in front of Dylan Roberts and Brock Anderson.
The first of three UMSS divisions to compete on the evening were the Micro Sprints with Bryan Patrick and July 13 winner Allison Berger on the front row.  Quickly vaulting from row three to the point was three-time winner Ty Sampair in his #64 micro, and once there, Sampair was determined to stay there after failing to complete the heat race after leading in the early going.  Fourth-starting Collin Olson was closely tailing Sampair for a few laps, but Sampair was on a mission and eventually pulled away to win by more than a straightaway over Olson, Patrick, Berger and heat race winner Sandy Traaseth.
The WISSOTA Midwest Modified Feature still another thriller in a class that seems to have a penchant for racing three and four cars wide, cleanly, on a weekly basis.  Kyle Hallin and Jim Giossi brought the Mods to green with Giossi showing the way for laps one and two.  On the third circuit, Josh Bazey took over the point while Giossi, Ryan Olson, Vince Corbin, Mitch Weiss and Joe Chaplin Jr. fanned out across the breadth of the racing surface looking for speed.  Olson tried myriad grooves, constantly testing low and high for a path around Bazey while Bazey was pushing his #55 to its limits.  With seemingly the rest of the field battling behind them, Olson and Bazey settled into a one-two battle for the lead.  With two to go, Olson finally found a path around Bazey and was heading for the win when the caution waved, re-bunching the field for two lap dash to the finish.  On the restart, Olson was able to maintain the point and pick up is second SCVR win of the summer while Corbin nipped Bazey at the line for second.  David Mastell and John Remington rounded out the top five.
The penultimate race on the night featured the non-winged UMSS Traditional Sprints, with Katrina Sautbine and Johnny Parsons setting the pace.  Sautbine, looking for her third TSCS win led for the first five laps before Parsons took over, trying to score his third win of 2013 as well.   Mike Mueller, who picked up his first career TSCS win when the series visited Granite City Speedway in Sauk Rapids, Minnesota, last Sunday, was running the low groove with Sautbine and Parsons, while series points leader Rob Caho Jr. was running in his comfort zone – high, pushing off the cushion.  At the race's midpoint, Caho's high-side hustle paid off as he edged in front of Parsons to take over the lead.  With neither line showing a clear advantage, the middle of the track was clear as the racers meticulously stuck to their respective low and high racing grooves.  Caho and Parsons were tussling for the win, while Sautbine, Brian VanMeveren, Cam Shafer and Mueller all attacked their preferred lines.  At the final double checkers, Caho claimed the trophy over Parsons, Mueller, VanMeveren and Shafer.
Friday night, August 2, The Valley is back in action with the Big Bike Giveaway/Ultimate Kids Night, with activities for young fans to accompany the several bikes to be given away to junior fans.  The big fireworks display that was planned for the rained out June 21 Fireworks Spectacular will also be part of the Ultimate Kids Night event.  All five regular classes will complete along with the Northern Vintage Stockcar Racers (NVSR), with racing set to begin at 7:05.  More information can be found on the track's website, www.SCVRaceway.com, or on their Facebook page.
Race summary (unofficial)
Pure Stocks: Heat 1- Ben Kaphing, Jon Wigchers, Brad Peterson, Casey Ogilvie, Krysta Swearingen. Heat 2- Jason Havel, Robert Thompson, Tim Baxter, Mason McEvers, Kaylee Remington.
Feature – Jason Havel, Krysta Swearingen, Ben Kaphing, Robert Thompson, Jon Wigchers, Brad Peterson, Casey Ogilvie, Kaylee Remington, Mason McEvers.
Future Fours: Heat – Damon Roberts, Derek Reding, Dylan Roberts, Nicki DuBois, Brock Anderson, Alex Hallin, Kayla Lallier, Natalie Rogers.
Feature – Nicki DuBois, Derek Reding, Dylan Roberts, Brock Anderson, Kayla Lallier, Natalie Rogers, Alex Hallin.
UMSS Micro Sprints: Heat – Sandy Traaseth, Allison Berger, Bryan Patrick, Collin Olson, Ty Sampair.
Feature – Ty Sampair, Collin Olson, Bryan Patrick, Allison Berger, Sandy Traaseth.
WISSOTA Midwest Modifieds: Heat 1 – Ryan Olson, Josh Bazey, Joe Chaplin, Kyle Hallin, Kevin Schmidt, Greg Arnt, Doug Toepper. Heat 2 – Vince Corbin, John Remington, Jim Giossi, Mitch Weiss, Kevin Marlett, David Mastell, Tony DuBois, Jared Gorka.
Feature – Ryan Olson, Vince Corbin, Josh Bazey, David Mastell, John Remington, Mitch Weiss, Kevin Schmidt, Doug Toepper, Greg Arnt, Kyle Hallin, Kevin Marlett, Joe Chaplin Jr., Jim Giossi, Jared Gorka, Tony DuBois.
UMSS Traditional Sprints: Heat 1 – Rob Caho Jr., Brian VanMeveren, Johnny Parsons, Jimmy Kouba, Mike Mueller, Jake Hendrickson, Denny Stordahl. Heat 2 – Cam Shafer, Jack Clark, Katrina Sautbine, Ryan Olson, Kevin Bradwell, D Taubert.
Feature – Rob Caho Jr., Johnny Parsons, Mike Mueller, Brian VanMeveren, Cam Shafer, Katrina Sautbine, Jimmy Kouba, Ryan Olson, Denny Stordahl, Jake Hendrickson, Jack Clark, D Taubert, Kevin Bradwell.
UMSS Winged Sprints:  Ultimate Heat 1 – Davey Heskin, Jennifer Eriksen, Jason Tostenson, Jerry Richert Jr., Cody Hahn, Sye Anderson, Joseph Kouba, Kevin Bradwell, Reed Alex.  Ultimate Heat 2 – Rick Kobs, Scotty Thiel, Niel Matuska, Dave Becker, Tony Norem, Ryan Wilson, Gunner Cummings, Jordan Wilmes.  Ultimate Heat 3 – Jared Goerges, Chris Graf, Brooke Tatnell, James Broty, Brandon Allen, Tony Kaus, Anna Kouba, Lee Grosz.  Challenge Race #1 – Brooke Tatnell, Jason Tostenson, Scotty Thiel, Ryan Wilson, Davey Heskin, Cody Hahn, Anna Kouba, Joseph Kouba, Reed Alex, Jared Goerges, Brandon Allen, Dave Becker, Jordan Wilmes.  Challenge Race #2 – Tony Norem, Chris Graf, Tony Kaus, Rick Kobs, Neil Matuska, Jennifer Eriksen, Gunner Cummings, Kevin Bradwell, James Broty, Sye Anderson, Jerry Richert Jr., Lee Grosz (DNS).
First Annual Dan Grams Memorial Feature (26 laps) – Davey Heskin, Brooke Tatnell, Jason Tostenson, Scotty Thiel, Tony Norem, Rick Kobs, Chris Graf, Tony Kaus, Ryan Wilson, Jerry Richert Jr., Dave Becker, Gunner Cummings, Cody Hahn, James Broty, Anna Kouba, Reed Alex, Jared Goerges, Kevin Bradwell, Neil Matuska, Jennifer Eriksen.