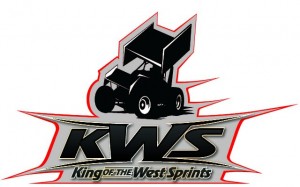 Round 14 at Stockton 99 Dirt Track
Stockton, California – Saturday August 3

What:
The King of the West 410 Sprint Car Series will continue the battle for the season long championship this Saturday night at the brand new Stockton 99 Dirt Track. It marks the debut of the KWS Winged 410 tour at the much talked about speedway and serves as Round number 14 in the 2013 campaign. The series will also return to the track on November 2 for the season finale & championship night that will crown the "King of the West."
We will feature a pre-race meet & greet from 5pm to 5:45pm this Saturday just inside the grandstand entrance with individuals scheduled to appear including 13-time series Champ Brent Kaeding, Tri-C Machine driver Willie Croft, 7-time NARC Champion Leroy Van Connet, young gun Dominic Scelzi and 4-time NHRA World Champion Gary Scelzi. It will be your chance for autographs, photo opportunities and for any questions you may have about the cars and the sport in general, even drag racing!
Fresh off his third King of the West win of the year Sacramento's Kyle Hirst will invade the Stockton 99 Dirt Track looking to increase his lead in the series standings, which currently stands at 30-markers over Jonathan Allard. The 25-year-old driver dominated the action last Saturday at Santa Maria Speedway in Dennis & Teresa Roth's potent No. 83jr machine. Overall Hirst has finished among the top-five in 10 of the 13 events held thus far, showing definite championship consistency in the famed HR Livestock Transportation Sprinter.
Chico's Jonathan Allard has claimed three of the last five King of the West 410 events held and will be searching to put Morrie & Katie Williams' ZERO Sprint Car in victory lane at the Stockton 3/8 mile clay oval. The three-time & defending series champion leads the tour in wins, having scooped up four victories in the first 13 races contended. In fact, no Winged 410 Sprint Car driver on the west coast has more wins than Allard in 2013, with him possessing nine victories, including his fourth career Dirt Cup, which paid $20,000.
Sacramento's Willie Croft, in his first season driving for Clyde & Marion Lamar, picked up a victory at the Stockton 99 Dirt Track on June 21 during a non-sanctioned 360 Sprint Car event and will be gunning to duplicate that performance when KWS invades the track on Saturday. The driver known as "Double Down" has wheeled the Lee Lindgren wrenched Tri-C Machine to eight top-five finishes throughout the first 13 King of the West 410 Sprint Car Series events of the season and currently ranks third in points.
Former "Trophy Cup" winner and fourth place driver in the standings Craig Stidham will be looking for his first King of the West 410 Sprint Car Series win of the year on Saturday. The Fresno driver has been solid in 2013 and picked up a runner up finish on July 20 in Antioch aboard his Brad Johnson Trucking No. 3 mount. Stidham last week set his second BR Motorsports Fast Time of the season and rebounded in the feature to come from last to ninth, after getting into a spin during warm up laps.
Past Golden State/ King of the West 410 Sprint Car Series champ Jason Statler has moved to the top-five in points and is coming off his second top-five effort in the last three events. The Grass Valley wheel-man has began to pick up steam during recent weeks in his familiar DF Rios Motorsports No. 00 Sprinter and will be a driver to look at on Saturday at the Stockton 99 Dirt Track. Statler set fast time at the 3/8 mile clay oval in June and was one of a handful of drivers who tested at the facility prior to its debut in March.
The legendary Brent Kaeding will make his Stockton 99 Dirt Track debut on Saturday as he guns for his first King of the West 410 Sprint Car Series win of the year. The National Sprint Car Hall of Famer currently ranks sixth in the KWS point standings, but is just 10-markers back of fifth running Jason Statler. Kaeding is coming off an eighth place finish last weekend in Santa Maria and will be looking to move his way up the order in Stockton aboard the famed Al's Roofing Supply No. 69 Sprint Car.
Other top-10 drivers in the points that have traveled all season long with the series and set to tackle the Stockton 99 Dirt Track will include Oakhurst's Doug Gandy, Grass Valley's Carl Droivold and Fair Oaks Chad Compton. Also expected to be on hand will include Fresno's Dominic Scelzi, Scotts Valley's Evan Suggs, Elk Grove's Bobby & Sean McMahan, Laton's Geoffrey Strole, Visalia's Cory Eliason, Auburn's Richard Brace Jr., Grass Valley's Pat Harvey, Fresno's Carson Macedo, Hanford's DJ Netto, Chico's Brad Bumgarner, Corning's Bud Walberg, Australian Michael Cunningham, Merced's Mark Barroso and more.
When:
The front gate at the Stockton 99 Dirt Track will open at 5pm on Saturday August 3 with qualifying around 6:30pm and racing anticipated to start at about 7pm. The pit gate will open at 1pm to allow teams to sign in and get parked. Extra staff will be at the pit gate to alleviate any long lines.
Where:
The Stockton 99 Dirt Track is located on the San Joaquin County Fairgrounds in Stockton, California and is built inside a one-mile horse track. The physical address is 1658 S Airport Way, Stockton, CA 95206 and for a map click http://www.sanjoaquinfair.com/mapsdirections.html
Pit parking is located through the gate off of Martin Luther King Blvd/ Charter Way. Due to a number of events going on at the fairgrounds, spectator parking will be in lot B off of B Street (B Street runs along the backstretch of the one-mile track & the parking lot is located off of turns one & two). There will be signs located around the area giving directions to the spectator parking area. Parking during the night will also be at a reduced rate of $5.
Tickets:
Adult tickets will cost just $20, seniors & military will be $15, kids six to 12 will be $10 and children five and under free. Pit passes will be $40 for KWS members and $45 for non-members.
On the Internet:
King of the West Sprint Car Series-
Official Website- http://www.kwssprints.com/
Facebook- http://www.facebook.com/kingofthewestsprints
Twitter- http://www.twitter.com/KWSSprintRacing
You Tube- http://www.youtube.com/user/kingofthewe … ature=mhee
Instagram- kwssprints
About the track:
The lightning fast 3/8 mile clay oval provided some thrilling moments earlier this year during its grand opening on March 22 with the World of Outlaws Sprint Car Series. The main event saw a couple of former Golden State/ King of the West 410 champions duke it out for the win, with 2010 series titlist Kyle Larson coming out on top of a nail biter over two-time series champ Tim Kaeding.
The grandstands and facility is one of the nicest on tour with the King of the West 410 Series & it certainly makes for a Sprint Car racing fan experience like no other. Following the World of Outlaws event in March the track was featured in various national publications and has been the talk of the sport throughout the state of California. Following the August 3 event the King of the West 410's will also return on November 2 for championship night.
Top-15 in driver standings after 13 rounds of competition:
1. Kyle Hirst 1973; 2. Jonathan Allard 1943; 3. Willie Croft 1918; 4. Craig Stidham 1828; 5. Jason Statler 1706; 6. Brent Kaeding 1696; 7. Peter Murphy 1575; 8. Doug Gandy 1446; 9. Carl Droivold 1441; 10. Chad Compton 1439; 11. Dominic Scelzi 1398; 12. Geoffrey Strole 1368; 13. Richard Brace Jr. 1312; 14. Pat Harvey 1280; 15. Rico Abreu 1239
Winners so far this season with the King of the West 410 Sprint Car Series:
Antioch Speedway April 20: Willie Croft
Placerville Speedway April 27: Kyle Hirst
Silver Dollar Speedway May 4: Rico Abreu
Petaluma Speedway May 11: Willie Croft
Reno Tahoe Fernley Speedway May 17: Rico Abreu
Reno Tahoe Fernley Speedway May 18: Jonathan Allard
Tulare Thunderbowl Raceway May 25: Jason Meyers
Tulare Thunderbowl Raceway May 26: Jason Meyers
Placerville Speedway June 29: Jonathan Allard
Reno Tahoe Fernley Speedway July 6: Kyle Hirst
Ocean Speedway July 13: Jonathan Allard
Antioch Speedway July 20: Jonathan Allard
Santa Maria Speedway July 27: Kyle Hirst
Upcoming King of the West events:
Next weekend will now feature a one night show at the Reno Tahoe Fernley Speedway on Saturday August 10. The KWS 410 portion of the Friday event scheduled has been canceled, as has the remaining two Friday shows at Fernley on September 13 and October 25. The Saturday events on September 14 and October 26 will still be run as scheduled.