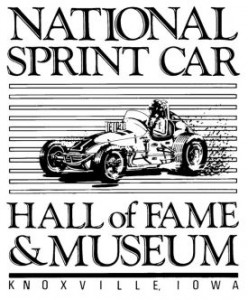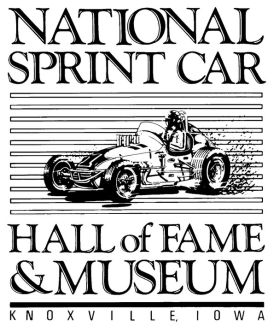 From Bob Baker
Knoxville, IA — (August 1, 2013) — This year's "Salute to Champion Mario Andretti" special exhibition is now ready for viewing at the National Sprint Car Hall of Fame & Museum in Knoxville, Iowa.  The display, consisting of seven cars that the National Sprint Car Hall of Fame inductee drove during his illustrious career, will be in the non-profit museum through December 31.  It follows similar six-month exhibitions honoring Tony Stewart (2011) and Jeff Gordon (2012).
According to museum curator Thomas J. Schmeh, "I have to thank both Mario Andretti and his administrator Amy Hollowbush for their incredible enthusiasm, and patience, throughout this long planning process.  I also give my sincere appreciation to the current owners of the classic Mario Andretti-driven race cars that we have on display:  Lawrence Auriana, with Mark Auriana, Dan Gold and Peter Leahey; Marlin Heller; Tom Malloy, with Jeanne Caliva; Bob McConnell; Lynn Paxton; Darrell Waltrip, with Van Colley; and Jim York, with Pat York.  Words cannot truly express my sincere gratitude to all of these generous people."
The seven cars currently on display through the end of the year are:
–          Bob Ellis-owned, Cadillac-powered Fuel Activator Special #35 URC Sprint Car;
–          Charlie Sacks-owned, Chevrolet-powered #18 USAC Sprint Car;
–          Rufus Gray-owned, Gapco Special #83 USAC Sprint Car;
–          Al Dean-owned, Dean Van Lines-sponsored, Front-Engine #12 Indy Car Roadster;
–          Bunnell Motor Company-sponsored, Holman-Moody-owned, Ford Fairlane #11 NASCAR Stock Car;
–          STP-sponsored, Grant King-built, Ford-powered #1 USAC Dirt Championship Car; and
–          STP-sponsored, U.E. "Pat" Patrick-owned 'Wildcat III' #40 Indy Car.
Schmeh continued, "The Fuel Activator Special is restored to how it looked when Ted Horn drove it as the famed 'Baby' big-car, and Mario's Daytona 500-winning car is restored to how it looked three years later when it was Darrell Waltrip's first NASCAR Cup car.  However, as part of the display, we also have a replica of that stock car as it looked in 1969 at Daytona Beach.  I think museum visitors will enjoy all of the cars that are on loan to us."
Those seeking additional information can visit the museum's web site at www.sprintcarhof.com.