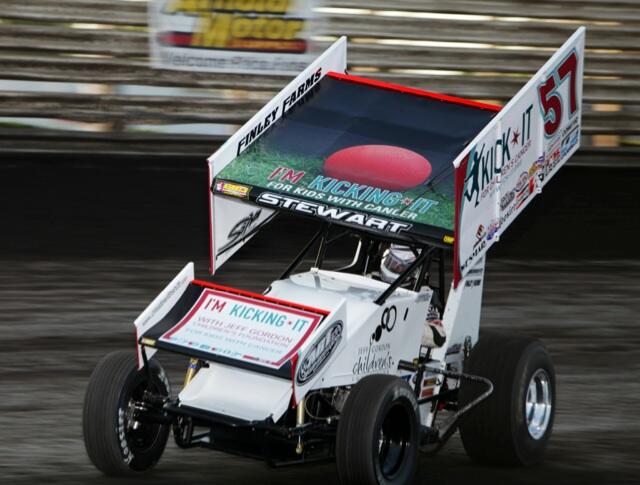 From Bob Baker
Knoxville, IA — (August 3, 2013)  —  With his win in the finale of the Arnold Motor Supply 360-cubic-inch Knoxville Nationals on Saturday at Knoxville Raceway, 2003 and '04 "Mr. Sprint Car" Shane Stewart has taken the lead in the 2013 Cox Design & Metal Fabrication Iowa Speed Week point standings.  Larry Ball, Jr., also won tonight's winged 305-cubic-inch sprint car feature.  Night number four is Sunday, August 4, with the Ralph Capitani Classic for open-competition winged 410-cubic-inch sprint cars.
The unofficial top ten in the 2013 Cox Design Iowa Speed Week points after three nights is as follows:  1., Shane Stewart, 99 points; 2., Kyle Larson, Kevin Swindell, 97 points (tie); 4., Danny Lasoski, 95 points; 5., Brad Sweet, 93 points; 6., Brian Brown, Wayne Johnson, 91 points (tie); 8., Clint Garner, Jason Johnson, 87 points (tie); 10., Justin Henderson, 86 points.
The Cox Design & Metal Fabrication Iowa Speedweek includes ten straight nights of sprint car racing between Knoxville Raceway and the Southern Iowa Speedway.  The top three places pay $2,500, $1,000, and $500, respectively, with the winner declared the Jesse Hockett "Mr. Sprint Car" titlist.  Past "Mr. Sprint Car" titlists include Ricky Logan (2002) of Arkansas, Shane Stewart (2003, '04) of Oklahoma, Billy Alley (2005) of Nebraska, Jason Johnson (2006) of Louisiana, Wayne Johnson (2007, '08) of Oklahoma, Terry McCarl (2009) of Iowa, Sammy Swindell (2010, '11) of Tennessee, and Kyle Larson (2012) of California.