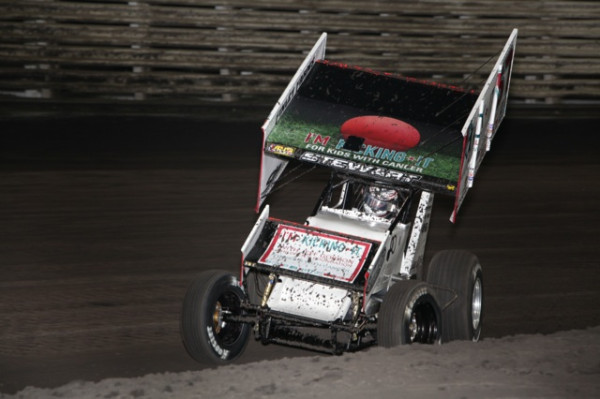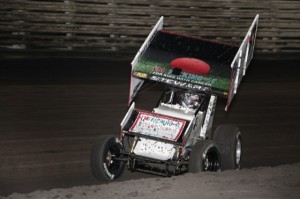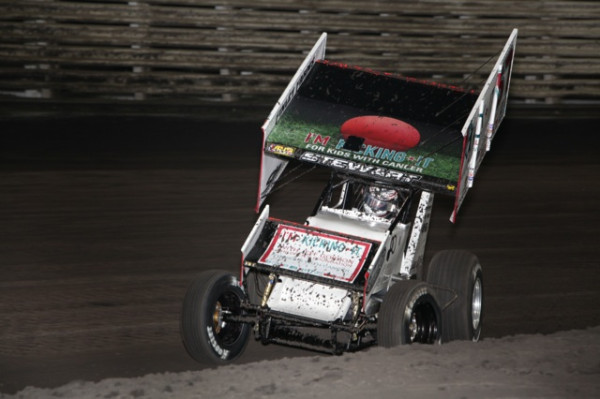 From Bill W / Bryan Hulbert
Knoxville, IA — (August 3, 2013) — The 23rd annual Arnold Motor Supply 360 Knoxville Nationals ended much like the year before with Shane Stewart crossing under the checkered flag to earn his fourth straight victory and fifth overall Nationals win.
Looking like the $10,000 check was within his grasp, the caution flew with three laps to run for the No. 21v of Justin Henderson, ending Stewart's 3.672 second lead over Brad Sweet. On the restart, Kevin Swindell advanced to the runner up spot only to see the red flag displayed for the No. 1B of Robby Wolfgang who flipped exiting turn four. Robby escaped unscathed.
To the green, Stewart's night became one of a fight with fluid dynamics as the power steering failed on the No. 57. Muscling the car around for the green, white, checkered finish Stewart held on to cross 0.546 second ahead of Kevin Swindell who nearly tangled with Kyle Larson coming to the white flag.
"I tell you what, I've got a major arm pump," chuckled Shane in victory lane. "These Sprint Cars, when they lose power steering, you can't really turn them at all. I just got lucky honestly. I don't think I could have held on much longer."
An emotional win for Stewart, who earned Wesmar Racing Engines a fourth straight 360 Nationals victory, Kelly Westphal, was on hand to tune the engine as the pair paid tribute to the late Bob Westphal.
Swindell's runner up finish is his second in as many years. Nearly getting tied up with Larson coming to the white flag, Swindell commented on the battle as the pair looked close to blows on the cool down lap, "We were fine. I was just frustrated. I had a run and I knew he was going to block me. I just hoped I could get far enough in there and just ran out of room."
Coming straight from the NASCAR Nationwide event at the Iowa Speedway to compete in the feature event of the Arnold Motor Supply 360 Knoxville Nationals, Kyle Larson came from eighth to complete the podium; his second top five of the day.
Brian Brown charged from nineteenth to fourth with Brad Sweet completing the top five after battling several laps with Swindell for the runner up spot.
Danny Lasoski came from ninth to sixth after having to change an engine prior to the night feature. Jason Johnson crossed seventh followed by Wayne Johnson. Brad Loyet crossed ninth with Scott Winters charging from twenty-first to complete the top ten.
The three nights of racing saw a total of $101,890 paid out among 103 drivers. Danny Lasoski and Justin Henderson each took preliminary night wins worth $3,000.
305 Sprint Car Action
In the 305 feature, Matt Stephenson led early on in the 12-lapper. When Sarena Paul spun with two laps in the books, he led J Kinder, Larry Ball Jr., Stacey Alexander and Chris Walraven back to green.
For two laps, Stephenson and Kinder battled hard for the lead before Chris Horton flipped hard in turn four to bring out the red. Horton was uninjured in the incident. Ball moved into second on the restart and began his pursuit of the leader. After a fierce duel, Ball took the point for good on lap six.
Mike Mayberry flipped to bring out another red on lap six while running sixth. Ball was able to hold the lead on the restart, beating Kinder, Stacey Alexander, Matt Stephenson and Lorne Wofford to the line for his eighth career 305 win here. Kinder was later disqualified for an illegal tire.
"I don't think I was going to get them without the yellow," said Ball in Victory Lane. "(Stephenson and Kinder) were racing so hard, they weren't letting me play at all. The yellow allowed me to get a run on them through the middle. It gave me a chance to figure out what I needed to do to get by them."
Steve Breazeale posted quick time on the night, while Ball and Stephenson were heat winners.
Sunday night will mark the 2nd Annual "Capitani Classic" featuring 410 sprints at the Knoxville Raceway. For more information, visit www.KnoxvilleRaceway.com!
KNOXVILLE RACEWAY, Knoxville, IA
August 3, 2013
360 RESULTS
E Feature, No Time: 1. Parker Price-Miller (2); 2. Robbie Stillwaggon (4); 3. Tom Lenz (5); 4. Shawn Petersen (1); 5. Ricky Montgomery (6); 6. Jared Goerges (9); 7. Danny Wood (13); 8. Kevin Ingle (8); 9. Blake Hahn (14); 10. Chris Masters (12); 11. Morgan Montgomery (15); 12. Jeff Carlson (10); 13. Bobby Mincer (3); 14. Paul Morris (11); 15. Alan Ambers (7);
D Feature , No Time: 1. Seth Bergman (1); 2. Brady Bacon (2); 3. Randi Miller (3); 4. Zach Blurton (4); 5. Cole Wood (7); 6. Tyler Drueke (6); 7. Danny Wood (18); 8. Josh Hodges (10); 9. Parker Price-Miller (12); 10. Kevin Ingle (19); 11. Shawn Petersen (15); 12. Bobby Mincer (24); 13. Jeff Carlson (23); 14. Chris Masters (21); 15. Morgan Montgomery (22); 16. Derrik Lusk (5); 17. Chris Martin (9); 18. Robbie Stillwaggon (13); 19. Danny Jennings (8); 20. Tom Lenz (14); 21. Ricky Montgomery (16); 22. Casey Friedrichsen (11); 23. Jared Goerges (17);
C Feature, No Time: 1. Jamie Ball (1); 2. Dusty Zomer (14); 3. Jamie Veal (2); 4. Tim Shaffer (5); 5. Mike Houseman Jr. (3); 6. Dustin Morgan (15); 7. Sam Hafertepe Jr. (6); 8. Kolt Walker (7); 9. JD Johnson (9); 10. Kyle Sauder (8); 11. Tony Shilling (16); 12. Thomas Kennedy (10); 13. Danny Wood (23); 14. Nate Van Haaften (11); 15. Brooke Tatnell (13); 16. Josh Hodges (24); 17. Tyler Drueke (22); 18. Cole Wood (21); 19. Matt Juhl (12); 20. Seth Bergman (17); 21. Randi Miller (19); 22. Zach Blurton (20); 23. Brady Bacon (18);
B Feature 1, No Time: 1. Scott Winters (1); 2. Don Droud Jr. (2); 3. Jon Agan (4); 4. Randy Hannagan (7); 5. Mark Dobmeier (10); 6. Johnny Herrera (5); 7. Danny Holtgraver (11); 8. Danny Dietrich (6); 9. Russ Hall (13); 10. Roger Crockett (15); 11. Jeff Swindell (8); 12. Randy Martin (19); 13. Tasker Phillips (18); 14. Dusty Zomer (22); 15. Brandon Wimmer (16); 16. Tim Shaffer (24); 17. Tony Bruce Jr. (17); 18. Matt Moro (20); 19. Jamie Veal (23); 20. Jarrod Schneiderman (9); 21. Jamie Ball (21); 22. Joe Beaver (3); 23. David Hall (12); 24. Matt Covington (14);
A Feature 1, No Time: 1. Shane Stewart (1); 2. Kevin Swindell (4); 3. Kyle Larson (8); 4. Brian Brown (19); 5. Brad Sweet (3); 6. Danny Lasoski (9); 7. Jason Johnson (7); 8. Wayne Johnson (2); 9. Brad Loyet (11); 10. Scott Winters (21); 11. Clint Garner (6); 12. Jonathan Cornell (13); 13. Jon Agan (23); 14. Dustin Selvage (20); 15. Justin Henderson (5); 16. Terry McCarl (16); 17. Davey Heskin (18); 18. Josh Higday (15); 19. Justyn Cox (17); 20. Don Droud Jr. (22); 22. Seth Brahmer (10); 23. Lee Grosz (12); 24. Randy Hannagan (24);
305 RESULTS
Time Trial 1, 1. 57, Steve Breazeale, Trenton, MO (3), 17.195; 2. 28, Chris Walraven, Knoxville, IA (10), 17.283; 3. 5J, Larry Ball Jr., Knoxville, IA (19), 17.423; 4. 96, Keoni Texeira, Honolulu, HI (7), 17.497; 5. 3, Sawyer Phillips, Pleasantville, IA (8), 17.497; 6. 18, Lorne Wofford, Alamogordo, NM (4), 17.506; 7. 0, Mike Mayberry, Fremont, IA (14), 17.598; 8. 88, J Kinder, Holts Summit, MO (6), 17.608; 9. 92c, Chris Horton, Indianola, IA (2), 17.719; 10. 29, Steve Palmer, Des Moines, IA (15), 17.82; 11. 55, Matt Stephenson, Altoona, IA (18), 17.903; 12. 55KC, Bob Hildreth, Iowa Falls, IA (5), 17.968; 13. 126, Stacey Alexander, Lacona, IA (11), 18.058; 14. 7, Tanner Edwards, Van Meter, IA (9), 18.063; 15. 19K, Sarena Paul, Monroe, IA (16), 20.132; 16. 82, Lee Patterson, Des Moines, IA (13), 20.71; 17. 1K, Roland Johnson, Tampa, FL (1), No Time; 18. 66, Travis Cram, Snohomish, WA (12), No Time; 19. 71c, Rob Kubli, Milo, IA (17), No Time;
Heat 1, No Time: 1. Larry Ball Jr. (5); 2. Steve Palmer (2); 3. Steve Breazeale (6); 4. J Kinder (3); 5. Bob Hildreth (1); 6. Lorne Wofford (4); 7. Tanner Edwards (7); 8. Lee Patterson (8);
Heat 2, No Time: 1. Matt Stephenson (2); 2. Mike Mayberry (4); 3. Chris Walraven (6); 4. Stacey Alexander (1); 5. Chris Horton (3); 6. Sarena Paul (7); 7. Rob Kubli (8); 8. Keoni Texeira (5);
A Feature 1, No Time: 1. Larry Ball Jr. (6); 2. Stacey Alexander (1); 3. Matt Stephenson (2); 4. Lorne Wofford (10); 5. Steve Breazeale (8); 6. Chris Walraven (7); 7. Steve Palmer (3); 8. Bob Hildreth (12); 9. Tanner Edwards (13); 10. Lee Patterson (15); 11. Mike Mayberry (5); 12. Sarena Paul (14); 13. Chris Horton (11); 14. J Kinder (4);