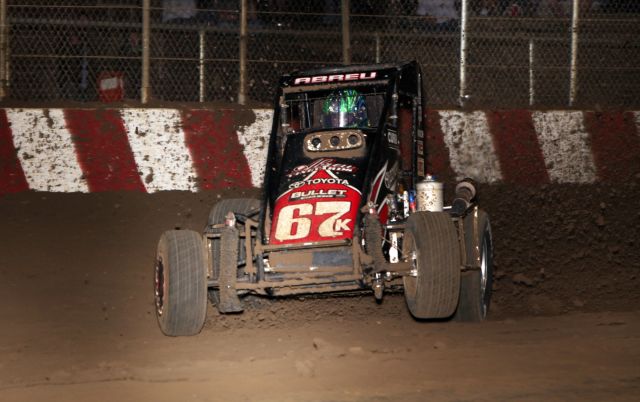 PETERSEN MEDIA
In action at the Bellville Speedway over the weekend, Rico Abreu scored a preliminary win, and a second place finish during the Bellville Midget Nationals.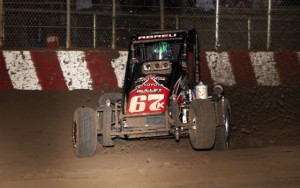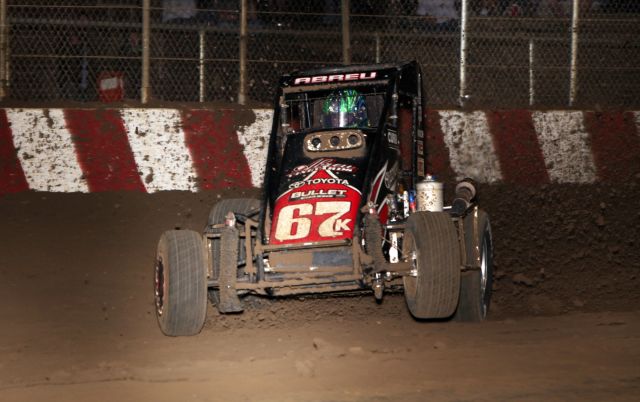 In what was a dominating weekend for his Keith Kunz Motorsports team, Abreu kicked the domination off on Thursday night.
Qualifying fifth quickest during time trials, Abreu went on to score a third place finish in his heat race, and ultimately found his Toyota/TRD machine on the front row of the Bellville opener.
When the green flag dropped, Abreu out gunned fellow front row starter, Caleb Armstrong, into turn one as he set a torrid pace in front of the field, until Armstrong took a nasty ride.
When the race resumed, Abreu continued to lead over Tracy Hines, and as the veteran driver hounded Abreu, Abreu remained poised and continued to lead.
As Dave Darland moved into the second spot, he showed Abreu a wheel a time or two, but on this night it was all about Abreu, who scored the big opening night win.
"What an honor it is to win here," Abreu said in victory lane. "We had a great car, and I cannot thank Keith, Pete, and all the guys enough for everything they do for me."
Finishing second in the Dash, Abreu lined up on the front row of the feature event alongside teammate, Christoper Bell, and it was Bell getting the jump as the race went green.
An early caution slowed the pace, and when action resumed, it was Bell out front, with Abreu in pursuit.
On the 24th lap, Abreu darted into the lead, and looked to be in command of the race, as he found the rubber, but trying to maneuver through lapped traffic, on the 34th lap, Bell was able to get back around Abreu for the lead via a slide job, and Abreu was unable to answer him.
Over the final sixth laps, Abreu chased after Bell, but settled for second.
"What a night for our entire team," Abreu said. "I let him go early, and was able to stick with him, and as I closed in on him around the halfway point, I got up on the wheel and was able to grab the lead. I got bottled up in traffic, and ended up losing to my teammate. We are all happy and will take the second."
Sunday night, Abreu was in action at the Knoxville Raceway for the Capitani Classic, and had some issues early in the evening.
Timing in 66th fastest out of the 81 cars checked in, Abreu ran second in the C before charging from the back to an eighth place finish in the B main event.
"We had a bit of a steering issue early in the night, but we were able to fix it, and we were good, we just were in a huge hole with the large car count."
Rico and his team would like to thank Abreu Vineyards, ButlerBuilt, FK Rod Ends, Schoenfeld, Keith Kunz Motorsports, Brown and Miller Racing Solutions, and Willwood for their support.
2013 BY THE NUMBERS: Starts-67, Wins-4, Top 5's-28, Top 10's-39
ON TAP: Abreu and company now be in action this week for the 53rd Annual Knoxville Nationals.
STAY CONNECTED: Stay updated with Rico by visiting his website at www.ricoabreuracing.com, 'liking' him on facebook at www.facebook.com/ricoabreuracing or following him on twitter @Rico_Abreu.
VIDEO: Be sure to check out http://www.youtube.com/ricoabreuracing for video of Rico, as content is constantly being uploaded!