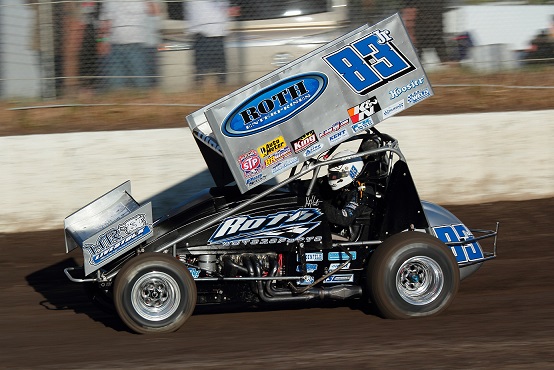 PETERSEN MEDIA
 Kyle Hirst turned in one of those performances on Saturday night that help drivers and teams win championships. Hirst survived a late issue, and held on to a fourth place finish, and extended his series points lead.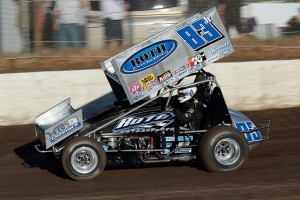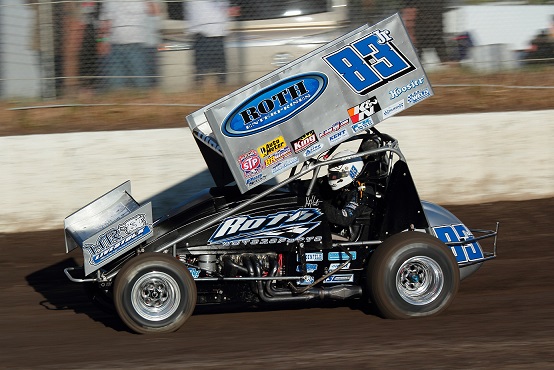 "It wasn't a flashy night, and I bet the announcer didn't talk about us much, but we had a solid night, and scored a fourth place finish, on a very fast track," Hirst said.
With 25 cars on hand, an early qualifying draw looked to benefit Hirst, as he ended up second quickest at the Stockton-99 Speedway.
Starting in the second row of the second heat, Hirst settled into the fourth spot, where he finished, and earned a spot in the night's Dash based on his qualifying time.
Starting fifth in the Dash, based on his draw, Hirst finished fifth as passing was at a premium much of the night as the track was hooked up and fast.
Lining up fifth in the 30-lap feature, Hirst battled up to the third spot at times, as he worked his way up to battle the early lead duo of Jonathan Allard, and Dominic Scelzi.
Late in the feature, Hirst had a 'curve ball' thrown his way, as his wing slider broke, and his wing began sliding back and forth with the force and speed of the car, making KH's handling tricky, on the heavy track.
Hanging on, Hirst would cross the stripe in the fourth spot.
"Overall it was a great night," he said. "We had an issue with the slider there at the end that cost us a couple of spots, but that's no one's fault, just bad luck. We will move on and try to get it done in Fernley."
Kyle and his Roth Motorsports team would like to thank Roth Enterprises, HR Livestock Transportation, 3H Cattle,  Mobil1, FK Rod Ends, Weld Wheels, Brown and Miller Racing Solutions, Kent Performance, Kaeding Performance, and Astro Titanium for their support in 2013.
2013 ROTH MOTORSPORTS BY THE NUMBERS: Starts-35, Wins-4, Top 5's-18, Top-10's-24
2013 BY THE NUMBERS: Starts-52, Wins-5, Top 5's-23, Top 10's-35
ON TAP: Kyle at the 83Jr team will now head to the Reno Tahoe Fernley Raceway on Saturday night for more King of the West action.
STAY CONNECTED: Stay connected to Kyle by following him on Twitter, @kylehirstracing, or by visiting www.rothmotorsports83.com.