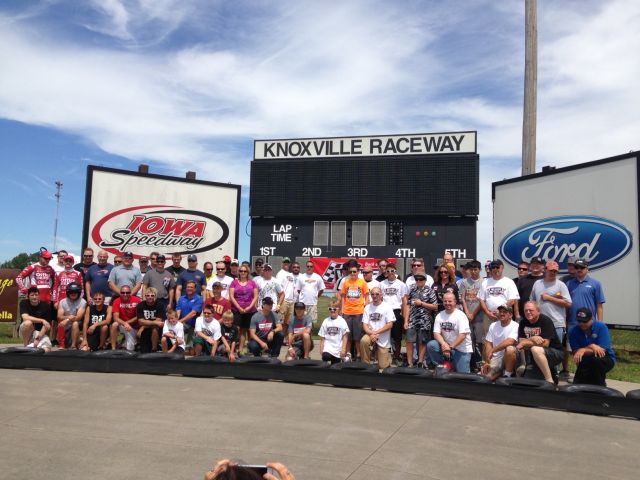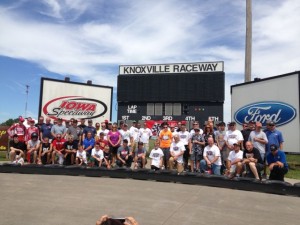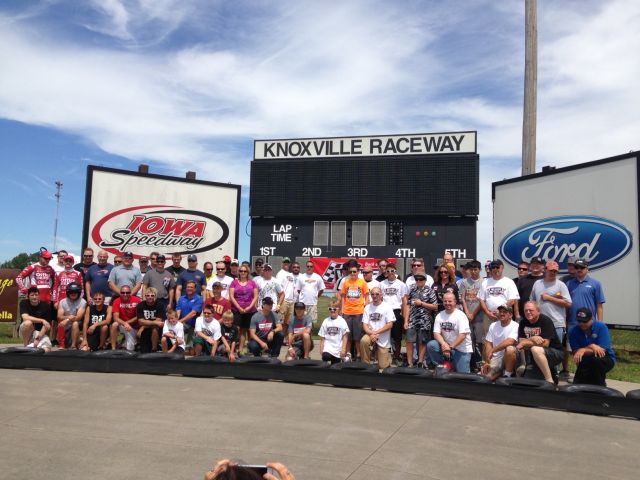 Knoxville, IA — (August 7, 2013) — It was a busy day off the race track to kick off the 2013 FVP Knoxville Nationals.   With fan forums, charity events, and various other activities taking place in and around the Marion County Fairgrounds facility.
Little 500 Past, Present, and Future fan forum…
The first annual Little 500 fan forum run by TJSlideways.com in the National Sprint Car Hall of Fame and Museum Theater successful with a large audience that present to hear myself, Tony Elliott, Max Dolder, and Dave Argabright talk about one of the most unique events in all of sprint car racing.
A very large crowd turned out at Slideways Karting Center for the Tony Stewart's Kick-It Cup presented by Weld Racing as part of the Kick-It organization's activities this week at Knoxville Raceway.   Jeff Gordon, who filled in for the injured Tony Stewart, had a great time racing in the kart event along with the participants with Gordon winning one of the heat races.
"(coming to Knoxville) Means a lot to me not only because not only I am familiar with Nationals are all  about, it's their Daytona 500. One of the highlights of my sprint car career was making the Knoxville National and I drove for Bob Trostle one time here at a weekly event, and that was a lot of tun.  I wish I had spent more time racing here at Knoxville because it is such a neat place, but making that Knoxville Nationals was way cool," said Gordon.  "Now I can come here and just be awe of sprint cars today, Knoxville, and the great racing that is here.  Of course of the Kick-It program with us and our kick-it for kids cancer.  It's been accepted so well by the sprint car community and in Knoxville.   Wish Shane driving this weekend and winning the 360 nationals it's been such a treat.  After last year I had so much fun I said, 'alright, going back next year, but I'm not just going to jump in there watch the races and take off.  I want to spend some time.  So we get to be a part of this go-kart event, we get to hang out with some of the guys in the pits."
Several drivers were on hand for the Kick-It Race including Bryan Clauson, who participated after someone purchased a spot specifically wanting to see Clauson participate.  Former sprint car drivers Kenny Jacobs and Ed Haudenschild also participated.
During the Kick-It event at p.r. rep Shawn Miller gave away a spot in the race to one member of the active military.
The top finishers in the event will make up one of the teams in the Kick-It charity Kick-Ball game on Friday.
Promoter's forum…
Later in the day Steve Beitler from Skagit Speedway, Rex LeJeune from Attica Raceway Park, Bill Wright representing Knoxville Raceway, Larry Boos from Eldora Speedway, and Steve Sinclair from the Interstate Racing Association and K&K Insurance sat down to discuss the state of sprint car racing.
The hour long discussion was very interesting featuring a wide range of topics from drawing different people to the race track to some of the difficult situations in our sport today.  Here are some interesting points from the promoter's forum:
LeJeune reports that Attica 410 sprint car counts are stable averaging 28 cars per night excluding special events while the 305 car count is down this year.  On the positive side three of the top 305 teams moved into the 410 division this season.  One of the most impressive statistics LeJeune had to report was that there have been no repeat winners in 410 sprint car competition during the weekly programs in 2013.
Beitler believes that he will be adding some different attractions to the weekly classics on Skagit in 2014.  Beitler cited two of his biggest weekly shows being a fireworks night and a big-rig truck event paired with his weekly classes.
Sinclair stated IRA races around the Milwaukee area where a majority of the teams are based out of the car counts are in the 30's, but the travel events are in the mid-20's because of travel costs.   Some MSA 360 teams have migrated over to the IRA division in 2013, and crowds at a majority of IRA shows during the 2013 season have been up.
Wright mentioned their 410 car count continues to grow but the 360 car counts are continuing to dwindle.   The 305 division's car count continues to be stable.   The biggest factor Knoxville had to report in its attendance is weather that has been unfavorable for their spring World of Outlaws show, weekly program that was up against the Nationwide race at Iowa Speedway, and general cold weather early on in the season.
One common thread that was shared between all of the promoters was how to promote the entertainment factor of racing in order to get the casual fan to come back.
Just about ready to head pitside to check out the cars for the night before heading up to see the races up top.  I have no idea what our social media abilities will be tonight, but we are going to try our best to cover the races with the same kind of analysis you have come to enjoy from TJSlideways.com