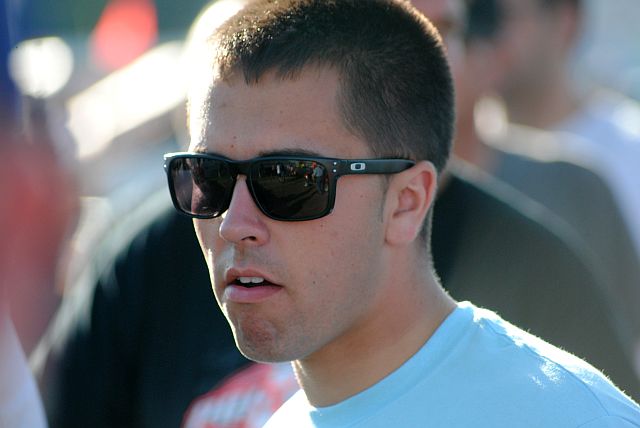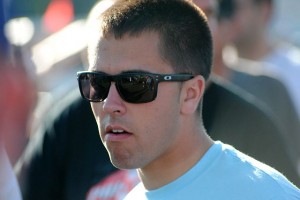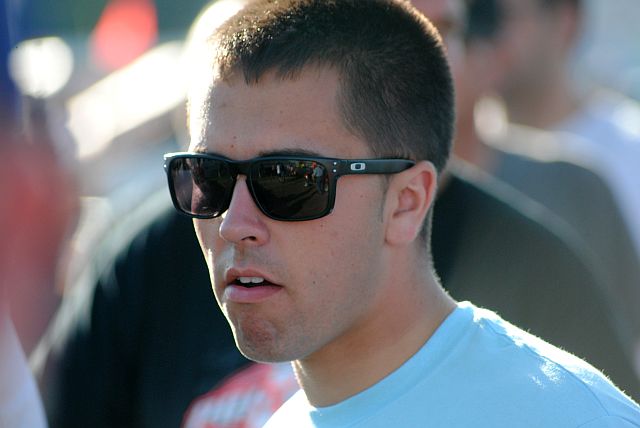 By T.J. Buffenbarger
Knoxville, IA — (August 8, 2013) — The cliché' about one preferring being lucky than good, or preferably both, would be a good way to describe David Gravel's victory last night during the opening night of the 53rd Annual FVP Knoxville Nationals.   From the opening month of the 2013 season Gravel has rode a roller coaster of change and uncertainty into the Knoxville Nationals.
It seems fitting Gravel has to overcome adversity multiple times during his preliminary program to win Wednesday's feature event.   During his heat race Gravel had his engine let go while running second position.  Had this problem occurred on the backstretch holding onto a transfer spot to the feature was highly unlikely.  In addition the only engine Gravel had that would fit the motor plate in his car was sitting in the trailer outside of the race track.  Had Gravel dropped back to a C-Main position the three heat races would likely not be enough time for his crew to get the car back to the trailer and change the engine.
During the feature Gravel caught another break as he started to run out of fuel over the final two laps of the feature, but had built up a large enough lead that he was able to sputter to the finish.   It was an amazing end to a night during a season of World of Outlaws STP Sprint Car Series action for Gravel that was highly unexpected.
The luck was on Gravel's side on Wednesday but so was one of his best attributes in restarts.  The restart ability something I noticed last year at the Brad Doty Classic and virtually every race I have seen Gravel compete in since.   Instead of being mid-pack Gravel was up front in clear air and snookered the field after multiple caution flags to open up a sizeable lead.
The 2013 season started with Gravel planning on racing another season with the UNOH All Star Circuit of Champions.  When Bill Rose suffered an arm injury during the season opening event at Volusia Speedway Park Gravel got the call to fill in.  Uncertain on how long the fill in roll would last Gravel took the opportunity with gusto and was a consistent top finisher on the World of Outlaws tour.
"This year has been a roller coaster ride after Volusia next All Star race," said Gravel after winning on Wednesday.  "If Bill (Rose) had not asked me to drive for him im I wouldn't be out here.  It has really helped out my career and getting this one and making sure we're locked in is great."
While the means of getting to the STP World of Outlaws series and victory at Knoxville Raceway was likely not how Gravel had imagined it, but the end result is where he expected to be.