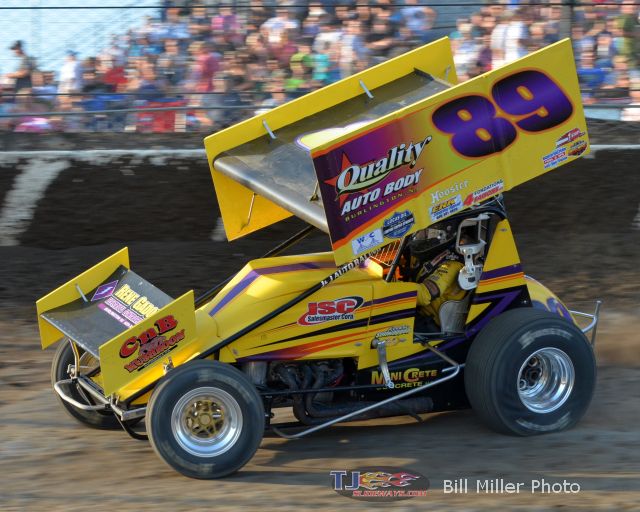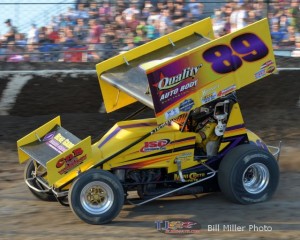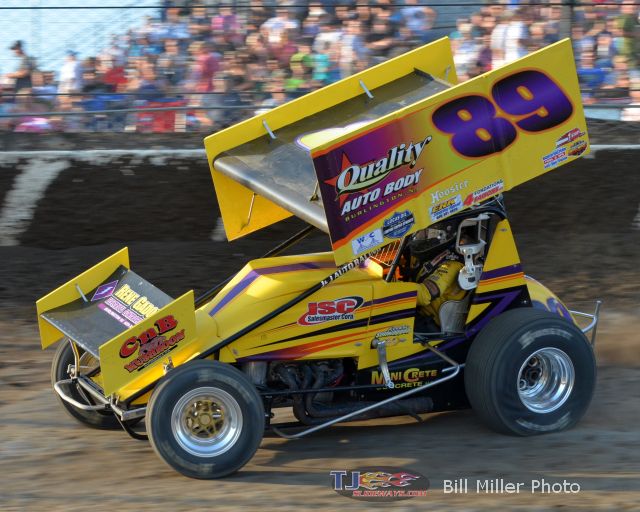 From Bob Miller
Dundee, NY — (August 9, 2013) — Burlington, NJ's Robbie Stillwaggon was the star of the show Friday night at the Black Rock Speedway taking the win in the twenty-five lap $4,000 to win A-VERDI 360 Sprint Championship. For Stillwaggon, it was his fourth win on the Rislone URC Sprint Series and seventh career win with the United Racing Company. A field of thirty-two sprint cars turned out for the show. Stillwaggon started sixteenth and took the lead with just two laps remaining in the event co-sanctioned with URC and the Patriot Sprint Tour.
Heat race events were won by JJ Grasso, Scott Krautter, Bryan Howland and Justin Barger. The Dash winner was Brad Knab and the "B" Main victory went to Bruce Dewick.
Several restarts were required before the first lap was completed in the A-Verdi URC feature event, but once the race was started, there was plenty of passing. Steve Collins set the early pace with Patriot Sprint Tour point leader Scott Krautter in the chase and racing in second. Justin Barger had a solid hold on third followed by Jared Zimbardi.
By lap ten, Stillwaggon was in fifth and on a mission to the front of the pack.
Steve Collins continued to set the pace followed by Krautter and Justin Barger with Robbie Stillwaggon now in fourth as Zimbardi followed in fifth. The top five was unchanged at the halfway point of the race. Collins and Krautter tightened their battle for the lead as lapped traffic became a factor. Stillwaggon, driving the Fred's Trailer Parts entry, was inching ever so close to the leaders.
On lap twenty, Collins, Krautter and Stillwaggon were in a battle for the lead. Stillwaggon moved into second on lap twenty-two and continued to reel in the leader. With two laps remaining, Stillwaggon challenged Collins for the lead and going down the backstretch, nosed into the lead. Just before entering turn three, the leaders tangled with Collins spinning as Stillwaggon maintained control and the lead as the yellow was displayed sprinter of Steve Collins.
On the restart, Stillwaggon set the pace with Krautter in second and Bryan Howland third. Both Krautter and Howland offered a challenge for the lead but Stillwaggon was not to be denied this victory.
With the checker flag waiving, Stillwaggon earned the win followed by Scott Kreutter, Bryan Howland, JJ Grasso and Jared Zimbardi.
NEX EVENT: Selinsgrove Speedway Saturday night, August 10 7 PM
FEATURE FINISH: Robbie Stillwaggon, Scott Kreutter, Bryan Howland, JJ Grasso, Jared Zimbardi, Justin Barger, Josh Weller, Davie Franek, Billy Pauch, Geoff Quackenbush, Tommy Wickham, Dylan Swiernik, Blake Breen, Brad Knab, Kevin Ward Jr., Dan Adamecyk, Steve Collins, Brian Carber, Scott Just, Troy Best, Bruce Dewick, Scott Lutz, Steve Hutchinson, Randy West. DNQ – Dan Mazy, JR Berry, Dave Just, Tyler Graves, Dave Wickham, Jonathan Swanson, Vinnie Vitale, Jason Barney.