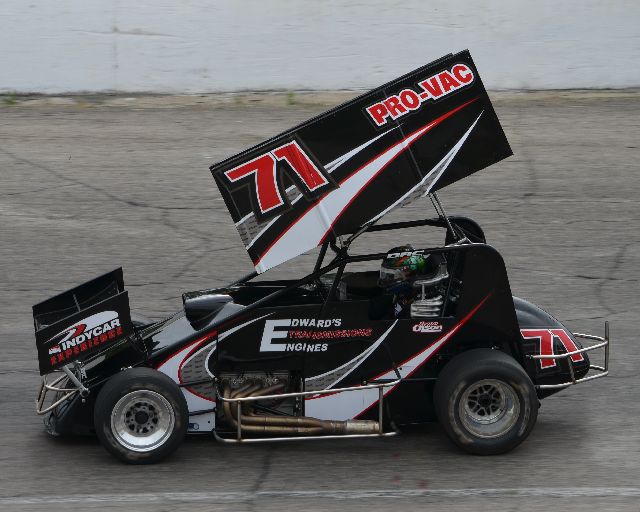 By David Sink

August 10, 2013 – Salem, IN – Brian Olson held off a determined Brian Gerster to claim his second consecutive Joe James/Pat O'Connor Memorial Saturday night at Salem Speedway. The win was also Olson's second TRUFUEL Must See Racing Xtreme Sprint Series (MSRXSS) victory of the season.
Olson held off Gerster for the majority of the thirty lap event as the duo made aggressive, yet calculated moves in and out of lapped traffic the entire race. The two made contact a handful of times including the final turn coming down for the checkered. It was arguably the most exciting Joe James/Pat O'Connor Memorial in recent memory.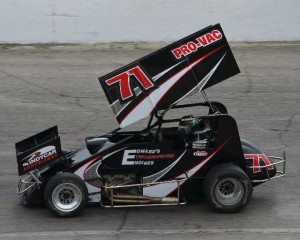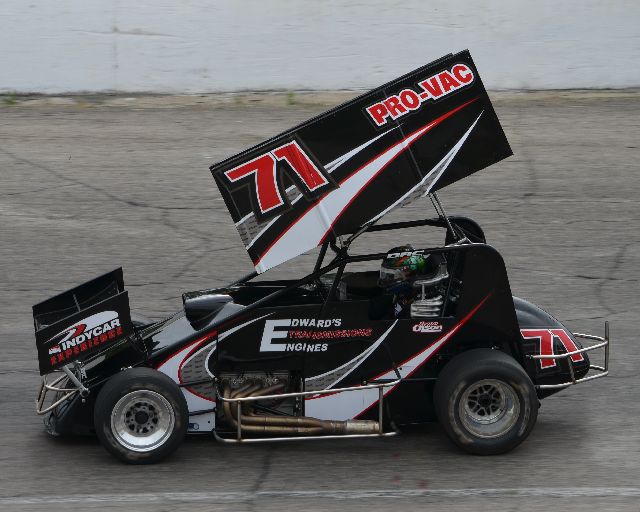 In victory lane Olson explained how he handled a hard charging Gerster for much of the race. "I knew in clean air it was gonna be really tuff for him to get around me. Lapped cars were gonna be his only chance .As long as I could get by them as quick as I could, I knew I would be ok." explained Olson. The two made contact coming down for the checkered flag and Olson acknowledged he didn't realize it was the final lap."Gerster got into me a little bit in three and four. Actually I thought we had one more lap after that. It's such an honor to win here and get back-to-back wins in this race" concluded Olson.
Aaron Pierce followed Gerster home for third and was trailed by Jo Jo Helberg and Tyler Underwood rounding out the top five.
Helberg was the night's fast qualifier with a time of 14.349 seconds and drove a hard fought battle to finish third. Helberg spun on lap 4 and was forced to go to the tail. Helberg was unable to run down the lead duo despite his thrilling drive to the front.
Heat races were won by Jimmy McCune, Brain Gerster, and Troy DeCaire.
For more info log onto to www.mustseeracing.com
54th JOE JAMES/PAT O'CONNOR MEMORIAL RESULTS
1.         71         Brian Olson
2.         50m     Brian Gerster
3.          26        Aaron Pierce
4.           7          Jo Jo Helberg
5.          14c       Tyler Underwood
6.           07        Jacob Wilson
7.            56r      Ryan Myers
8.             60       Davey Hamilton Jr.
9.              6         Kevin Blue
10.                       07L     Ryan Litt
11.                       40:1    Troy DeCaire
12.                       5r         Darren Roberts
13.                       88         Jimmy McCune
14.                       26b       Jeff Bloom
15.                       50:1      Mike Larrison
DNS         81        Jimmy Kite
DNS         56        Wayne Ganett