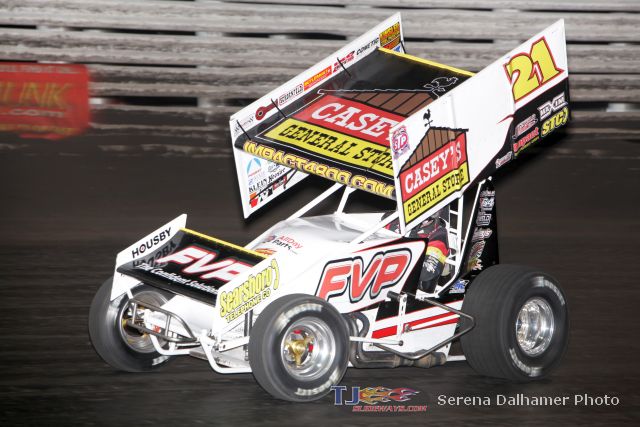 By Bill W
August 12, 2013 – The accomplishment of running second for the second year in a row at the Knoxville Nationals couldn't help but draw a bit of disappointment for driver Brian Brown and the Casey's General Stores/FVP #21 team.  But rest assured that the Grain Valley, Missouri driver is proud of the team's effort and accomplishments.  He is also thankful for the response of the fans that gather each year at the "Sprint Car Capital of the World".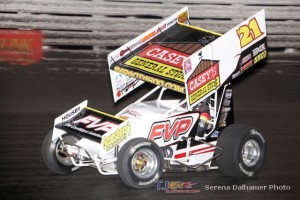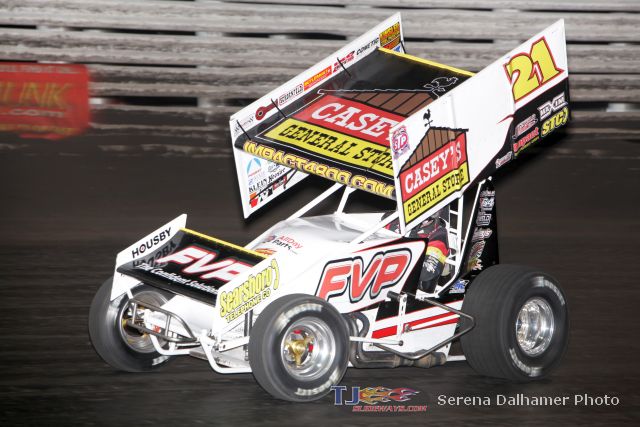 Saturday must have been a long day, waiting to start on the front row of the Knoxville Nationals again.
We felt we did our job on our qualifying night to put us in position.  All day long, the fans were great.  It was just as I'd hoped.  They treated me like gold.  You have no idea what it's like to come across that stage and hear those people cheering.  It is huge for us, and I feel I owe them a lot.
It looked like you fell back to third on the initial start before Stevie's (Smith) crash.  The second one went flawless, and you took off.
The first start, I spun my tires and couldn't get going.  We had the red, and the next time I went to the top.  I was able to get the lead, and the car was perfect.  It was probably the best car we've had all year long.
It certainly looked like you were cruising the first half of the race.
When I got to traffic, I had a little more of an issue than I'd have liked.  The rubber was starting to come in, and I got tight getting behind the lapped cars.  That was really the only issue I had the first half.  I was just looking forward to the break so we could get after it the second half.
Did you make any changes during the mandatory stop?
We didn't make many adjustments.  We changed a bit of weight in the car just to help me turn better.  We changed tires and fuel.  That was really all we did.
You picked up where you left off and you pulled away.  It did look like you were having some handling issues as the race wore on.
Everything seemed to be going good.  As the rubber accumulated more and more, I just got to the point where I was so tight, I couldn't rotate the car.  It hurt me on the exit to the corners.  The line I was running prior to the red went away.
Donny (Schatz) trailed you for a while, but it looked like the car left from under you a bit.
When I got to traffic, I was even tighter than I had been the first half.  I got balled up and let Schatz get by.  I couldn't run down in the line he was running.  I think when I got tight, I used my tires up.
You were still able to hold onto second.
At the end, I was just trying to hold on.  I saw Justin Henderson out of the corner of my eye.  We were lucky enough to hold onto second.
It really was an amazing accomplishment for Schatz.
My hat's off to Donny Schatz and all of his guys.  What we saw is something we probably won't see again in our lifetime.  He deserves every accolade he gets.  He's a true champion, and one day, hopefully, we can work and drive well enough to compete with him.
I know you are thankful for your hard working team and your partners.
I'm so proud of our team: Chad Morgan, Travis Marsch, Treagan Gates, Chad and Gary Ely, Mark Clemons, Greg King, Snook (Glen Wignall), Grandpa (George Lasoski) and everyone involved with this team.  My partners: Casey's General Stores, FVP, Searsboro Telephone Company, Impact, Champion Brands, Weld Wheels, Smiley's Racing Products, Housby Trucks…pretty much every one of our partners had someone there.  They all deserved to win this race, and hopefully, they stick with us.  We're going to keep working at it.  I think we're down to 359 days until the 2014 Knoxville Nationals.
There's no reason for anyone to hang their heads about finishing second in the Nationals.
It's something we definitely don't take for granted.  We know we're fortunate to be on the podium.  Just because we were last year and this year, doesn't mean we will next year.  We may be begging to run second.  We know how hard it is just to get on the podium, or even make the show.  So it wasn't something we weren't happy with.  The thing that I have to deal with in my mind is losing to Donny Schatz by a half car length, and leading for 40 laps and getting beat by Donny Schatz from 21st.  That's the difference between my disappointment and excitement.  But we don't take this race for granted for a second.  I think our entire team is proud of our accomplishment.  We got beat by a better car and driver, but so did 100 other guys.
I know you're planning on racing with the Outlaws at the Junction Motor Speedway in McCool Junction, Nebraska tomorrow night.  What else do you have planned this week?
We're looking forward to getting to McCool.  We ran well there with the Outlaws last year (fourth).  We're not sure on the weekend.  We're looking at the ASCS race at Salina in Oklahoma.  The last two weeks has been quite an undertaking for my guys, so we just need to get ourselves back in order to get ready for the rest of the season.  We're still aiming at our goal of a twenty win season.
Follow Brian on the Web, Twitter and Facebook!
Follow Brian at his website located at www.BrianBrownRacing.com!
Also keep up with FVP, Casey's and Brian on Facebook and Twitter at the following links…
Twitter Links – @BrianBrown21, @FVPRacing, @CaseysGenStores
Facebook Links
Brian Brown Racing – www.facebook.com/pages/Brian-Brown-Racing/200630163294222
Casey's General Stores – www.facebook.com/pages/Caseys-General-Stores/112073528804354
FVP Racing –  http://www.facebook.com/FVPRacing?ref=ts&fref=ts
Other Web site info
Casey's: www.caseys.com
FVP: www.fvpparts.com
Brown's Bits
In a non-stop 25-lap feature with the ASCS-Midwest series in September of 2012, Brian bested the field at the Junction Motor Speedway in McCool Junction, Nebraska.  He took the lead from Don Droud Jr. on lap six, and preceded to lap up to fifth place.  Trailing him across the line were Jack Dover, Droud, Jeremy Campbell and Cody Ledger.
About Casey's General Stores
Casey's General Stores is a Fortune-500 company (NASDAQ CASY) operating nearly 1700 convenience stores in 11 states through the Midwest. Known for its "Homemade-To-Go" pizza, sandwiches, donuts and bakery items, Casey's strives to consistently deliver quality gas, fresh kitchen-prepared food, clean environments and friendly service at every retail location.  Casey's is currently the 12th largest c-store chain and sixth largest pizza chain in the United States.
About FVP
We are very excited to introduce our new line of automotive chemicals, oils and fluids to our product offering.  These new products will be available at many retailers across the country.  We continue to offer a full line of high quality oil, air, cabin air and fuel filters, plus a complete line of high quality batteries for multiple applications including cars, trucks, SUV's, commercial and other specialty vehicles.  All products are made to OE manufacturer fitment specifications.  FVP products are engineered to provide our customers with quality products that are equal or superior in performance to the major national brands at a competitive price.  To learn more about our FVP products or to find out where you can have FVP products installed in your vehicle, visit us at www.FVPparts.com!  FVP…The Confident Solution
SPLASH
In addition to our line of seasonal safety products, we are very excited to introduce a full line of SPLASH Wiper Blades.  Our SafeView Performance Blades fit 95% of the vehicles on the road with quick and easy installation for everyone.   The AccuVision Beam Blade offers memory curve steel, which provides uniform pressure for a clear wipe, without the streaks.  Look for these great new SPLASH products!  Whether it's keeping your windshield clean or free of ice, protecting your RV, boat or pool from freezing in the winter, or your sidewalk safe to walk on, SPLASH Products are what you need!  Check out our new SPLASH website at www.SPLASHWash.com!  SPLASH…SEE SAFELY!
Marketing Partner of the Week – Ditzfeld Transfer
Brian says – "Ditzfeld Transfer is a family deal.  Ronnie and his sons were our very first sponsor.  They haul our motors, and if I would need anything hauled across the country, I would call them first."
Ditzfeld Transfer has been with Brian since the start of his racing career, and was his first sponsor.  The Sedalia based family owned trucking business has been in operation for over 45 years, and has a commitment to maintaining the highest level of service.  Currently, Ditzfeld Transfer utilizes more than 50 power units and 160 trailers.  To learn more about Ditzfeld Transfer, visit www.DitzfeldTransfer.com!
Associate Marketing Partner of the Week – RateWin.com
RateWin.com strives to bring you the best online auto insurance shopping experience possible. Unlike many other sites that promise the ability to compare quotes between multiple companies, but simply sell your information to telemarketers as a hot lead, RateWin.com gives you the ability to choose which of the major companies you wish to do business with.
The people behind RateWin.com have been in the online insurance marketplace for a number of years. Through that experience they have learned that for long term success, they have to ensure their visitors are satisfied with their experience – both while on the website and after. They firmly believe that by simply suggesting the companies offering car insurance in your area they allow visitors to have a degree of control over their private information that most other online auto insurance comparison sites simply can't offer.
Brian Brown Racing would like to thank Casey's General Stores, FVP, Searsboro Telephone Company, Impact Signs Awnings Wraps / impact4800.com, Champion Brands, SPLASH, Ditzfeld Transfer, Maxim Racing, Smiley's Racing Products, Weld Wheels, Housby Trucks, www.RateWin.com, Arctic Cat, K&N Filters, Hostiowa.net, FSR Race Products, TI64, Fuel-Safe Tanks, Awesome Racewear, Wolfe Eye Clinic, Bell Helmets, CP Pistons, Carrillo Rods,  Vortex Wings, Penray, All Pro Cylinder Heads, Butler Built Seats, AkzoNobel Sikkens, AllDayParts.com, Tru Square, Jack Links, Deli Express, Snap-On Tools, Rod End Supply, KSE Racing Products, Winters Performance Products, Santomauro Racing Products, Cometic Gaskets, Kaeding Performance, Donovan, Magtech, ISC Racers Tape, Kinsler Fuel Injection, Racing Optics, Mothers Wax, Don's Truck Wash, Gardner Farms, Hoosier Tires, GoPro, XYZ Machining, Brown and Miller Racing Solutions, Peterson Fluid System, Red Devil Brakes, Schoenfeld Headers, ADD, 6B Apparel, Zips Energy Seeds, Bosch, NGK, Garrett Racing Engines, MSD and WSIB Insurance for all their support!