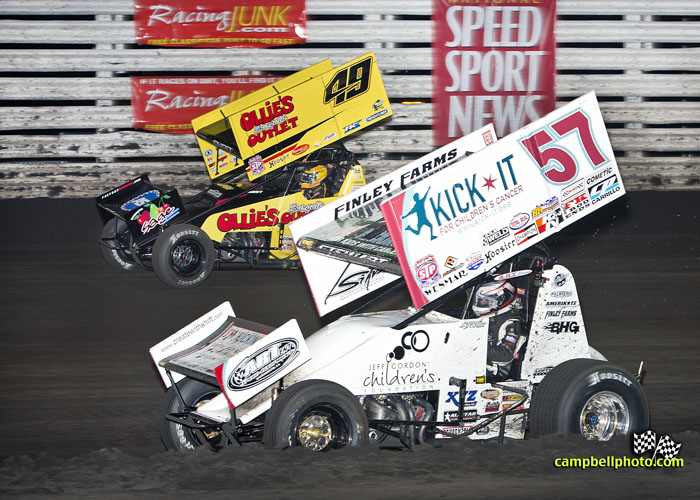 PETERSEN MEDIA
 Though he was safely in the show, and started the biggest race in the world in the second row, when all 50-laps were completed on Saturday night ,Shane Stewart was not happy with his performance as he slipped back to a 17th place finish when it was all said and done.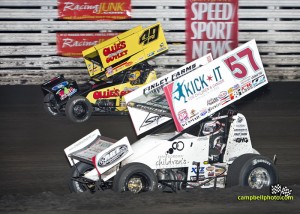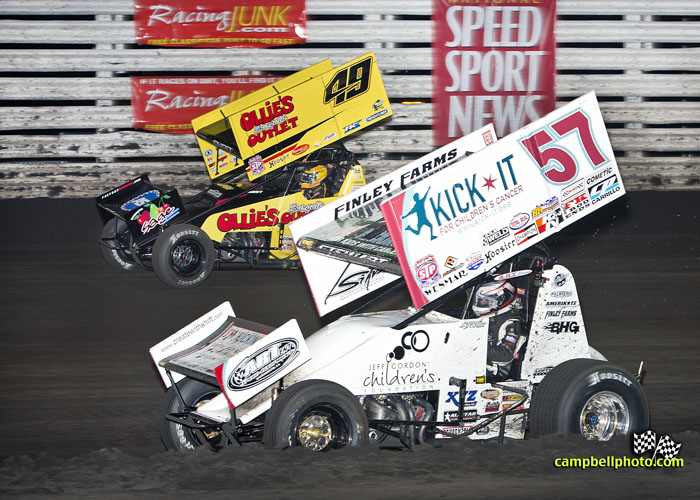 "We struggled all week in the 410 really," Stewart said. "Fortunately we were able to qualify well on Wednesday, and put ourselves in the position we were in, but both Friday and Saturday we went backwards, and we really tried everything."
Kicking off action on Wednesday night, Stewart timed in very well as he was fourth quickest aboard his Jeff Gordon Children's Foundation/Kick-it/Lucas Oil Products machine, putting him in the fourth row of the fourth heat.
Showing the world he knows the fastest way around the track, the Bixby, OK driver raced his way to the front, and scored a second place finish, putting him in the preliminary night feature event.
Lining up sixth, Stewart had a strong start, as he worked up into the fourth spot, before a caution waived.
The ensuing restart saw Stewart get into the front-stretch cone, and the start was waived off, and he was penalized a spot, putting him back in the fifth spot.
The next restart saw Stewart, continue to move forward, as he got up into the fourth spot as he chased after Josh Scneiderman, and Greg Hodnett.
On a lap nine caution, Stewart had an issue, and pulled infront of the field to keep the green flag away, and stopped in the pit area, as he had a safety belt issue, and was given the fourth spot back.
Back underway, Stewart chased after Brad Sweet who had gotten past him, and had his hands full with a charging Tim Kaeding, and Kraig Kinser.
Battling with them, he ended up losing a spot to Daryn Pitman, as Kraig Kinser blew up, and Stewart went on to finish sixth in the feature event, and sat on top of the point's chart after the first night.
"We had a decent car, and learned some things for Saturday, but to be honest, I really had to get the seat-belt issue out of my head, because it was rough to get over that and try to get up on the top of the track," he said. "We were in a pretty good spot after our qualifying night."
Starting third in the 50-lap feature event on Saturday night, Stewart had a great start to the Knoxville Nationals as he shot up to the second spot behind Joey Saldana, but the yellow waived negating it.
The second start wasn't as good for Stewart, initially as he was in the third spot, but out of two, he shot past Saldana as he chased after Brian Brown.
Following a lap two caution, Stewart slipped into the third spot, as Saldana got past him, and he worked on keeping Justin Henderson behind him.
Working around the speedway in the third spot, Stewart got a touch out of shape exiting turn four on the 18th lap, and Henderson was able to get under him and take the show position, putting Stewart in fourth.
Near the halfway point, Stewart made a run at Henderson for third, but as he did that, he lost several spots, and slipped back to the 10th spot, as the caution waived for the mandated open red flag.
After making wholesale changes to his machine, Stewart tried everything he could thing of during the final half of the race to get moving in the right direction, but he simply was not able too, and closed his Nationals out with a 17th place finish.
"It was a frustrating night for everyone involved," he added. "We were in a great position to have another shot at battling for a win at the event, and we were unable to do much. We will hit the drawing board and see how we can learn from this and get back to being strong here. That aside, it was great to work with all of the Jeff Gordon people, and be a part of a great organization."
The Silva Motorsports team thanks Kick-it, The Jeff Gordon Children's Foundation, Lucas Oil Products, A.R.T. Speed Equipment, Pro Bilt Construction, Palmero Properties, Finley Farms, Car and Fleet, Stepping Stone Genetics, FK Rod Ends, OMP Racing, Wesmar Racing Engines, Amerikote, XYZ, Hoosier Tire, Pro Shocks, Banshee Graphics, Dan Olson Products, K&N Filters, RE Technologies, Weld, Schoenfeld Headers, Butlerbuilt Seats, Vortex Wings, CP Pistons, Cometic Gaskets, Huggins Cams, BR Ignitioneering, Blackwell Consolidation, Shift Creative, and Petersen Media for their partnership in 2013.
2013 BY THE NUMBERS- Starts-63, Wins-13, Top 5's-35, Top 10's-41.
SILVA MOTORSPORTS 2013 BY THE NUMBERS: Races-15, Wins-4, Top-5's-1-, Top 10's-11.
ON TAP: Stewart will team back up this weekend with the 3G Racing team and will be in action at Hartford on Friday night and Plymouth on Saturday night.