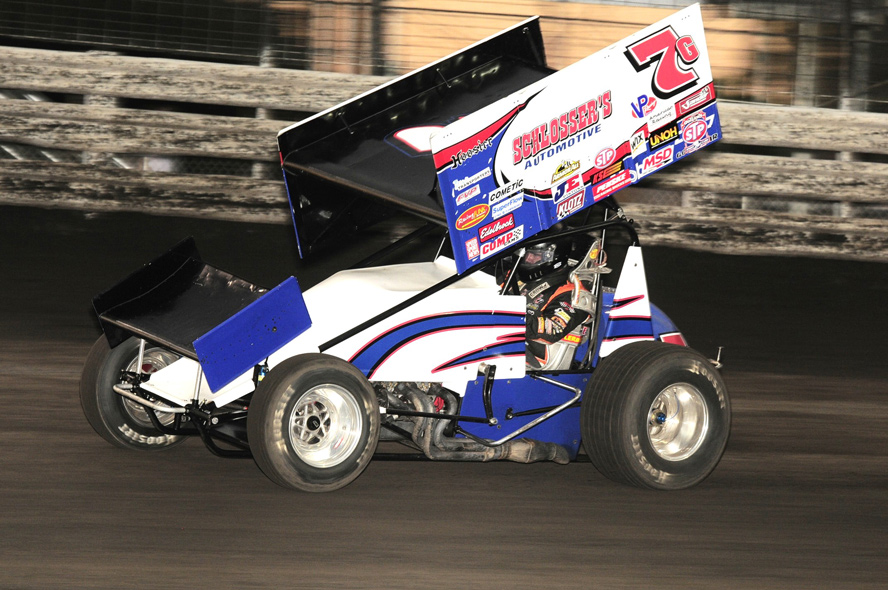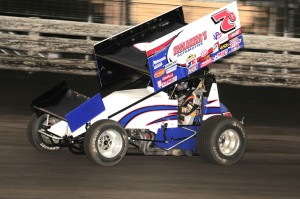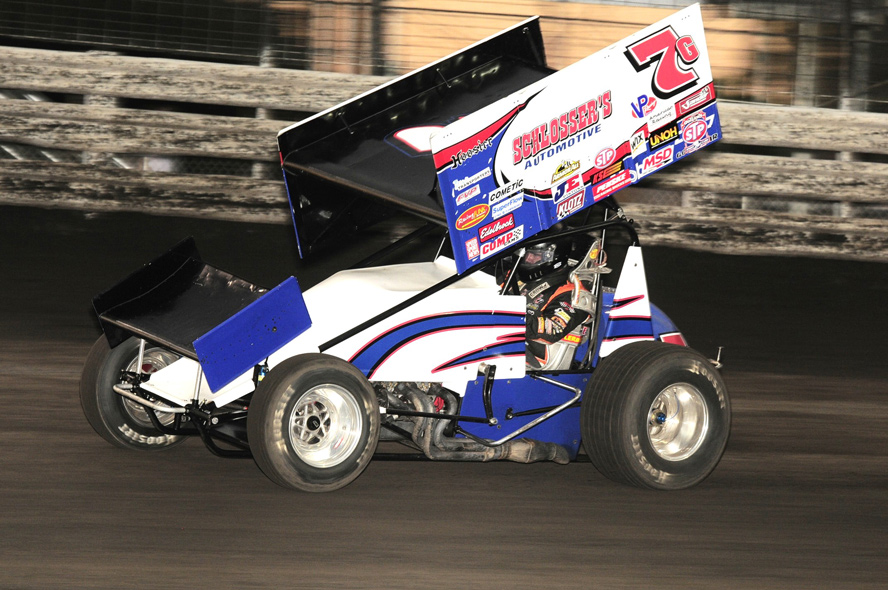 From Bill W
August 14, 2013 – Teaming with Mike Sandvig and his #7, Kaley Gharst recorded a win with the JSTS on July 27 at the Jackson Speedway in Minnesota.  He paired that with double duty and a top ten with the All Stars.  Last week's Nationals saw ignition issues surface, and the Decatur, Illinois driver's run in Chuck Schlosser's #7G ended in Saturday's C main.
Action started for Kaley with Sandvig in Rock Rapids, Iowa on July 26.  Things ended almost before they got going.  "The car jumped out of gear in the heat race and zinged the motor pretty good," says Kaley.  "We were done there with some rocker arm issues."
The next night at Jackson saw double duty.  "We picked up another 360 and took a 410 for the All Star show so we could run both divisions at Jackson," says Kaley.  "We had issues with the car coming out of gear again.  We found out we didn't hurt the motor, but it was an issue with the rear-end.  We didn't do too well in either of our heat races."
Starting ninth in the 360 feature, Kaley worked his way forward and took an exciting win on the final lap.  "We were working on the 360 before the feature and changed a couple of things," he says.  "We got it working a lot better, and we were able to come up and get (Gregg) Bakker on the last lap for the win.  We had a couple of cautions late there that let us all get bunched up and it worked in our favor."
Kaley also drove forward from 16th to 10th with the All Stars at Jackson.  He was looking for the same kind of luck heading into last Thursday's qualifying night at the Nationals, but it was not to be.  "We just had ignition troubles the whole night," he says.  "We finally got it figured out for the C main on Thursday."
Friday provided a chance for redemption, but the team failed to get a time registered in qualifying.  "We thought we had things figured out for Friday, but we went out for time trials and we still had ignition issues," says Kaley.  "We were able to get it squared away for our heat and we passed a few cars, but not enough."
That left a lot of cars to pass to move up for Saturday's program.  A ninth place finish in the B put Kaley on the pole for Saturday's D.  "We had to come through the C (9th to 3rd) and get into the B (18th to 9th)," he says.  "We finally figured out our ignition issue at least."
Saturday ended in the C main.  "The track went away a lot quicker than we thought.," says Kaley of his D main run.  "We were way too loose.  We fell back to fourth.  We got it tightened back up for the C main, but we really weren't able to do much.  We were back there battling with some good drivers like (Dale) Blaney and (Lance) Dewease. "
Kaley, who has six wins at the "Sprint Car Capital", plans on returning to Knoxville for their Season Championship night on August 24.  "At least we have the car figured out," he says.  "It was about the worst time to have those problems, but we'll be ready now.  One of these years, we'll have some luck at the Nationals again, I guess."
Keep an eye on Kaley's progress this week and beyond at www.KaleyGharst.com!