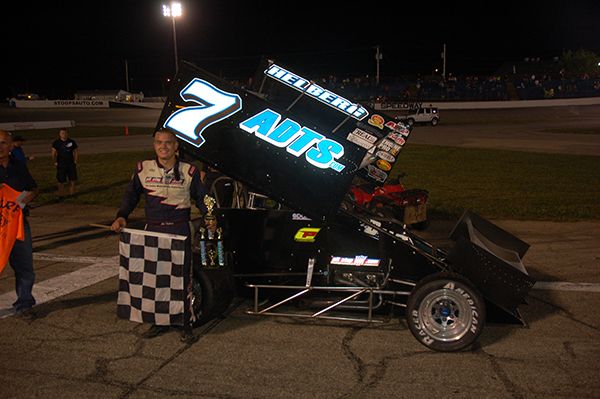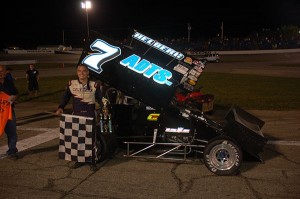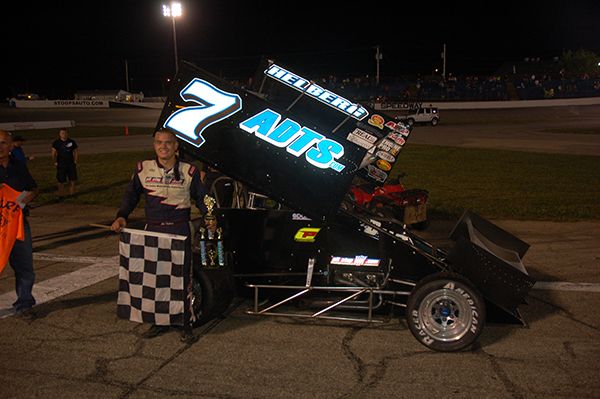 From Anderson Speedway
Anderson, IN — (August 17, 2013) — For the third consecutive August event at Anderson Speedway, Jo Jo Helberg took the checkered flag in TruFuel Must See Racing Xtreme Sprint Series action on Saturday, August 17.
Helberg took the lead from Brian Olson on lap 15 with an inside pass entering turn one. From there Helberg pulled away to record the victory followed by Roahrig, Brian Gerster, Olson and Aaron Pierce.
The early lead was grabbed by Chris Neuenschwander chased by Olson and Roahrig.
Neuenschwander's night ended on lap nine with a mechanical problem.
Fast qualifier Gerster started eighth in the 50-lap feature and marched up to third with 20 laps remaining, but couldn't close on the two leaders.
"The bottom was working good," Helberg said. "For the last four laps the car started to develop a vibration, so I was worried a little bit."
Pay Less Little 500 winner Jacob Wilson's night ended on lap 25 and he was credited with a 17th place finish.
On the restart following a spin by Kevin Blue on the front straight, Gerster and Pierce went three wide in turn two with a lapped car squeezed on the bottom. All three drivers emerged unscathed.
New Castle's Jason Atkinson made it two consecutive Champion Racing Association Street Stock wins in a row.
Atkinson took the lead from Jim Crabtree Jr. with 20 laps remaining by getting inside entering turn one and completing the pass coming off the fourth corner.
Crabtree took the lead from pole sitter Larry Lathan on lap eight. Following the eighth restart of the race, Tyler Marsh, Calvin Parham and Josh Poore all tangled on the back straight while racing for the third position.
From there Atkinson pulled away from Crabtree and Dustin Burge for the victory with Colby Lane and Larry Mattillo rounding out the top five.
Marty Griffin recorded his third feature win of the season in the Thunder Roadster division leading all 25 laps.
Griffin had to hold off a late charge by Doug Dugger over the final six laps after Nate Shrout and Darrell Brown tangled in the second corner while battling for the second spot.
Following Griffin and Dugger to the checkered flag were John Robbins, David Lobbia and Chase Lane.
Paul Phipps took the lead from Kamden Creek on the fourth lap and went on to record his second consecutive Front Wheel Drive Oval Division feature.
After opening a comfortable lead Phipps saw it start to disappear as he battled lapped traffic with five laps remaining and the caution flag.
Phipps held off Elliott McKinney and Jerry Dane over the final four laps to get the victory with Marshall Clark Jr. and Kevin Henson rounding out the top five.
Racing action returns to Anderson Speedway on Saturday, August 24 with the Grant Fritz/Greg Dietzen Memorial featuring the Legends. The MEP Late Models, Front Wheel Drives Oval and Thunder Roadsters will also be in action.
For additional information on Anderson Speedway, visit www.andersonspeedway.com or contact Anderson Speedway at (765) 642-0206.
50-LAP MSRXSS FEATURE RESULTS
1.                       7     Jo Jo Helberg
2.                 64     Tyler Roahrig
3.                               50m   Brain Gerster
4.                                71       Brian Olson
5.                              26p      Aaron Pierce
6.                                17       Cody Gallogly
7.                               51        Mike Larrison
8.                              2t        Tom Tolbert
9.                  60        DJ Hamilton
10.                          5r        Darren Roberts
11.                          45       Ryan Gillenwater
12.                          81        Jimmy Kite
13.                         56r        Ryan Meyers
14.                          6           Sondi Eden
15.                          6           Kevin Blue
16.                          41         Troy DeCaire
17.                          07         Jacob Wilson
18.                           0          Joe Speekman
19.                           8          Chris Neunaschwander
20.                          75c       Jerry Caryer