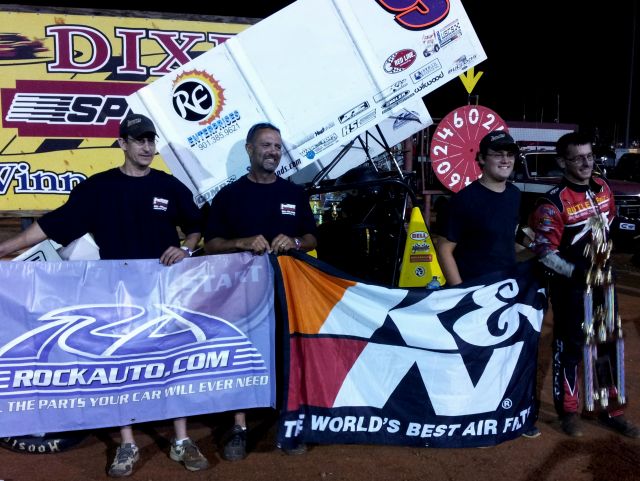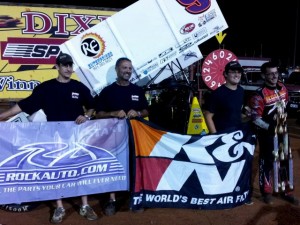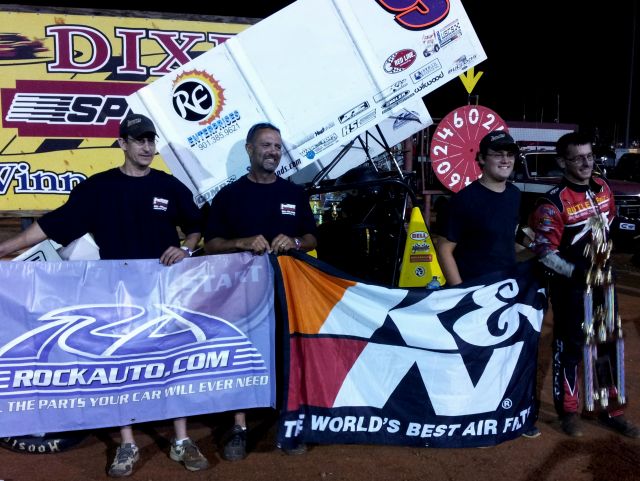 From Pete Walton
Woodstock, GA – (August 24, 2013) – United Sprint Car Series National point's leader Derek Hagar from Marion, Arkansas raced to his ninth United Sprint Car Series presented by K&N Filters feature win of the season on Saturday night at historic Dixie Speedway in front of a capacity crowd. Hagar won the drag race to turn one of the thirty-lap contest over 2007 USCS Southern regional series Rookie of the Year, Lee Moore from Tuscaloosa, Alabama and never looked back as he drove his J&J Auto Racing #9Jr. from the K&N Filters Pole starting position into the www.rockauto.com USCS victory lane in the Dixie Sprint Car Nationals winged sprint car event. The April 12th Carolina Speedway USCS feature winner and another past Southern region Rookie of the Year (2010) Eric Riggins from Charlotte, North Carolina finished in the runner-up spot. Ten-time series National Champion, Terry Gray, from Bartlett, Tennessee finished in the K&N Filters Podium Award third place. The 2012 USCS Rookie of the Year, Jeff Willingham from Ripley, Mississippi followed Gray in fourth place. Lee Moore raced hard the entire distance and stayed in the lead pack for a career best top five finish in fifth place.
Third generation racing young gun, A.J. Maddox from Brandon, Florida finished ahead of the next group in sixth place. The only female racer in the field Morgan Turpen from Cordova, Tennessee who started twelfth finished in the seventh position. Engler Machine and Tool First Heat winner, Nick DeFeo from Marietta, Georgia followed in eighth place. Veteran sprint car driver, Bob Auld from Largo, Florida finished in ninth place and 2012 Carolina Racesaver sprint Champion, Jake McLain from Indian Trail, North Carolina completed the top ten drivers.
Terry Gray won the Hoosier Tire Speed Dash on August 10th just before the event was rained out and re-scheduled. Nick DeFeo won the Engler Machine and Tool First Heat. Derek Hagar won the Butlerbuilt Second Heat. After the highest passing points earner from the heat races, Nick DeFeo, drew a four in the K&N Filters Pole Award drawing Derek Hagar was awarded the K&N Filters Pole Position. Morgan Turpen advanced the most positions in the main event to earn the Wilwood Disc Brakes Hardcharger Award.
The next USCS Outlaw Thunder evemt will be on pavement this coming Friday, August 30th at Atlanta Motor Speedway when the versatile USCS drivers contest a 50-lap main event on the ¼ mile Thunder Ring in front of the main grandstand of the speedway just after NASCAR Sprint Cup qualifying for the Advocare 500.
A dirt track double header follows on Saturday, August 31st at the famed Cleveland Speedway in Cleveland, Tennessee. The triple-header Labor Day weekend speed tour concludes with the 2nd annual Sunday of Speed at historic Toccoa Speedway (3/10 mile dirt D-shaped speedway) in Toccoa, Georgia.
All For rules, updated schedules and other info on the USCS Outlaw Thunder Tour winged sprint car series 2013 and 17th annual National tour please visit www.uscsracing.com or call 865-6097.
USCS Outlaw Thunder Main Event – Lavonia Speedway – Friday, June 14, 2013
Hoosier Speed Dash 6-laps: Terry Gray, Anthony Nicholson, Derek Hagar and Morgan Turpen.
Engler Machine and Tool First Heat: Nick DeFeo, Eric Riggins, Jr., Lee Moore, Ray Bugg, Bob Auld, Morgan Turpen, Tyler Godwin and Jay Dunham.
Butlerbuilt Second Heat:  Derek Hagar, Terry Gray, A.J. Maddox, Jeff Willingham, Jake McLain, Matt Kurtz, Chris Hladik and Brandon McLain.
USCS Filtercharged by K&N Filters main event 30-laps:
Pos. Car # Driver/Hometown:
9Jr Derek Hagar, Marion, AR
47 Eric Riggins, Jr., Charlotte, NC
10 Terry Gray, Bartlett, TN
28 Jeff Willingham, Ripley, MS
1A Lee Moore, Tuscaloosa, AL
3a A.J. Maddox, Brandon, FL
10m Morgan Turpen, Cordova, TN
96d Nick DeFeo, Woodstock, GA
83 Bob Auld, Largo, FL
67 Jake McLain, Indian Trail, NC
11 Chris Hladik, Harrisburg, NC
25 Ray Bugg, Iuka, MS
82T Tyler Godwin, Tampa, FL
82 Matt Kurtz, Jacksonville, FL
6c Brandon McLain, Indian Trail, NC
51 Jay Dunham, Augusta, GA
USCS Outlaw Thunder Tour Race Awards:
Hoosier USCS Sprint Speed Dash held 8/10/13: 10 Terry Gray
Engler Machine and Tool First Heat: 96d Nick DeFeo
Butlerbuilt Second Heat Award: 9Jr. Derek Hagar
K&N Filters Pole Award: 9Jr. Derek Hagar
K&N Filters Podium (3rd place) Award: 10 Terry Gray
Wilwood Disc Brakes Hardcharger Award:
DMI/Bulldog rear Ends top Ten Award: 67 Jake McLain