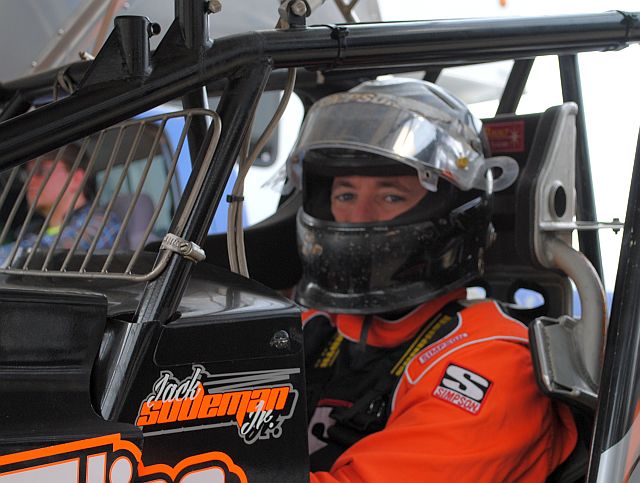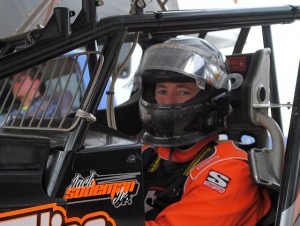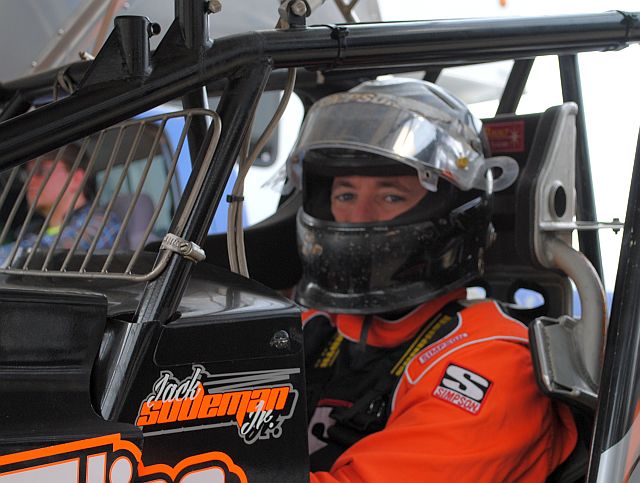 From Lernerville Speedway
Sarver, PA — (August 30, 2013) — Championship Night is always a bittersweet event, as it celebrates four newly crowned Track Champions, but it also marks the end of another Fab Four Racing season.  Torrential rain mid-week made for a fast, but often times rough and tumble Action Track which led to some wild action in all four divisions.  Despite having secured their spot at the head table at next year's banquet, Alex Ferree and Mat Williamson "drove it like they stole it" Friday night to cement their Track Championships with their fifth wins of the season.  Jack Sodeman Jr. ended his season just as he began it, in Sheetz Victory Lane.  But it was Brandon Spithaler whom added his name to the iconic list of Lernerville Speedway Sprint Car Track Champions on the strength of another top five finish after an almost disastrous start to the race.  And the 2013 Fab Four Racing season came to a dramatic close as Defending Track Champion Corey McPherson drove away with his seventh feature win of the season to be the only repeat Track Champion of 2013.
Alex Ferree is no stranger to Sheetz Victory Lane or the head table at the banquet.  With 23 Precise Racing Products DIRTcar Late Model feature wins and three Budweiser Track Championships on his resume, Ferree could have just gone through the motions Friday Night.  Instead, he hammered the gas and drove the Joe Carodo-owned #10 car from 10th on the grid to a third straight feature win; his fifth of the season.  To be fair, Ferree had a bit of good fortune ahead of him, as early leaders Mike Pegher Jr. and John Garvin Jr. got together in turns three & four trying to navigate heavy lapped traffic which resulted in Garvin going around and bringing out the caution.  Pegher was sent to the tail for rough driving and Jared Miley inherited the lead on the lap 15 restart.  Miley led five laps until Ferree dove under and slid past him into the lead.  Once out front, there was no catching the A-Train and Ferree rolled to his 24th career feature win and celebrated his fourth Budweiser Track Championship.
Miley limped to a second place finish with bent suspension which probably cost him the win, as Miley doesn't usually surrender a lead either on an open race track.  After a frustrating season and a half of bad luck and misfortune in the Pitkavish #1 Late Model, Tommy Beck is back in his family-owned #91 car and ended the Fab Four Racing season with a podium finish in third.  Brian Swartzlander and John Garvin Jr. recovered from early/mid race cautions to round out the top five, while Chuck Sarver, Herman Bertolini, Marc Sallack, Danny Huston and Chris Rhodes survived the attrition to finish in the top ten.  Heats were checkered by John Garvin Jr. and John Mollick.
Like Ferree, Mat Williamson had nothing to race for except another checkered flag and he captured it to cap his Championship campaign in Sheetz Victory Lane.  Dave Murdick and Bob Warren brought the Diehl Auto Group DIRTcar Northeast Modifieds to the green flag and Murdick jumped out to the early lead.  Murdick was looking for his third feature win of an inspired second half of the season, but soon had his hands full with the Canadian Sensation.  Williamson started third on the grid and quickly dispatched 2012 Lernerville Rookie of the Year Bob Warren for second.  After chasing Murdick for seven laps, Williamson took the lead on the lead seven restart and survived Murdick's aggressive attempts to retake the lead until contact between the two gave Williamson some breathing room and allowed All Time divisions wins leader Brian Swartzlander to get by Murdick for second.  Swartzlander tested the mettle of the young driver, but Williamson proved too tough to pass on a fast but tricky race track.  Williamson's fifth feature win put an exclamation mark on his 2013 Budweiser Track Championship.
Swartzlander and Murdick chased Williamson to second and third place finishes, followed by Jeremiah Shingledecker in fourth and Eric Gabany in fifth.  The Diehl Top Ten rounded out with Rodney Beltz, Carl Murdick, Bob Warren, Rick Ryder and Mike Turner.  Heats went to Mike Turner and Steve Feder.  Feder's heat race win was his first of the season!
The Championship was up for grabs in the Peoples TWP DIRTcar Sprints, as Brandon Spithaler, Brandon Matus and Carl Bowser all had a shot at the title when the green flag dropped on the 25-lap A-Main; Eric Williams entered the night with a mathematical chance at the title, but was eliminated from contention during heat race action.  July 26 feature winner Mike Lutz jumped out to a quick lead from the pole, but Jack Sodeman Jr. loves a fast race track and he zoomed by Lutz to take the lead on lap 10.  Lutz retired to the pits a lap later with mechanical issues.  But the race was far from over, as future Hall of Famer Rod George was looking for his 44th feature win.  George got by Carl Bowser for second on lap 16 and started to reel in Sodeman in lapped traffic.  George even briefly took the lead on lap 21, but then made contact shortly after the flagstand with Jim Shuster.  The incidental contact sent Shuster into a violent flip, but he did exit the car under his own power.  After a lengthy red flag period, Sodeman retook the lead on the restart and rolled to his fourth feature win of the season.
Brandon Spithaler had an almost disastrous start to the feature, as he bicycled in turn two on the opening lap, but lady luck was on his side and he continued without issue.  Safely back on four wheels, Spithaler ran the entire race in the top five with championship rival Brandon Matus in his proverbial rearview mirror.  Spithaler rode a fourth place finish, his division leading eighth top five of the season, to a family-first Lernerville Sprint Car Championship.  His uncle, Racin' Ralphie Spithaler is ninth on the All Time Sprint wins list, but was never able to secure a Sprint Championship; he did however win a title in the Big Block Modified division in 1989.
Rod George survived the contact with Shuster to finish second ahead of Carl Bowser in third.  As mentioned above, Brandon Spithaler came home fourth to secure the Track Championship.  Eric Williams rounded out the Peoples TWP Sprint Top Five ahead of Brandon Matus, Daryl Stimeling, Brent Matus, Scott Priester and Andy McKisson.  Sodeman, Matus and Spithaler won their respective heat races and Gary Rankin won the B-Main.
What can you say about Corey McPherson?  After winning five Millerstown Pic-A-Part DIRTcar Sportsman features and the Track Championship in 2012, all he did in 2013 was win seven features and defend his title.  But while he cruised to the championship in 2012, he had to catch and pass third-generation star AJ Flick in the Budweiser Point Standings to repeat as Track Champion.  When the green flag flew on the 20-lap A-Main, McPherson quickly jumped into second behind outside polesitter Bob Egley.  McPherson took the lead on lap five and never looked back en route to his 14th career feature win; already ninth on the All Time division wins list.  Corey's Lernerville and dirt track future is clouded as it was announced in Sheetz Victory Lane that he will be doing some asphalt Late Model racing next year thanks to sponsor Bob Benz of Stan's Transmission.
AJ Flick too will be moving up next season; the plan being to ascend into the Peoples TWP DIRTcar 410 Sprint ranks!  AJ finished second, both in the race and championship, after having to come from the tail mid-race after contact with Mark Sanders battling for second.  Brett McDonald sealed the "Most Improved Award" with another podium finish to cap his career year to date.  And with McPherson and Flick moving on next season, McDonald could be a serious title contender in 2014!  Terry Young improved upon last week's fifth place finish by coming home fourth in his new GM Performance 604 Crate powered SS Chassis.  Rookie of the Year contender Joey Zambotti scored his best finish of the season in fifth, while Mark Sanders, Jim Fosnaught, Pat Hanley, Joe Kelley and Mike Miller rounded out the top ten.  Paul Schreckengost, Joe Kelley and Rob Shook scored heat race wins on the final night of Fab Four Racing.
Now that Fast Fridays have come to a close for 2013, we'll shift our efforts to Saturday Nights for the next three weeks starting with Autumn-Motive Fest 2013 next Saturday, September 7 featuring the $2,000-to-win Sportsman/Stock Spectacular and the $1,000-to-win Enduro 100.  "Back to School" Bus and Kid's Bike Races are scheduled on Saturday, September 14 along with Senior Series Stocks, Figure 8 races and Demo Derby.  The Greatest Show on Dirt returns to the Action Track on Saturday, September 21 for the $10,000-to-win Commonwealth Clash.  Tickets are available 24/7 at Lernerville.com by clicking the "Buy Tickets" link and all advanced purchases include a FREE fan pit pass upgrade!

Peoples TWP DIRTcar Sprint Feature (25 Laps)
1. (94) Jack Sodeman Jr., N. Jackson, OH
2. (8) Rod George, Kittanning
3. (10) Carl Bowser, Sarver
4. (22B) Brandon Spithaler, Evans City
5. (7) Eric Williams, Greenville
6. (13) Brandon Matus, Wampum
7. (30) Daryl Stimeling, Lewistown
8. (33) Brent Matus, Wampum
9. (11) Scott Priester, Rimersburg
10. (O) Andy McKisson, Strattanville
11. (44) Pete Landrum, Jeanette
12. (66) Chris Best, Mercer
13. (W1) Ralph Engel, Harmony
14. (1R) Gale Ruth Sr., Pleasantville
15. (08) Dan Kuriger, New Brighton
16. (52) Jim Shuster, Punxsy
17. (5M) Mike Lutz, Wampum
18. (2s) Francis Sesco, New Bethlehem
19. (16) Gary Rankin, Renfrew
DQ (2L) Ed Lynch Jr, Apollo
DNS: Bob McMillin, Jake Gomola, Bill Kiley
Heat Race Winners: Jack Sodeman Jr., Brandon Matus, Brandon Spithaler
B-Main Winner: Gary Rankin