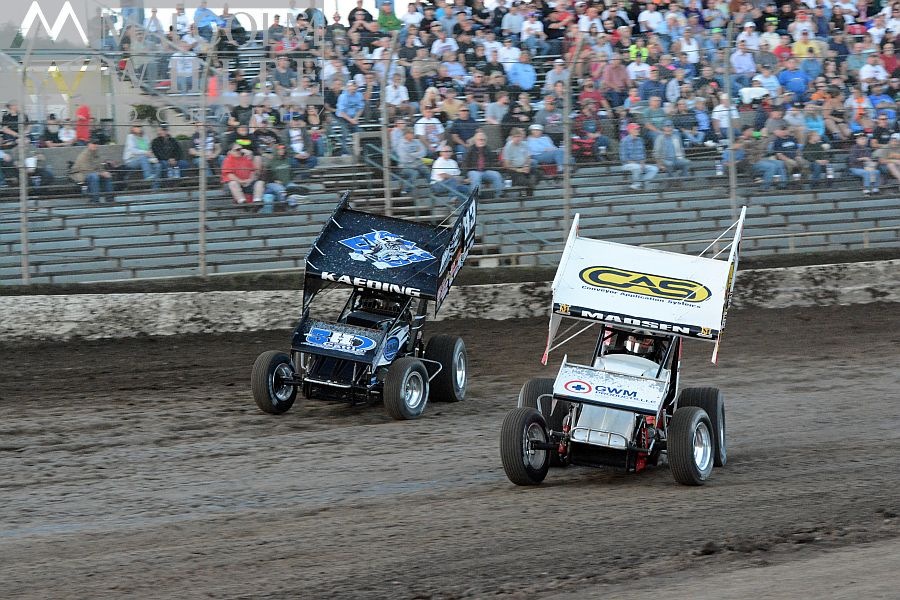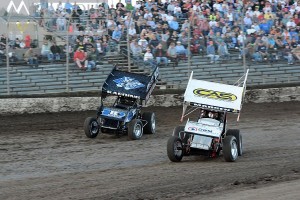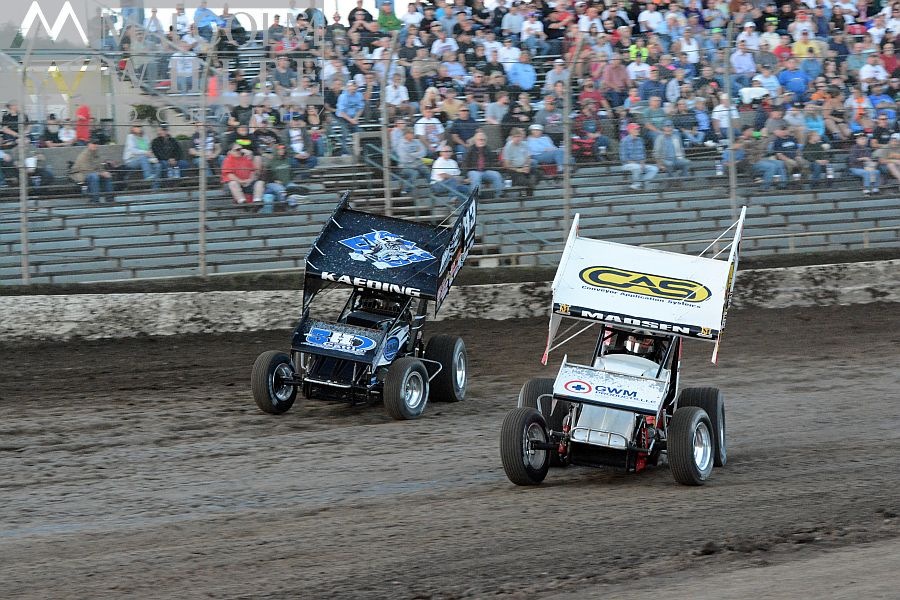 From Bill W
September 5, 2013 – Kerry Madsen and the Keneric Racing #29 team are currently on a roll, and currently in the midst of nine races in ten nights on the west coast.  Last Friday and Saturday night, the St. Mary's, New South Wales, Australia driver finished second at Skagit Speedway in Washington.  Monday, he was fifth in Elma, Washington, Tuesday, he registered a sixth place finish at Willamette Speedway and he suffered his first DNF of the trip last night in Cottage Grove, Oregon.  Tonight, he'll compete at the Medford Speedway in Oregon, before moving onto the Silver Dollar Speedway in Chico, California Friday and Saturday, and the Antioch Speedway in California on Sunday.
Friday's event at Skagit was strong from start to finish.  "We went out late and qualified pretty well (7th)," says Kerry.  "The heat (2nd) and the Dash (3rd) went well.  We dropped back to sixth on the initial start.  After a few laps, we burned some fuel off and the track came back to us.  We were really strong at the end.  There was a long run where we caught (Paul) McMahan and Sammy (Swindell), and I thought we were going to get them in traffic.  The yellow came out with about five laps to go, and we got McMahan on the restart.  We were right behind Sammy, but we weren't going to do much with him in open air.  We ended up second, but it was a good result."
Saturday's finale at Skagit ended in the same result, but with different circumstances.  "We qualified well again (7th)," says Kerry.  "We were able to win the Dash and start on the front row of the feature.  We led about twenty laps or so.  When we got to traffic…I just couldn't do anything in traffic.  (Donny) Schatz just drove around me at that point and left me for dead.  We had a late restart, and I was hoping Schatz would pick the bottom, so I would have a shot at driving around him, but he chose and ran a good line and I followed him the last few laps.  It was a good weekend with two seconds though."
The Grays Harbor Raceway in Elma was the host on Monday, and it saw a charge in the feature from Kerry.  "We qualified o.k. (11th) which put us up front in the heat, but we were put back a row for jumping," he says.  "We finished fourth in the heat.  That put us starting twelfth in the feature, and we ran up to fifth.  We were pretty happy with that run."
Lebanon, Oregon is home to the Willamette Speedway and that's where the World of Outlaws competed on Tuesday.  "We qualified tenth, which put us on the pole of the heat," says Kerry.  "We got down in the grease and fell back to fourth, but we were able to get back up to second.  The Dash was pretty uneventful and we finished ninth.  We struggled early in the feature and lost some ground.  I decided I better get going, and made some progress around the top.  I was able to get back up to sixth.  There was a restart late that I was stuck on the bottom, but I was able to hold onto sixth and we were pretty happy with that one."
Kerry talks about last night's events at Cottage Grove.  "It was pretty much a disaster.  We qualified terribly and started seventeenth (in the feature).  I was making some progress and things were going to be o.k.  On a restart, the left front went flat somehow.  We must have run over some debris at some point.  We got into the work area, got it changed and came back out.  Coming around three and four on the restart, a couple of cars got together and spun out.  My left front got into either a fuel tank or a right rear and sent me into the wall.  We crashed pretty heavily.  We spent last night getting another car ready, and we're ready for Medford!"
Overall, it has been a good week, that saw Kerry move into eighth place in the WoO driver standings.  "We had a good start, and we're looking forward to the rest of the week," he says.  "The team did an outstanding job of being prepared for this trip, and they deserve a lot of credit."
Follow Keneric Racing & Kerry Madsen on Facebook and Twitter!
Keneric Racing
www.KenericRacing.com
http://www.facebook.com/kenericracing
http://twitter.com/kenericracing
Kerry Madsen
http://www.facebook.com/pages/Official-Fan-Page-for-Kerry-Madsen/101145169933686
http://twitter.com/kmr29
To receive Kerry's Releases, send an e-mail to sprntcar@hotmail.com  This e-mail address is being protected from spambots. You need JavaScript enabled to view it with "Madsen" in the subject line!
Kerry Madsen (KMR) Bob & Peter Gavranich (Keneric Racing)
Earthex (Des Johnstone & Murray Lumsden) Morrison Motors (Brian Morrison) KPC Chassis (Steve Kent)