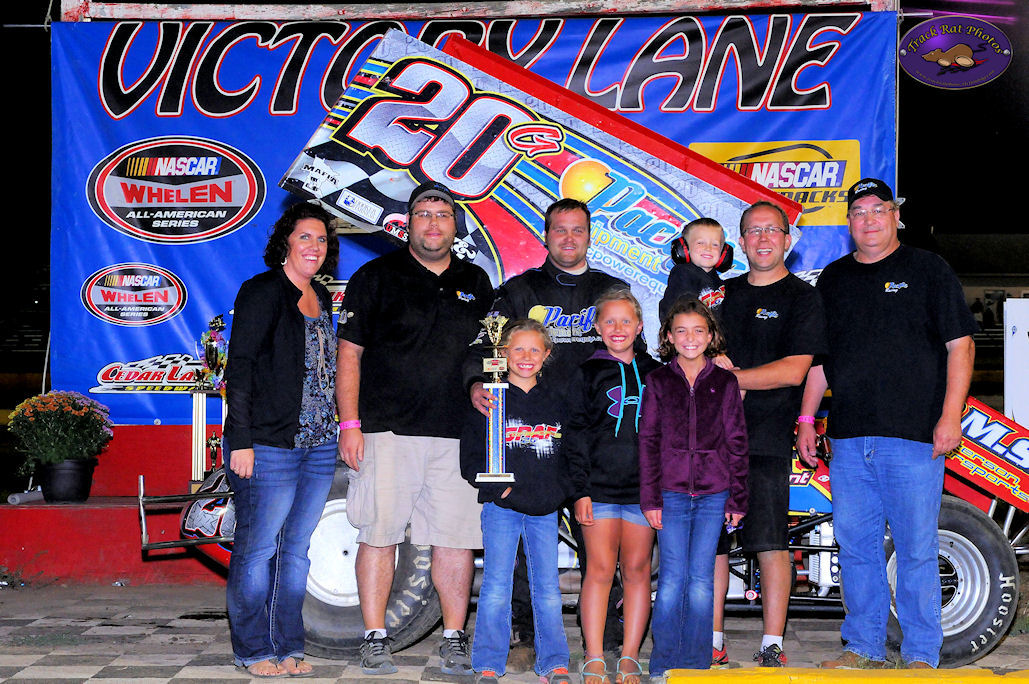 By Greg Parent
New Richmond, WI
What a way to cap off your first-ever UMSS Championship season with a win on the final night at the 13th Annual Jerry Richert, Sr. Memorial race.  Chris Graf of Glencoe did just that, as he raced to a convincing win at the Cedar Lake Speedway on Saturday September 7 to put the exclamation mark on a spectacular 2013 UMSS season!  It was Graf's first win of the year and his 11th career UMSS victory.  Securing the championship earlier in the week at Granite City, Graf and his top-notch crew were really focused on getting a win in the season finale, especially at a premier event like the Richert Memorial.  In his Victory Lane interview, Graf thanked his crew, family, sponsors and everyone involved for their dedication and hard work in giving him the opportunity to earn a championship and win the feature to close out the UMSS season.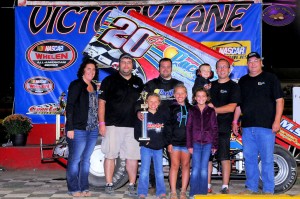 A very stout field of 21 UMSS sprints signed into the pits on a hot, sunny, breezy afternoon.  Add in 29 IRA 410 sprints, and fans saw a field of 50 sprint cars at this annual later summer gathering of the sprint car clan to honor a true champion, Jerry Richert, Sr.  The UMSS ran their usual double round of qualifying races with Jerry Richert Jr, Brooke Tatnell and Graf winning the Ultimate sprint heats.  Lee Grosz and Davey Heskin topped the Challenge races.  Heskin was high point driver and drew the zero pill for a straight-up feature race start.  Outside of Heskin on the front row was recently crowned 2013 UMSS Champion Chris Graf.
With three cars unable to take the green flag in the 20 lap feature, 18 winged UMSS warriors came to life with Graf blasting into the early lead.  Richert's car had an immediate problem on the start and dropped out of the race right away.  Two laps in Tony Norem blew a motor and stalled in turn two to bring out the first caution.  Jared Goerges brought out another quick caution on the restart with a spin in turn two.  Graf once again was strong when the race went green, as Lee Grosz got by Heskin for second on lap 3.  Brooke Tatnell was on the move forward from his 12th starting spot though.  Tatnell's car had suffered a rear end failure while leading his Challenge race, so he was pushed back into the middle of the feature starting grid.
Graf maintained a comfortable lead up front running high on the cushion around the 3/8 mile banked oval.  The leaders were into lapped traffic before the halfway mark, as laps clicked off under green.  Tatnell kept advancing, moving to third a mid race.  Tatnell got by Grosz on lap 14 and set his sights on Graf.  Tatnell began closing the gap, but with 16 laps in the books the right rear tire on his Nelson #14 sprint blew to bring out the third and final yellow of the race.  Graf's big lead was gone, but his closest pursuer was on the hook heading to the work area.
Four green flag laps later, it was mission accomplished for Graf.  Finishing behind the champion was Lee Grosz, Davey Heskin, Cody Hahn and Tatnell.  Tatnell restarted behind the lead lap cars and picked off four of them in the final four laps.  Completing the top ten finishers were Rick Kobs, IRA driver Wayne Modjeski in his 360 sprinter, Jared Goerges, Brandon Allen and Tony Kaus.  Graf earned $1,200 for his victory.  All pay positions were increased thanks to the Richert family and many great sponsors!  Tatnell won the GRP Motorsports Hard Charger Award and also "lucked out" with his fifth place finishing position earning him a new top wing from Mastell Brothers Racing.
Plenty of drama played out in the battle for second through sixth in the final UMSS point standings.  Jason Tostenson came into the final night with a 23 point margin over Cody Hahn and Tony Norem.  Following Tostenson's heat race, the team discovered a motor problem that forced them to scratch for the remainder of the evening.  That put the focus on what Hahn and Norem would do.  The story continued to unfold as Norem saw heavy smoke pour out of his B1st car while leading his Challenge race.  Norem was able to start the feature but soon became the first caution just two laps into the race with an engine failure.  Now it was up to Hahn to finish first or second, as Tostenson would be throwing out his score from this night and bringing in a tenth place finish.  In the GRP Motorsports Chase for the UMSS Championship, drivers throw out their two lowest scores for the season to determine their final point tally.  At the checkers, Hahn drove to a solid fourth place finish and ended up just five points behind Tostenson for the runner-up spot in the point standings.  Lee Grosz, on the strength of his second place finish and problems for Richert and Norem, moved up to fourth in the final points.  Norem ended up fifth with Richert in sixth, as those three positions changed hands on the final night of the season.  Tostenson had dodged a bit of a bullet, but consistent top ten finishes in all but two races helped him in his bid to finish second in the points.  2010 Champion Hahn, who had initially only planned on running about half of the schedule, finished third, picked up his third career UMSS win, ran every race, and turned in a very solid performance.
A couple of drivers returned to action with the UMSS at CLS after not racing since the June 8 show at Ogilvie Raceway.  The UMSS welcomed back 2011 Rookie of the Year Chad Patterson and Kevin Nickel.  Both drivers sustained heavy damage to their cars in separate crashes at the Big O.  With a total of seven shows cancelled for various weather reasons and the final two shows not able to be run when Elko Speedway decided not to put the dirt down on their track, drivers like Patterson and Nickel had an abbreviated season.  The UMSS was able to complete 16 shows which equaled the amount in both of their first two seasons, so at least Mother Nature did not force an undesirable record to occur.
The UMSS wishes to thank ALL of the drivers, car owners, crews, families, fans, sponsors and everyone who helped to make the 2013 season a success for both the winged sprints and the Traditional non-winged sprints.  Look for details to be announced in the upcoming weeks regarding the Fall Rules Meeting and the UMSS Banquet on our website at
www.umsprints.com
or by following us on our Facebook page.  The UMSS looks forward to another great season in 2014 with hopes that the weather will be more cooperative than it was in 2013.
UMSS Race Results – Cedar Lake Speedway September 7, 2013 (Race #16)
13th Annual Jerry Richert, Sr. Memorial Race
Alpha Apparel & Promotions Ultimate Sprint Race #1 (7 laps): 63 Jerry Richert Jr, 91 Davey Heskin, 4J Lee Grosz, 34 Rick Kobs, B1st Tony Norem, 15 Chad Patterson, 95 Kevin Bradwell.
Meeks Video Ultimate Sprint Race #2 (7 laps): 14 Brooke Tatnell, 77 Brandon Allen, 9 Jared Goerges, 14AJ Wayne Modjeski, 23 Cody Hahn, 55 Joesph Kouba, 91A Reed Allex.
Driverwebsites.com Ultimate Sprint Race #3 (7 laps): 20G Chris Graf, 3TK Tony Kaus, 36 Jason Tostenson, 21 Jordan Wilmes, 48 Neal Matuska, 7M Bob McVitty, 10 Kevin Nickel.
Mastell Brothers Trailer Service Challenge Race #1 (10 laps): Grosz, Graf, Norem, Richert, Modjeski, Matuska, Allen, Kouba, Bradwell, Nickel DNF, Tostenson DNS.
Hoosier Racing Tire Challenge Race #2 (10 laps): Heskin, Kobs, Hahn, Goerges, Kaus, Patterson, Allex, Tatnell DNF, McVitty DNF, Wilmes DNF.
GRP Motorsports Feature (20 laps): Graf, Grosz, Heskin, Hahn, Tatnell, Kobs, Modjeski, Goerges, Allen, Kaus, Patterson, Matuska, Kouba, Bradwell, Nickel, Allex, Norem DNF, Richert DNF, DNS: Tostenson, Wilmes, McVitty.
Lap Leader: Graf 1-20
Cautions: (3)