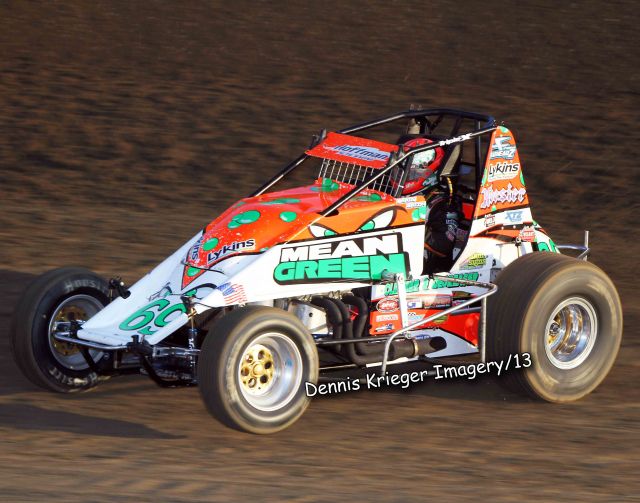 By Bill W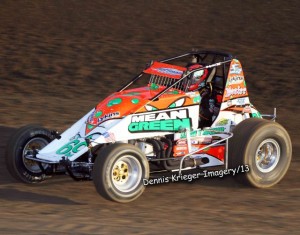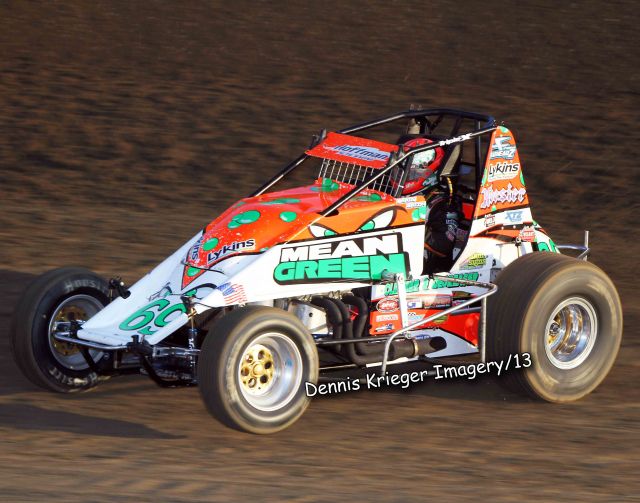 September 11, 2013 – A podium finish at the I-30 Speedway in Little Rock, Arkansas highlighted the USAC weekend for Brady Bacon and the Hoffman Racing #69 team.  They will head to the Tri-State Speedway this weekend near Haubstadt, Indiana for the "Haubstadt Hustler", a USAC/MSCS clash for $10,000.
The Broken Arrow, Oklahoma driver was back on familiar ground in Little Rock on Friday, but the track had changed since his last visit.  "The track has changed quite a bit since I was there last," says Brady.  "They changed the dirt and the banking is different.  It still acted like I thought it was going to, so that gave me an advantage to know how it was going to wear."
Brady would time in second quick.  "We went out a little later than the other fast guys, and I was able to move down on the track a bit," he says.  "We were able to pull off second quick.  The heat went well too.  We started sixth and finished second.  We almost won."
The racetrack would see plenty of changes before the main event would get underway.  Brady would start sixth.  "The track dried out quite a bit," he says.  "The top was pushed up so high that the bottom was going to be really good.  It was pretty much right around the bottom.  If we could have started fourth or fifth, that would have been a lot of help."
The freight train around the bottom of the quarter-mile derailed Brady's progress, but he managed to move up to third.  "When we got in line, we were sixth or seventh, so by the time I got going things were stacked up," he says.  "A little later on in the race I was able to move up top and get to fifth.  We rode around in fifth on the bottom for quite awhile until the last seven or eight laps.  I moved up top and made up a little ground and finished third.  We had to work really, really hard to do it."
Brady carried as much momentum around the top of a track that has notably lost some banking.  "It seemed like I was going twice as far around the top as everyone else was going on the bottom," he says.  "We were able to get some spots and end up with a podium finish."
USAC moved on to West Memphis, Arkansas at the Riverside International Speedway on Saturday.  Brady would fail to get a time in qualifying, making it a hard night at the track affectionately known as "The Ditch".  "The track was really wet, with pretty much one groove worked in," he says.  "I tried to run it in too hard on the first lap (in time trials) and biked it a little bit.  I got the front end in the fence and bent the front axle.  We were going out too late to get it changed and get a time."
Starting scratch in the 21-car feature, Brady would checker tenth.  "(Not getting a time) really hurt us, because it was so hard to pass," he says.  "It was still greasy in the feature.  It was right around the top.  Other than the last several laps, you were riding behind someone in front of you.  That was pretty painful in a 40-lap race."
Follow Brady on his Website, Twitter and Facebook!
Follow Brady at his website located at www.BradyBaconRacing.com! Also keep up with him on Facebook and Twitter (which also can be accessed at the website) at the following links…
Twitter Link – http://twitter.com/BradyBacon
Facebook Link – www.facebook.com/pages/Brady-Bacon-Racing/278125555137
Partner of the Week – Competition Suspension
Competition Suspension was founded in 2009. CSI builds reasonably priced quality shocks, utilizing the same technologies as those in the upper levels of motorsports. They strive to build the best shocks in the industry without cutting corners. Since its inception, CSI has become the shock of choice for many of today's top professionals. Drivers on CSI shocks have won over 500 races and many, track, regional and National Championships around the world.
Associate Marketing Partner of the Week – Brown & Miller Racing Solutions
Brown & Miller's lightweight range of hose satisfies virtually every racing application and their fittings are designed for safety, reliability and optimum weight saving. With an industry standard ProGold convoluted hose system, Smoothbore hose and Adaptor ranges, they have the complete system. To further complement these products, they can also provide custom engineered fittings designed to optimize hose installations where standard fittings may not be suitable.  With outlets worldwide, there is no excuse to settle for second best! At Brown and Miller Racing Solutions, they maintain the simple philosophy that when our parts are on your racecar, they are a part of your team.  Visit them on the web at www.BMRS.net!
Brady Bacon Racing would like the following sponsors for all their help: Fatheadz Eyewear, Oilfield Equipment and Manufacturing, Tel-Star Communications, PPM Titanium Products, Triple X Race Co., Competition Suspension, Smiley's Racing Products, Heath Clips Lawn Care, Keizer Aluminum Wheels, Tru-Square, Eaton Industrial Coatings, Pattison Precision Products, Wesmar Racing Engines, Butlerbuilt Seats, Hoosier Tire Southwest, Diversified Machine Inc., Brown and Miller Racing Solutions, Lightning Wings, Simpson, Pro Pan, CP Pistons, Schoenfeld Headers, Carrillo Rods, KSE Steering, All Star Performance, King Racing, Schroth Racing, FSR Radiators, Three-wide Clothing and Fuel Safe.
The Hoffman #69 sprinter is sponsored by Mean Green, Mopar, XXX, Hoosier, DMI, Lykins, Engler Machine & Tool, Goodridge Fluid Transfer Systems, KSE, MPD Racing, XYZ Machining, Saldana Racing Products, Fuel Safe Racing Cells, Fastener Specialty Motorsports, Wilwood Brakes, Joe Gibbs Driven Racing Oil, Zemco Headers, Chalk Racing Products and Weld.