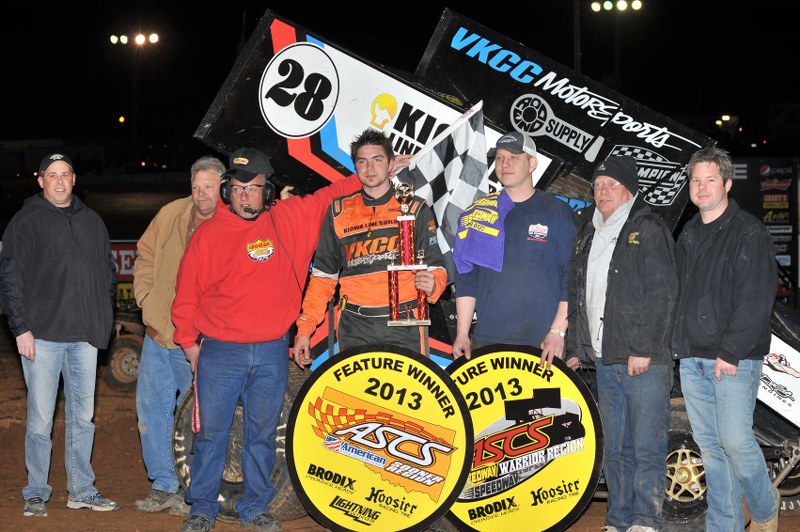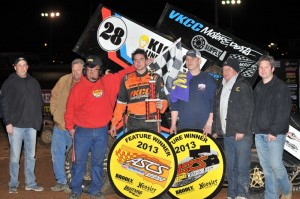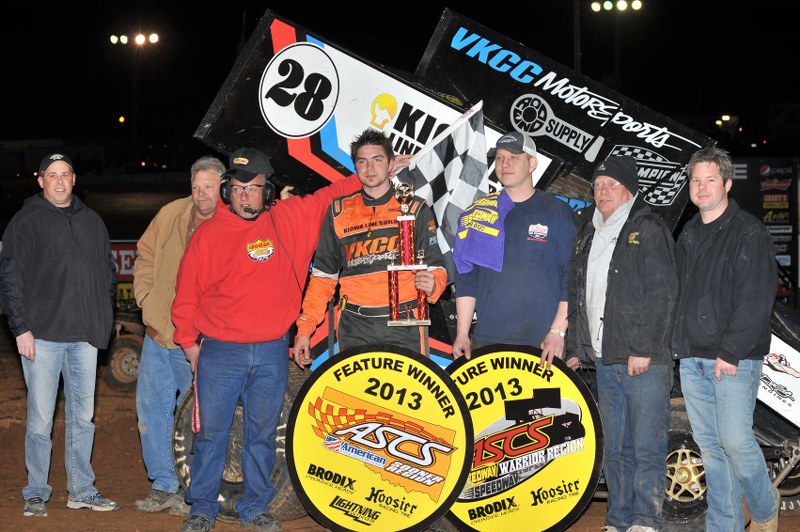 From Bryan Hulbert
Cameron, MO — (September 14, 2013) — Jonathan Cornell drew the pole at the U.S. 36 Raceway against the Speedway Motors Warrior Region and looked like he was going to run away to victory. That was until Cody Baker made a last corner charge; marking Cornell sweat as he crossed with a slim half-car advantage.
Cody Baker then Jay Russell completed the podium with Jason Danley and Wyatt Burks making up the top five. Miranda Arnold, Mitchell Moore, Austin Alumbaugh, Curtis Evans, and Tyler Blank made up the top ten.
The Speedway Motors Warrior Region returns to competition on Friday, September 27 and Saturday, September 28 at the Lucas Oil Speedway for the Hockett/McMillian Memorial.
Speedway Motors Warrior Region
U.S. 36 Raceway – Cameron, Mo.
Saturday, September 14, 2013
Heat 1 (8 Laps): 1. 38-Cody Baker; 2. 81A-Chris Morgan; 3. 76-Jay Russell; 4. 5M-Miranda Arnold; 5. 4X-Jason Danley; 6. 44-Chris Martin; 7. 92J-J.R. Topper; 8. 9-Casey Baker
Heat 2 (8 Laps): 1. 33-Austin Alumbaugh; 2. 9M-Mitchell Moore; 3. 28-Jonathan Cornell; 4. 1P-Curtis Evans; 5. 34-Corey Nelson; 6. 11W-Wyatt Burks; 7. 21B-Lanny Carpenter; DNF 75-Tyler Blank
A Feature (25 Laps): 1. 28-Jonathan Cornell; 2. 38-Cody Baker; 3. 76-Jay Russell; 4. 4X-Jason Danley; 5. 11W-Wyatt Burks; 6. 5M-Miranda Arnold; 7. 9M-Mitchell Moore; 8. 33-Austin Alumbaugh; 9. 1P-Curtis Evans; 10. 75-Tyler Blank; 11. 81A-Chris Morgan; 12. 92J-J.R. Topper; 13. 34-Corey Nelson; 14. 9-Casey Baker; DNF 21B-Lanny Carpenter; DNS 44-Chris Martin
Lap Leader(s): Jonathan Cornell (1-25)