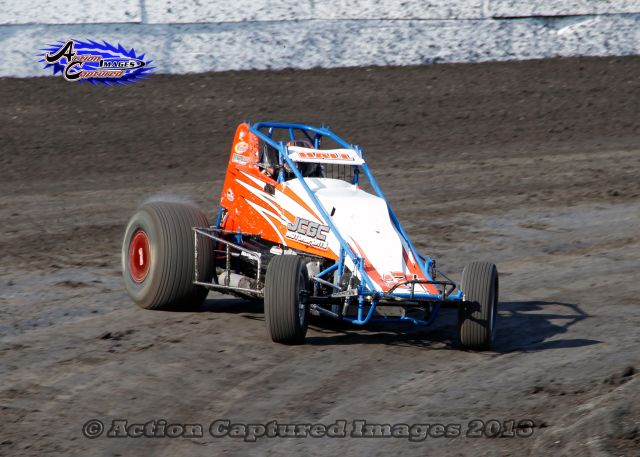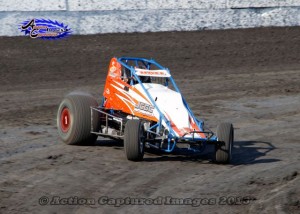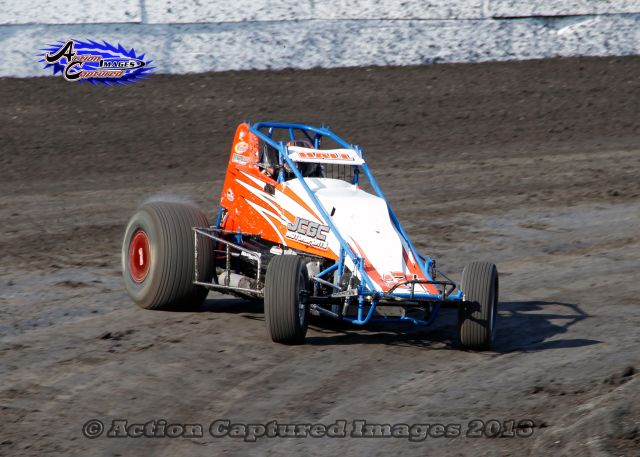 From Bill Sullivan
Sacramento, CA — (September 16, 2013) — For the final time in 2013 the stars and cars of the Joe Hunt Magnetos Wingless Sprint Shootout Series will strap on their helmets and race at Rick Faeth's beautifully prepared Petaluma Speedway this Saturday night.  Santa Rosa's Terry Schank Jr. leads the charge of 20 plus non-wing sprints cars set to race for the final time on September 21st.  The series always competes hard at the 3/8 mile dirt track that features a tough Pit Stop USA weekly non-wing sprint car contingent.
Championship point leader Terry Schank Jr. holds a commanding 19-point lead over Rio Linda's Scott Hall.  Schank Jr. has won three of the eight main events ran this season.  Joining Schank as a three-time winner in 2013 is Sebastopol's Geoff Ensign.  Ensign is a local hero around the 3/8th mile track who won a Hunt Series race at Petaluma on May 4th.  The season opened up with Hall winning at Chico while Colton Slack won the most recent hunt race at Petaluma on August 10th.
Anderson driver Rowdy McClenon holds down the third spot in points.  While McClenon is the Silver Dollar Speedway champion for the second season in a row, he is still searching for that elusive Hunt win in 2013.  Slack sits in the fourth position while Roseville's Angelique Bell rounds out the top five.  The tightest battle is for that top five spot.  Ensign is only seven-points back of Bell.  Napa's Joe Stornetta is seventh but only by one championship point over Jerry Cisco.  San Jose's Shawn Jones is ninth in points and Tracey's Austin Liggett rounds out the top ten.
After the eighth point race, a total of 60 different drivers have earned at least one point this season during the Joe Hunt Magnetos Wingless Sprint Shootout Series.  The local Petaluma Pit Stop USA wingless sprint car series is led by Zach Lynskey, Sparky Howard and Scotty DuPont.  For a full report on all things Petaluma Speedway including directions and start times please visit www.petaluma-speedway.com.  Another special treat that Petaluma offers is the golden pipes of announcer Ron Lingron, who alone, is worth the $15.00 general admission price into the grandstands.  Front gate will open at 4 p.m.
For a full point's summary, results and schedule please follow the Joe Hunt Magnetos Wingless Sprint Shootout Series through FACEBOOK.
The series will pay out a $3,000 point fund distributed throughout the top ten in the final point's standings.  There will be a $500 bonus to drivers inside the top three in the final point standings using Joe Hunt Magnetos or their products.  The main event at all six series races will offer a minimum of $130.00 to start and $1,000 to win.  For more information please feel free to call Roger at 916-635-5387.
Become a fan of our Facebook page.  Search Joe Hunt Magnetos in Facebook and click the "like us" button.  SprintCarFan.com is our official message board and is very important to the series along with our contingency sponsor Dirt Solution products.  You can reach them at www.thedirtsolution.com/.
We at Joe Hunt Magnetos also work on all types of magnetos, bringing that dull spark back to life. Vertex Style magnetos, Mallory magnetos, M.S.D. magnetos, Fairbanks Morris magnetos, Wico magnetos, Lucas magnetos, vintage (nostalgia) magnetos, agriculture, if it's a magneto and needs to be revived, call your Magneto Doctors at 1-800-HUNTMAGS.