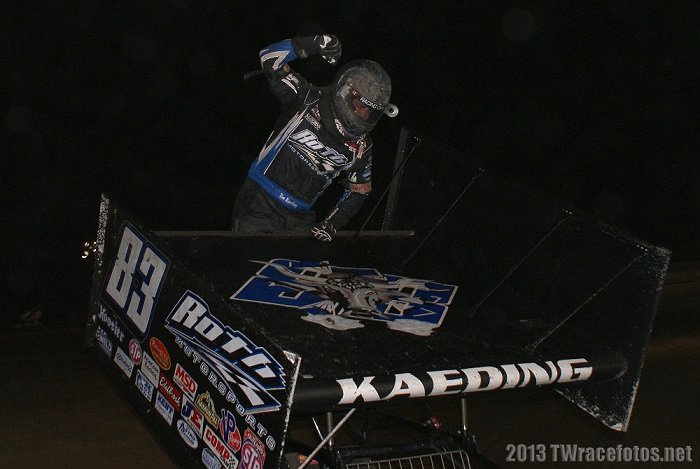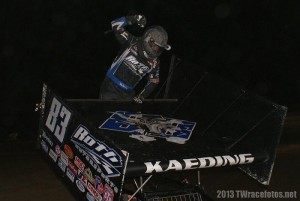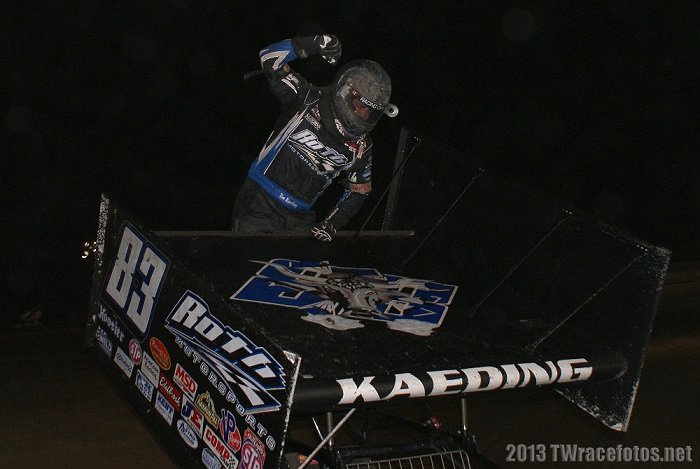 From Peterson Media
Sticking around in his native California, Tim Kaeding followed the King of the West Series to Fernley, NV and picked up his first series win of the season in what was his first start with the series of 2013.
With 18 cars on hand, Kaeding timed his Roth Enterprises/HR Livestock Transportation/3H Cattle entry in 11th fastest, putting him on the front row of his heat race.
Getting the jump in heat race action, Kaeding went on to pick up the win, and earn a spot in the Dash, where he found his Mobil1/Weld Wheels/Brown and Miller backed entry on the front row.
With Jonathan Allard getting the jump in the Dash, Kaeding held the second spot, where he finished, and put his Dennis and Teresa owned machine on the front row for the 30-lap event.
Lining up on the outside of the front row, Kaeding won the race into turn one, and began navigating beautifully around the tricky 3/8 mile facility.
On a track that was tough to gain ground on, Kaeding was able to carve his way through traffic better than Allard and Craig Stidham, and was able to secure his 11th win overall and 61st career KWS win.
"It was a fun race through traffic, and I'm happy to be standing here in victory lane," Kaeding said. "I have to thank Dennis and Teresa Roth for letting us have some fun on the road this year, but I'm really looking forward to competing out here (California) for a couple of weeks."
Tim and his Roth Motorsports team would like to thank Roth Enterprises, HR Livestock Transportation, 3H Cattle,  Mobil1, FK Rod Ends, Weld Wheels, Brown and Miller Racing Solutions, Kent Performance, Kaeding Performance, and Astro Titanium for their support in 2013.
2013 ROTH MOTORSPORTS BY THE NUMBERS: Starts-59, Wins-11, Top 5's-30, Top 10's-39.
ON TAP: TK and the Roth Enterprises team will take on the King of the West Series again this Saturday night at the Thunderbowl Raceway in Tulare, CA.
STAY CONNECTED: Stay connected with Roth Motorsports by checking out their new website, www.rothmotorsports83.com. You can also follow Tim on Twitter by following @tkaedingracing.