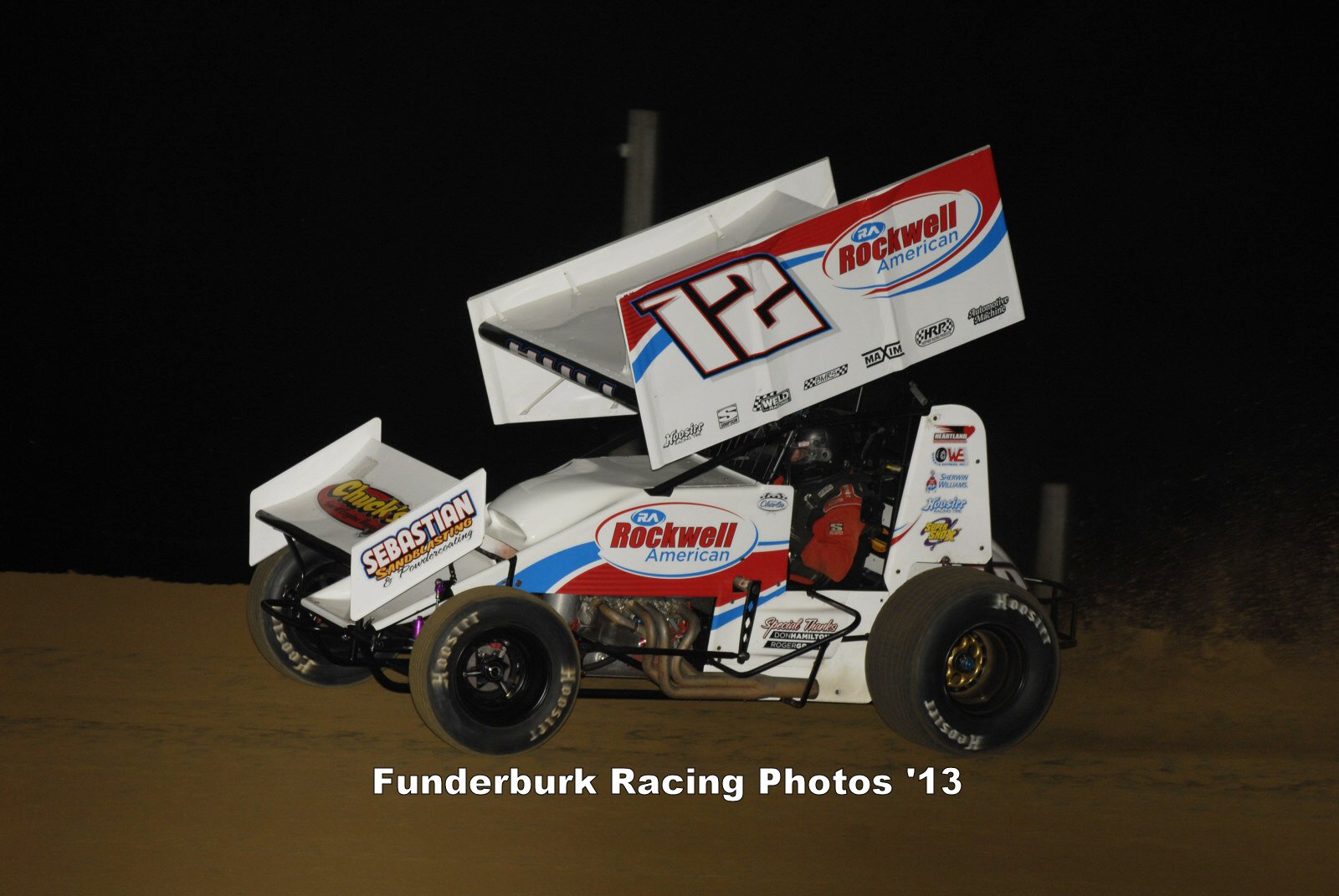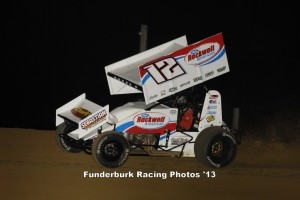 From Bill W
September 16, 2013 – Big Illinois events at Jacksonville and Spoon River Speedway saw Jerrod Hull extend his point lead in the MOWA series with a pair of podium runs.  He was third at Jacksonville Speedway's Herb Barlow Memorial on Friday and he ran second at the Tom Knowles Memorial near Canton on Saturday.  The next action for the Rockwell American #12 team will be Saturday, October 4 at the Tri-City Speedway in Granite City, Illinois.
Things started well at Jacksonville on Friday.  "Jacksonville went really well," says Jerrod.  "We were able to win the heat race and the new car felt really good."
The Sikeston, Missouri driver ran fourth in the Dash and found himself chasing leader Bryan Clauson and the second place car of Christopher Bell in the feature.  "We were right there with them," says Jerrod.  "We didn't really have anything for them.  They got to banging together…I thought they may take each other out and we might get a win, actually.  Watching those two bang was kind of exciting."
Jerrod was content with his podium finish.  "In lapped traffic, I thought we may find a way by them, but we'll take the third," he says.  "The track had some spots of rubber, but there was dust blowing on it.  It never locked down.  It was a good point night, so I was happy with that."
Another heat win was in the offing on Saturday on the high banks of the Spoon River Speedway.  "I was able to win the heat again and drew a six for the Dash," says Jerrod.  "We ran third and the car was really good."
Starting inside row two, Jerrod was chasing Bell again.  "We got to second there right away and we were chasing Christopher Bell," he says.  "He did a great job right there around the bottom.  He didn't slip up.  He's going to be a good one."
The veteran had a few chances at the youngster.  "We got to lapped traffic, and he was able to get by them just as fast as I was," says Jerrod.  "The track was black, but it never took rubber.  I was running through the middle in three and four and I ran up beside him.  I passed him on a restart around the top, but the caution came out.  I wanted to get around him and get to the bottom, but I didn't get it done."
In the end, he would settle for the runner-up spot, and extend his MOWA point advantage.  "It was a good point weekend," says Jerrod.  "We have three races left for the points, and hopefully, we can win another point championship here."
Jerrod and the #12 team would like to thank: Rockwell American, Midland Performance, Super Shox, Sebastian Sand Blasting & Powder Coating, Inc., Sherwin Williams, Chuck's Small Engines, Don Hamilton, HRP, Lighthouse Christian Center, Logo Daddy, Hoosier Tire, Simpson, Weld, Automotive Machine, Maxim and Heartland Trailer Manufacturing.