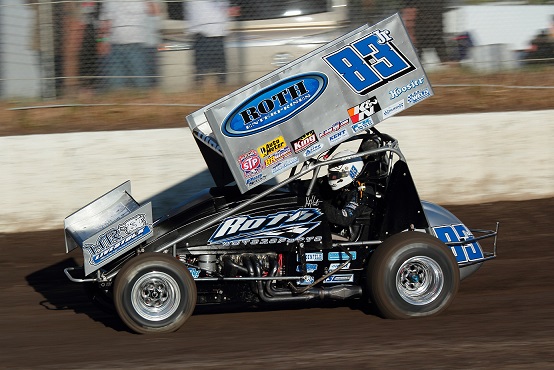 PETERSEN MEDIA
 In what seemed to be a survival of the fittest feature event at the Thunderbowl Raceway in Tulare, CA on Saturday night, Kyle Hirst was able to stay out of harms way, and end up with a strong third place finish.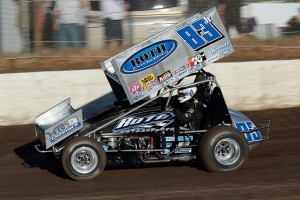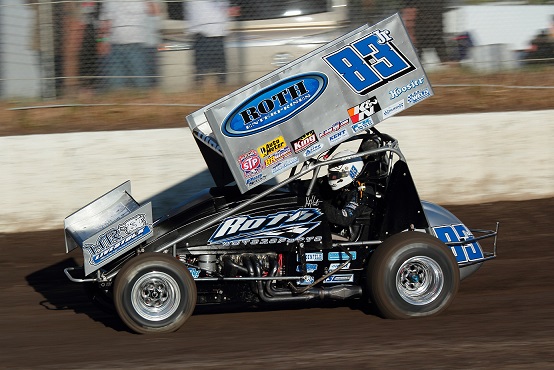 "It was a night where you had to be on your toes, and luckily we had a pretty good car to boot, and came out of this in one piece, and on the podium," Hirst said.
With 28 cars on hand, Kyle Hirst was able to time his Roth Enterprises/HR Livestock Transportation/3H Cattle backed No83Jr in seventh fastest, putting him the third heat race.
With the front row getting called for jumping the start in his heat, Hirst moved up to the front, and was joined with his brother-in-law, Willie Croft, and it was Croft getting the early jump.
Chasing down Croft, Hirst was unable to make the pass to earn the Dash spot, and settled for second, but did earn a spot in the feature event.
Lining up in the fifth row of the feature event, Hirst dodged a huge bullet, when mayhem broke out in front of him as he was able to avoid what ended up being a 10 car pile up to start the feature event.
When the carnage was sorted out, Hirst found himself starting in the third row on the second attempted start.
The second attempt at a start saw KH's Roth Motorsports teammate, Tim Kaeding, get into the wall, and spin through the infield with a flat tire, before finally getting underway.
Once underway for six-laps, Hirst ran in the third spot, as he pressured Croft, who ran in the second.
The next restart wasn't the greatest for Hirst as he got shuffled back to the fourth spot, but a lap 10-red gave him another chance, and he was able to jump up into the second spot as he chased after race-leader, Jason Meyers.
With the red flying again on the 20th lap, Hirst began feeling pressure from Bud Kaeding and slipped back to the third spot, and after a lap 23 yellow, slipped back to the fourth spot on the restart.
With the caution waiving on the 24th lap, Hirst inherited the third spot, as second running Jason Meyers, made a pit stop.
The last six laps were exciting as Hirst chased after Kaeding, as the duo tried to make a final run at Bud Kaeding, but when the dust settled, Hirst ended his night with a third place finish.
"Restarts were huge tonight with the way the track was, and unfortunately for a lot of guys we had a ton of restarts," he explained. "We had some good speed, and didn't have to pit for damage, so we will take it, and do some 360 racing this week. I have to thank Dennis and Teresa Roth, and this entire team for giving Tim and I such great cars."
Kyle and his Roth Motorsports team would like to thank Roth Enterprises, HR Livestock Transportation, 3H Cattle,  Mobil1, FK Rod Ends, Weld Wheels, Brown and Miller Racing Solutions, Kent Performance, Kaeding Performance, and Astro Titanium for their support in 2013.
2013 ROTH MOTORSPORTS BY THE NUMBERS: Starts-44, Wins-5, Top 5's-21, Top-10's-32
2013 BY THE NUMBERS: Starts-63, Wins-7, Top 5's-28, Top 10's-45
ON TAP: Hirst and the Roth Enterprise team will be at the Placerville Speedway on Wednesday night in Placerville, CA before heading to the Silver Dollar Speedway in Chico, CA this Friday and Saturday night.
STAY CONNECTED: Stay connected to Kyle by following him on Twitter, @kylehirstracing, or by visiting www.rothmotorsports83.com.