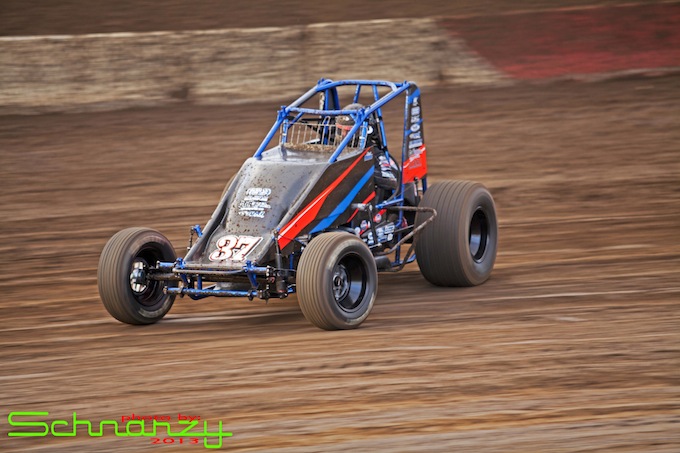 PETERSEN MEDIA
 Strapping into the potent Josh Ford Motorsports No.73 for the weekend against the USAC West Coast 360 Series, Matt Mitchell had some bad luck both nights, but put on a charge on Saturday as he rebounded to a seventh place finish.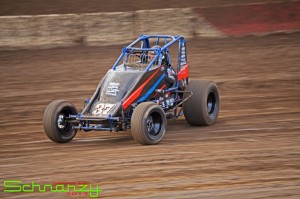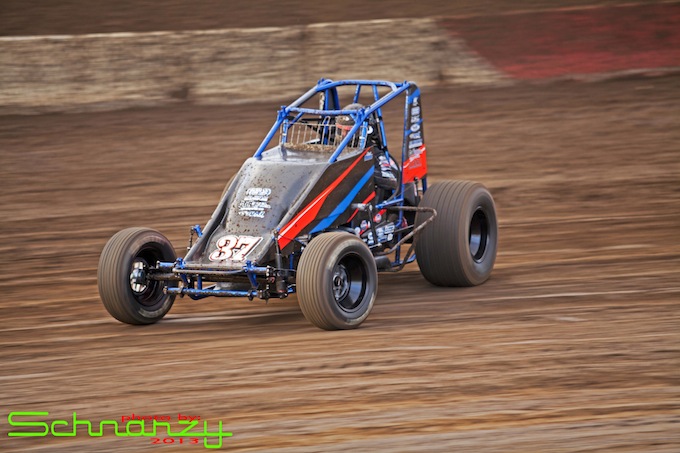 "I have to thank Jimmy May, and everyone associated with JFM for giving me the chance to drive for them this weekend. It was a blast, and I'm looking forward to working with them again," Mitchell said.
Starting his weekend at the King's Speedway on Friday night, Mitchell timed the King Racing Products backed entry in third fastest, putting him in the third row of his heat race.
Putting on a show in his heat, the Yorba Linda, CA driver had his elbows up as he marched his way forward to score the heat race win going away, earning a berth in the Dash, where he scored a third place finish.
Lining up for the feature in the second row, Mitchell didn't quite get the jump he was looking for, as he raced around in the fourth spot, chasing after Bud Kaeding.
At the halfway point, Mitchell took advantage of a Kaeding push and took over the third spot with DJ Netto hot on his tail.
With 10-to-go, a lapped car drifted up in front of Mitchell, and as Mitchell went to dive under him, contact ensued with Netto, and he spun.
Mitchell would restart, but ultimately pulled off a couple of laps later.
In action at the Thunderbowl raceway in Tulare, CA, Mitchell continued to show great speed in the JFM entry, as he laid down the fastest lap in time-trials, and earned quick time honors.
Starting sixth in his heat, Mitchell would work his way up to a third place finish, putting him in both the feature and the Dash, where he finished fifth.
Starting fifth in the feature, Mitchell wasted no time getting into the lead, but he had an issue that caused front end damage and he was forced into the work area.
Making repairs, Mitchell restarted in the back of the pack, and fought threw the rubber to score a seventh place finish.
"We had a great racecar both night's and really wish we could have got a finish that we should have," he said. "We defiantly had cars to land on the podium both night's but some unfortunate luck cost us."
Matt Mitchell Racing would like to thank, A.R.T. Enterprises, MPD Racing, Parker Performance Engines, Caliagua, Bell Helmets, and Hedman Hedders for their support in 2013.
2013 BY THE NUMBERS: Races-29, Wins-3, Top 5's-7, Top 10's-16
ON TAP: Mitchell will be back behind the wheel of the JFM No. 73 on October 16th, and may be in action this coming weekend in Arizona in his own No. 37 machine.