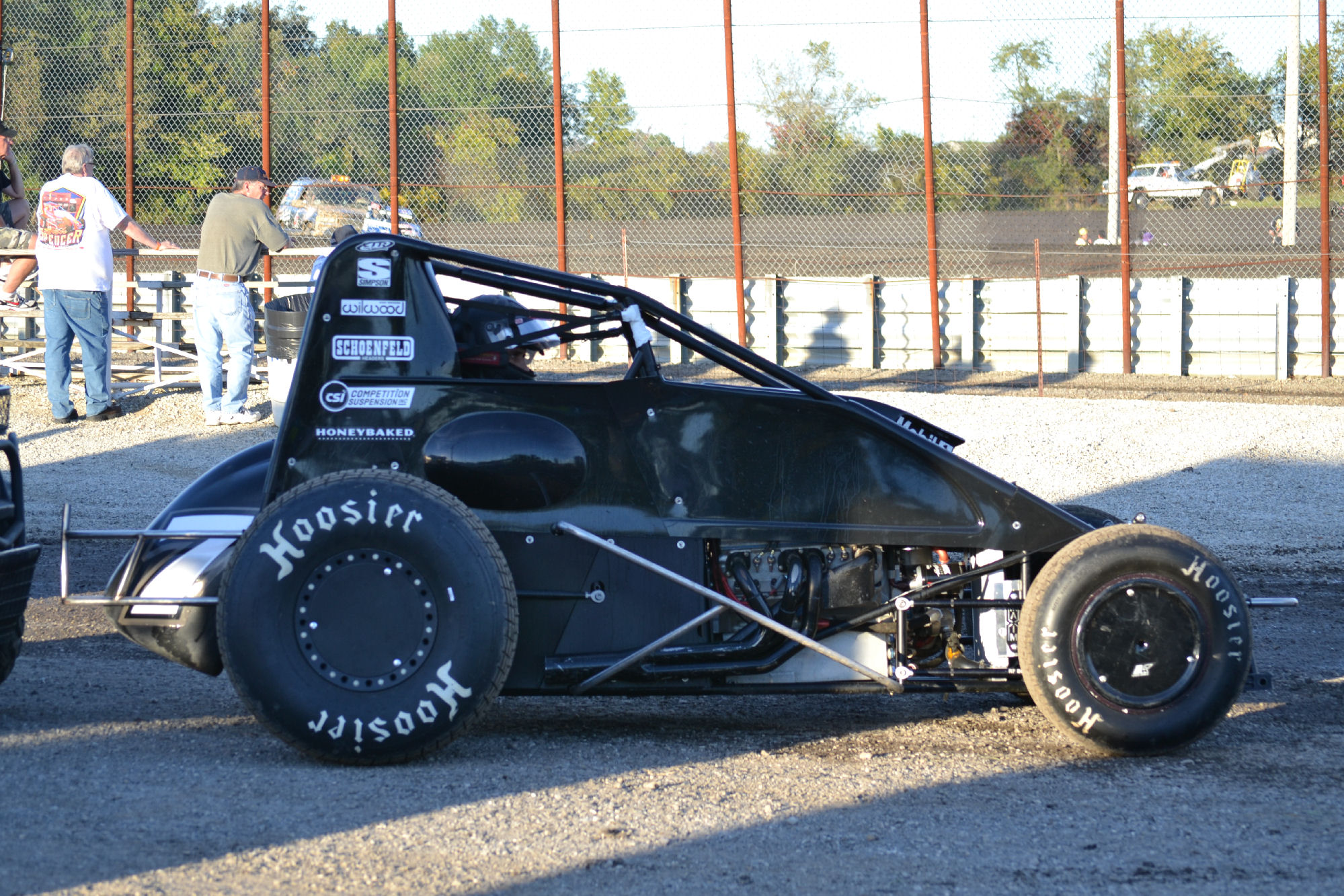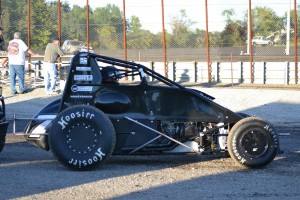 From Bob Buffenbarger
Gas City, IN — (September 27, 2013) — Gas City I-69 Speedway capped another racing season with the Jack Hiemlick Fall Finals in fine fashion as Bryan Clauson came from 10th starting position and passed Kevin Thomas Jr. on the last lap of the 25 lap feature.
Kyle Robbins and Adam Byrkett made up the front row but 3rd place starting Gary Taylor led the first lap. Robbins was holding on to 3rd in the early going with Chad Boespflug piloting the 17B tonight, now up to second. Behind this threesome, with Taylor still leading, a pack of cars were closing fast and by lap ten Kevin Thomas had caught Taylor along with Jerry Coons Jr. and Boespflug still in the fray. Now a four car battle for the lead was using all of the race track in an exciting battle. Meanwhile the 7 of Bryan Clauson was on the prowl and up to 4th.
Lap 15 saw Thomas make the pass for the top spot with Taylor and now Clauson and Coons in tow at 20 laps. Clauson then closed on Thomas and on the final circuit he pulled even in turn one and eventually made the pass stick in turn three for the win.
Heat races for the 30 cars on hand were won by Kevin Thomas Jr., Jerry Coons Jr., Kyle Robbins and Gary Taylor. Dave Darland won the B main.
A Main
1-Bryan Clauson
2-Kevin Thomas Jr.
3-Gary Taylor
4-Jerry Coons Jr.
5-Chad Boespflug
6-Kyle Robbins
7-AJ Hopkins
8-Kyle Cummins
9-Dave Darland
10-Logan Jarrett
11-Brady Bacon
12-CJ Leary
13-Todd Keen
14-Brent Goodnight
15-Conner Donelson
16-Jarrett Andretti
17-Chris Gurley
18-Travis Hery
19-Adam Byrkett
20-Travis Welpott
HONDA IGNITE USAC MIDWEST DIRT MIDGET RACE RESULTS: September 27, 2013 – Gas City, Indiana – Gas City I-69 Speedway
HEAT RACE: (8 Laps) 1. Gage Walker (#7 Walker), 2. Cooper Clouse (#14 Clouse), 3. Adam Thomason (#74 Thomason), 4. John Heydenreich (#22 Givens), 5. Joey Greening (#17G Greening), 6. Austin Nemire (#91 Nemire-Yager), 7. Ryan Moran (#2 Moran), 8. Toby Alfrey (#11 Alfrey), 9. Bill Kriegbaum (#12 Kriegbaum). NT
FEATURE: (25 Laps) 1. Joey Greening, 2. Gage Walker, 3, Adam Thomason, 4. Cooper Clouse, 5. Austin Nemire, 6. Ryan Moran, 7. John Heydenreich, 8. Bill Kriegbaum, 9. Toby Alfrey. NT
——————————
——————–FEATURE LAP LEADERS: Laps 1-5 Nemire, Laps 6-25 Greening.
FINAL HONDA IGNITE USAC MIDWEST DIRT MIDGET POINTS: 1-Walker-808, 2-Clouse-720, 3-Nemire-650, 4-Greening-579, 5-Alfrey-546, 6-Heydenreich-473, 7-Stratton Briggs-467, 8-Thomason-371, 9-Katlynn Leer-361, 10-Emmy Gray-240.