Waynesfield,Oh. Oct.1th 2013- Randy Hannagan showed the way at Waynesfield Raceway Park in his winged 360 Friday night, taking the 25 lap feature.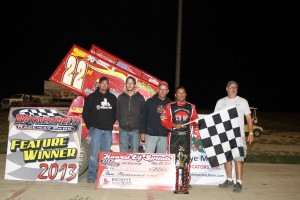 Shawn Dancer started on the pole and led until the 7th lap when Hannagan made the pass from his 3rd starting position and was never seriously threatened. While Hannagan motored away from the pack, racing behind him was excellent with Sheldon Haudenschild, Dancer and Devon Dobie swapping spots several times.
A yellow at lap 22 bunched the field but Hannagan once again drove away. The final laps saw ferocious action between Haud, Caleb Griffith, Dancer, Dobie, Butch Schoerder and Max Stanbaugh finishing in that order.
Heats for the 27 360's were won by Hannagan, Shawn Dancer, Hud Horton and Sheldon Haudenschild. Ryab Ruhl won the B main.
K&L Ready Mix 360 Sprints (27 Cars)
[#]-Starting Position
Heat 1 – Heat 1 (8 Laps – Top 4 finishers transfer to the A-feature)
1. 22H-Randy Hannagan[2] ; 2. 11-Tim Allison[1] ; 3. B20-Butch Schroeder[4] ; 4. 11N-Ed Neumeister[3] ; 5. 22R-Kevin Roberts[6] ; 6. 23M-Jack Miller[7] ; 7. 10-Bob Carman[5]
Heat 2 – Heat 2 (8 Laps – Top 4 finishers transfer to the A-feature)
1. 49-Shawn Dancer[3] ; 2. 40DD-Caleb Griffith[1] ; 3. 35R-Ronnie Blair[6] ; 4. 1H-Luke Hall[5] ; 5. 27-Beau Stewart[7] ; 6. 10J-Jarrod Delong[4] ; 7. 19-Jimmy Snead[2]
Heat 3 – Heat 3 (8 Laps – Top 4 finishers transfer to the A-feature)
1. 7C-Hud Horton[1] ; 2. 7K-Justin Henderson[2] ; 3. 23-Devon Dobie[6] ; 4. 17-Jared Horstman[3] ; 5. 12-Nick Roberts[4] ; 6. 9W-Lucas Wolfe[7] ; 7. 13D-Jeremy Duposki[5]
Heat 4 – Heat 4 (8 Laps – Top 4 finishers transfer to the A-feature)
1. 33M-Sheldon Haudenschild[2] ; 2. 2M-Brian Sebetto[1] ; 3. 6S-Max Stambaugh[4] ; 4. 22D-Dennis Yoakum[6] ; 5. 16-Ryan Ruhl[3] ; 6. 49T-Gregg Dallman[5]
Dash1 –  (6 Laps, finishing order determined starting positions on the inside of rows 1-6 of A-feature)
1. 49-Shawn Dancer[1] ; 2. 22H-Randy Hannagan[2] ; 3. 11-Tim Allison[3] ; 4. B20-Butch Schroeder[5] ; 5. 40DD-Caleb Griffith[4] ; 6. 35R-Ronnie Blair[6]
Dash2 –  (6 Laps, finishing order determined starting positions on the outside of rows 1-6 of A-feature)
1. 33M-Sheldon Haudenschild[1] ; 2. 7C-Hud Horton[2] ; 3. 6S-Max Stambaugh[6] ; 4. 23-Devon Dobie[5] ; 5. 2M-Brian Sebetto[4] ; 6. 7K-Justin Henderson[3]
B-Main –  (10 Laps – Top 4 finishers transfer to the A-feature)
1. 16-Ryan Ruhl[4] ; 2. 27-Beau Stewart[2] ; 3. 12-Nick Roberts[3] ; 4. 22R-Kevin Roberts[1] ; 5. 49T-Gregg Dallman[8] ; 6. 9W-Lucas Wolfe[7] ; 7. 23M-Jack Miller[5] ; 8. 13D-Jeremy Duposki[11] ; 9. 19-Jimmy Snead[10] ; 10. 10J-Jarrod Delong[6]
A-Main –  (25 Laps)
1. 22H-Randy Hannagan[3]; 2. 33M-Sheldon Haudenschild[2]; 3. 40DD-Caleb Griffith[9]; 4. 49-Shawn Dancer[1]; 5. 23-Devon Dobie[8]; 6. B20-Butch Schroeder[7]; 7. 6S-Max Stambaugh[6]; 8. 7C-Hud Horton[4]; 9. 11-Tim Allison[5]; 10. 2M-Brian Sebetto[10]; 11. 22R-Kevin Roberts[20]; 12. 35R-Ronnie Blair[11]; 13. 12-Nick Roberts[19]; 14. 22D-Dennis Yoakum[16]; 15. 7K-Justin Henderson[12]; 16. 17-Jared Horstman[15]; 17. 16-Ryan Ruhl[17]; 18. 11N-Ed Neumeister[13]; 19. 1H-Luke Hall[14]; 20. 27-Beau Stewart[18]
Hard Charger: 22R-Kevin Roberts[+9]