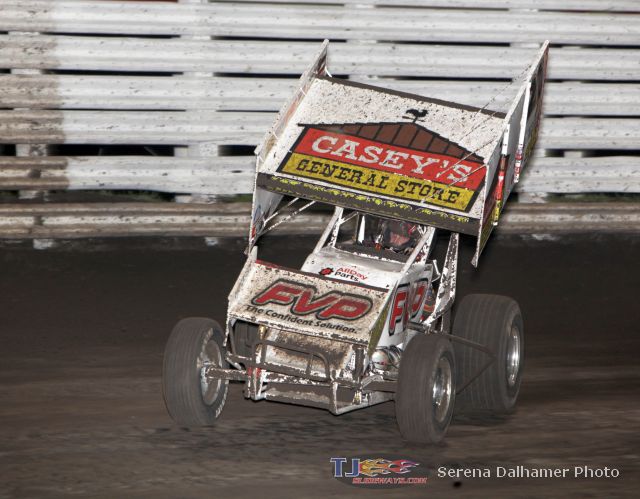 By Bill W
October 14, 2013 – Brian Brown and the Casey's General Stores/FVP #21 team scored a big win in the $4,000 to win Shaheen's "Blast from the Past" main event last Saturday night at Illinois' Jacksonville Speedway.  The win marks the fifteenth for the Grain Valley, Missouri driver.  This weekend, the big races continue at the Devil's Bowl Speedway in Mesquite, Texas and its annual Winternationals.
You had a two-race weekend with MOWA in Illinois starting at Lincoln Speedway on Friday night.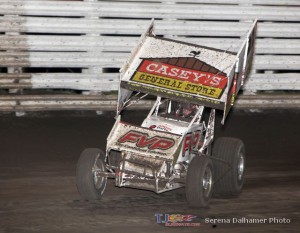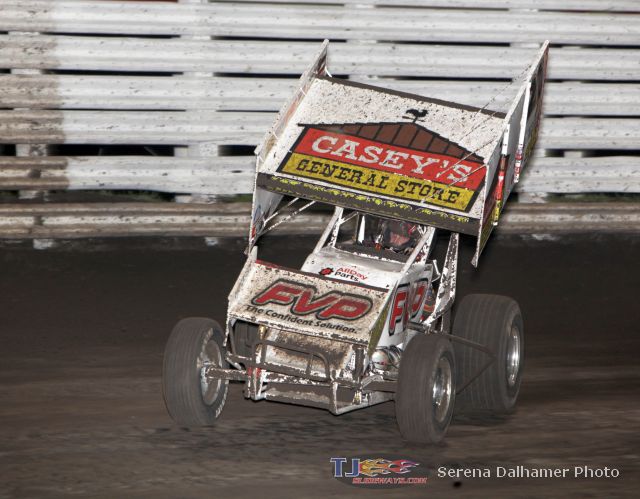 Going over and running with the MOWA series is always fun.  The whole group is a good one, and it's tough to race there.  There were 39 strong cars at Lincoln with some heavy hitters.  We came in with a little different Maxim chassis and some FK shocks…we're just trying to better our program.
The number you drew for the heat wasn't the greatest, but you made the most of it.
I was a little nervous going into the heat starting eighth.  I didn't know what to expect.  We were able to get a good start and win.  That gave us the high point total heading into the Dash.
You started in the second row of the Dash, which sounded like a good race.
The first couple of laps were some of the best racing I've been involved with in a long time between Chris Bell, Terry (McCarl) and me.  We swapped the lead three or four times.  I think the fans enjoyed it.  I ended up third.  I was hoping to hold onto second, but it didn't work out.
How did the feature go?
We weren't really where we needed to be the first half of the race.  We were able to move the wing around and get a little better.  We were running third and we were able to get by Terry there on a restart with six or eight to go.  I felt like Christopher, Terry and I were about the same speed at that point, it was just about track position and we ended third.
The big race in Jacksonville on Saturday is a traditional one.
I remember going to the Shaheen's "Blast from the Past" when I was watching Danny (Lasoski) and Tom Corbin race.  I hoped that someday I could win a prestigious race like that.  It's a race you want to win.
It seemed like things fell in place for you.
We were able to draw outside row one of the heat and win it.  The draw for the Dash worked in our favor too.  We were able to win that pretty handily.
How much did you work on the car before the feature?
We worked on our car quite a bit.  We tried to figure out how to make it better every time we hit the track.   It worked out for us.  I was kind of worried starting on the pole, because the outside rows had been taking off better all night long.
You were able to lead every lap.
I knew at some point with 25 laps, it was going to lay rubber.  We were able to get a good start, and beat Jerrod (Hull) to turn one.  We kind of set sail from there and we were really good.  With around ten laps to go, it did lay rubber.  At that point, you just have to concentrate on not making a mistake.
You were close to home for some of your partners.
It was good to be able to win that close to Maxim chassis headquarters (Springfield) and to Scott Ritchhart, who is a big part of our team.  It was win #15 for us, which gets us that much closer to our goal of 20.  We'll have to get hot to do it, but as long as there are five more races on our table, we have to keep that goal in mind.
This week, you head to Texas.
We're looking forward to getting back down there.  It's really close to Smiley's Racing Products.  Tom Lorenz and all his employees and family have been good to us over the years.  Ti64 and Mother's Polishes and Waxes are also down there.  That Devil's Bowl Winternationals is a race we'd definitely like to put on the mantle.  We've had a pretty good package there.  We need to get locked into Saturday by finishing in the top four on Friday.  It's going to be tough.
You also have a special charity event to attend on Thursday.
We're looking forward to the Steve King Memorial Golf Tournament.  It's hosted by Smiley's, and it's for a very good cause.
Follow Brian on the Web, Twitter and Facebook!
Follow Brian at his website located at www.BrianBrownRacing.com!
Also keep up with FVP, Casey's and Brian on Facebook and Twitter at the following links…
Twitter Links – @BrianBrown21, @FVPRacing, @CaseysGenStores
Facebook Links
Brian Brown Racing – www.facebook.com/pages/Brian-Brown-Racing/200630163294222
Casey's General Stores – www.facebook.com/pages/Caseys-General-Stores/112073528804354
FVP Racing –  http://www.facebook.com/FVPRacing?ref=ts&fref=ts
Other Web site info
Casey's: www.caseys.com
FVP: www.fvpparts.com
Brown's Bits
Brian's last win in Texas came on March 6, 2010 at the Battlegrounds Speedway in Highland, Texas.  The ASCS-Gulf South victory came over Jesse Hockett, Brady Bacon, Tony Bruce Jr. and Travis Rilat.
About Casey's General Stores
Casey's General Stores is a Fortune-500 company (NASDAQ CASY) operating nearly 1700 convenience stores in 11 states through the Midwest. Known for its "Homemade-To-Go" pizza, sandwiches, donuts and bakery items, Casey's strives to consistently deliver quality gas, fresh kitchen-prepared food, clean environments and friendly service at every retail location.  Casey's is currently the 12th largest c-store chain and sixth largest pizza chain in the United States.
About FVP
We are very excited to introduce our new line of automotive chemicals, oils and fluids to our product offering.  These new products will be available at many retailers across the country.  We continue to offer a full line of high quality oil, air, cabin air and fuel filters, plus a complete line of high quality batteries for multiple applications including cars, trucks, SUV's, commercial and other specialty vehicles.  All products are made to OE manufacturer fitment specifications.  FVP products are engineered to provide our customers with quality products that are equal or superior in performance to the major national brands at a competitive price.  To learn more about our FVP products or to find out where you can have FVP products installed in your vehicle, visit us at www.FVPparts.com!  FVP…The Confident Solution
SPLASH
In addition to our line of seasonal safety products, we are very excited to introduce a full line of SPLASH Wiper Blades.  Our SafeView Performance Blades fit 95% of the vehicles on the road with quick and easy installation for everyone.   The AccuVision Beam Blade offers memory curve steel, which provides uniform pressure for a clear wipe, without the streaks.  Look for these great new SPLASH products!  Whether it's keeping your windshield clean or free of ice, protecting your RV, boat or pool from freezing in the winter, or your sidewalk safe to walk on, SPLASH Products are what you need!  Check out our new SPLASH website at www.SPLASHWash.com!  SPLASH…SEE SAFELY!
Marketing Partner of the Week – Smiley's Race Products
Smileys Racing Products and Hoosier Tire Southwest have been in the racing business for 30 years in the Dallas, Fort Worth area. Visit Smiley's the next couple of weeks, either in Kennedale, at the showroom store in Mesquite, or at the racetracks.  All employees at Smiley's Racing Products and Hoosier Tire Southwest are directly involved with race teams either as owners, drivers, pit crew members etc.  What this means to you our customers is racing advice that has been tested on the track first, and then we pass our findings on to you our customers.  From parts and tires to complete race cars, Smiley's Racing Products and Hoosier Tire Southwest is ready to help you get to the checkered flag first. All aspects of our business can be seen at www.SmileysRacing.com.  Click on catalog and put your information in and we will send you a catalog free of charge.
Associate Marketing Partner of the Week – Ti64
Whether motorsports, sailing, or biking, Ti64 has performance fasteners and components to meet and Exceed Your Speed Dreams. They strive to create the best possible products at the best possible prices. They believe in their products and use them in their personal vehicles. With over 40 years of combined engineering expertise, they put their heart and soul into everything they do. Browse their site, compare their prices, place an order, and enter the age of Ti64.  Visit them on the web at www.Ti64.com!
Brian Brown Racing would like to thank Casey's General Stores, FVP, Searsboro Telephone Company, Impact Signs Awnings Wraps / impact4800.com, Champion Brands, SPLASH, Ditzfeld Transfer, Maxim Racing, Smiley's Racing Products, Weld Wheels, Housby Trucks, www.RateWin.com, Arctic Cat, K&N Filters, Hostiowa.net, FSR Race Products, TI64, Fuel-Safe Tanks, Wolfe Eye Clinic, Bell Helmets, CP Pistons, Carrillo Rods,  Vortex Wings, Penray, All Pro Cylinder Heads, Butler Built Seats, AkzoNobel Sikkens, AllDayParts.com, Tru Square, Jack Links, Deli Express, Snap-On Tools, Rod End Supply, KSE Racing Products, Winters Performance Products, Santomauro Racing Products, Cometic Gaskets, Kaeding Performance, Donovan, Magtech, ISC Racers Tape, Kinsler Fuel Injection, Racing Optics, Mothers Wax, Don's Truck Wash, Gardner Farms, Hoosier Tires, GoPro, XYZ Machining, Brown and Miller Racing Solutions, Peterson Fluid System, Red Devil Brakes, Schoenfeld Headers, ADD, 6B Apparel, Zips Energy Seeds, Bosch, NGK, Garrett Racing Engines, MSD and WSIB Insurance for all their support!