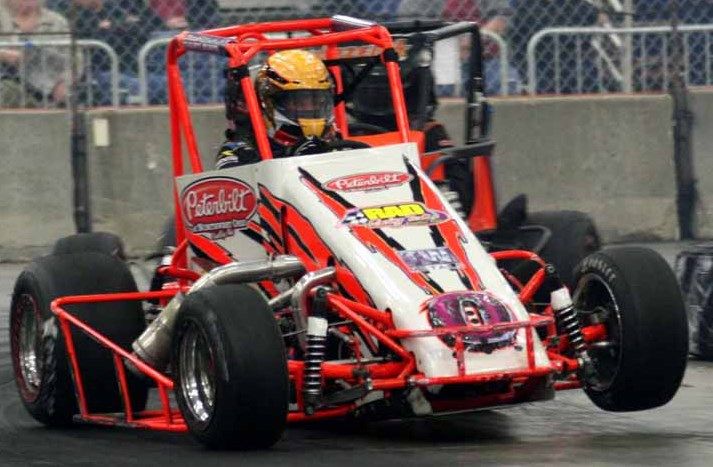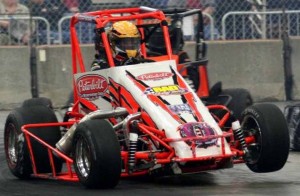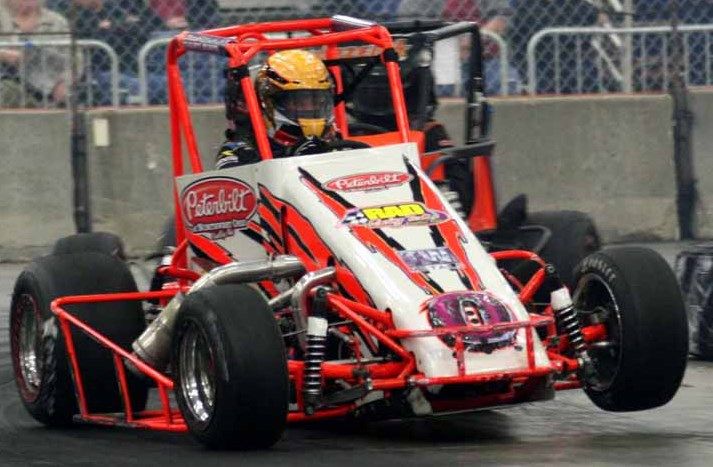 From the Rumble Series
            Fort Wayne, IN — (December 11, 2013) —  Dave Darland, one of the nation's most popular short-track drivers, will return to the "Rumble in Fort Wayne" in a car fielded by National Midget Hall of Famers Mel and Don Kenyon.
Dubbed the People's Champion, the 47-year-old Darland has won twice on the Memorial Coliseum Expo Center's 1/6-mile indoor concrete track and has made a record 19 feature starts. He missed last year's event while racing in New Zealand.
Fresh off a victory in the prestigious Turkey Night Grand Prix, Darland is among a record nine former winners already entered for the 16th annual Rumble on Friday, Dec. 27 and Saturday, Dec. 28.
Defending champions Billy Wease and Derek Bischak head the list, which also includes Jim Anderson, Lou Cicconi Jr., Rich Corson, Bobby East, Tony Elliott and Mike Fedorcak. With the notable exception of Tony Stewart, every feature winner since 2004 is entered.
Stewart, sidelined by a broken leg, will be back as a car owner for Cicconi and Fedorcak while also participating in autograph sessions both days. The two-day racefest also includes winged and non-winged outlaw midgets, karts and quarter midgets, with a complete racing program each day.
"With this entry list so far, we have the makings of the most entertaining features we've ever had," race organizer Tony Barhorst said, noting that the pre-race entry period runs through Dec. 17.
Darland will drive a Yamaha-powered Kenyon Car as a teammate of East, who was runner-up on the second night last year. The Rumble is unique in that national midgets, Ford Focus midgets and Kenyon Cars all compete in the same class. In all, 33 midgets already are entered.
Information about tickets (including VIP Suite packages), entries and racer's rate hotels is available at www.rumbleseries.com. The event information line is (317) 418-3216. Requests for information may be e-mailed to tbracefest@aol.com. Tickets may be ordered by mail without a service charge.
PRELIMINARY 2013 "RUMBLE IN FORT WAYNE" MIDGET ENTRY LIST
(list is complete as of Dec. 10; pre-race entries remain open through Dec. 17)
No.       Driver/Hometown                                             Entrant/Sponsor/Chassis/Engine
0        Alex Malycke/Purcellville, VA                 Alex Malycke/Steel Dynamics/Beast/Mopar
1g      Bobby Santos III/Franklin, MA               Fred Gormly/RPM Automotive Enterprises – Seals-it – Indy Race Parts/Shores/VW
  2        Stratton Briggs/Anna, OH                     Thomas Briggs/Aesthetic Finishers – Baker Machining Service – BMI Karts & Supplies – Bordner Welding – Ohio                                                                                                                                                        Logistics/Beast/Ford Focus
  2    +Lou Cicconi Jr./Aston, PA                      Tony Stewart Racing/Our Gang Poker Club/Munchkin/Volkswagen
  4        (TBA)                                                                Alex Malycke/Steel Dynamics/Beast/Mopar
6        David Gough/Machesney Park, IL          David Gough/Manic Racing –Janssen Machine – KMK Media Group/Thompson/Autocraft
8up     Lynsey Liguori/Lebanon, IN                  Randall Williams/ SWS Racing – Elliott's Custom Trailers & Carts/Jacobs/Pontiac
10         Geoff Kaiser/Fort Wayne                                   Moore Racing Enterprises LLC/Don Moore Music Publications/Beast/Stanton Mopar
12         Billy Hulbert/Channahon, IL                   Transport Colors Racing/Transport Colors Repair & Refinishing/Beast/Fontana
14         Cooper Clouse/Ohio City, IN                 Cooper Clouse Racing/Burtch Seed – Hawk Chassis/Hawk/Volkswagen
15    +Rich Corson/Markham, IL                        Rich Corson/Autism Awareness – In Loving Memory of Steve & Colleen Savage – D'Arcy Motors – Ash-Dome – MWR
Technologies/Hawk/Esslinger
19         Russ Belt/Van Wert, OH                                    Russ Belt/Pro Strip – Widow Wax – Hawk Chassis/Hawk-Munchkin/Autocraft Volkswagen
19         Austin Nemire/Sylvania, OH                  Tom O'Connell/O'Connell Enterprise – Nemire/Yager Racing – Hemelgarn Enterprises/Hawk/Volkswagen
19         Matt Westfall/Pleasant Hill, OH              Dave & Bonna Ryder/Dave Ryder Racing – Bordner Welding – Klotz — E&E Machine /Vogler/Autocraft Volkswagen
20m      Steve Myers/Cridersville, OH                 Steve Myers/Invento Tech LLC/Gambler/Chevrolet
22         Patrick Wilda/Plainfield, IL                    Ken Grskovic/Z's Pinstriping – Acro-Bat Classic Auto/Beast/Brayton Buick
27         Chris Jagger/Warsaw, IN                       Chris Jagger/Big Picture Imagery – J&N Stone/Hawk/Gaerte Chevrolet
31    +Derek Bischak/Indianapolis                      Bob Bischak/Angola Collision Services – Snap-on Tools/Rapid Race Cars/Spike/Gaerte Ford
32         Chris Jagger Jr./North Manchester, IN         Chris Jagger/J&N Stone — Big Picture Imagery/Shores/Autocraft
33         Nick Hamilton/Danville, IN                     Mike Hamilton/Curtis Motor Sales – Hamilton Painting – Faires Trim/Beast/Esslinger
41    +Tony Elliott/Warsaw, IN                           Randall Williams/SWS Racing – Elliott's Custom Trailers & Carts/Stealth/Ford Focus
46         Russ Gamester/Peru, IN                                    Gamester Racing Inc./ Gamester's Green Gable Village Mobile Home Park – GRP Chassis/Grant King/Volkswagen
49         Joey Burrow/Noblesville, IN                  Randy Burrow/Burco Molding Inc. – Advanced Racing Suspensions – Sam Pierce Chevrolet/Kenyon/Volkswagen
52    +Dave Darland/Lincoln, IN                          3-K Racing/United Auto Workers – USSA Mel Kenyon Midget Series/Kenyon/Yamaha
52c       Isaac Chapple/Wilkinson, IN                  Isaac Chapple Racing/CFH Enterprises LLC/Stealth/Esslinger
59         Bryan Nuckles/Canal Winchester, OH          Bryan Nuckles/Columbus Motor Speedway – BTC Technology Inc. – Brian's Automotive/Strei-Tech/Volkswagen
61    +Bobby East/Brownsburg, IN                     Mel Kenyon/3-K Racing – Print Image/Kenyon/Gaerte Buick
67         Joe Liguori/Lebanon, IN                                    Randall Williams/ SWS Racing – Elliott's Custom Trailers & Carts /Jacobs/Volkswagen
97    +Mike Fedorcak/Roanoke                          Tony Stewart Racing/Physical Medicine Consultants/Munchkin/Autocraft Volkswagen
97         Taylor Jagger/Warsaw, IN                     Chris Jagger/J&N Stone — Big Picture Imagery/Edmunds/Oldsmobile
98         Brian Gerster/Fishers, IN                                   Randy Burrow/Burco Molding Inc. – Sam Pierce Chevrolet – Advanced Racing Suspensions/Edmunds/Volkswagen
99    +Jim Anderson/Joliet, IL                           Guess Racing Ltd./D'Arcy GMC – Packard Transport/Ellis/Mopar
99    +Billy Wease/Noblesville, IN                      Randy Burrow/Burco Molding Inc. – Wease Masonry – Sam Pierce Chevrolet  — Advanced Racing Suspensions/                                                                                                                                   Fedorcak-Burrow/Volkswagen
(NOTE: Myers, Jagger Jr. and T. Jagger are entered for Friday only; Malycke is entered for Saturday only)
+former Rumble in Fort Wayne feature winner
DEFENDING RUMBLE IN FORT WAYNE CHAMPIONS: Billy Wease (first night) and Derek Bischak (second night)
TRACK QUALIFYING RECORD: 7.323 seconds set by Tony Stewart, Dec. 30, 2005