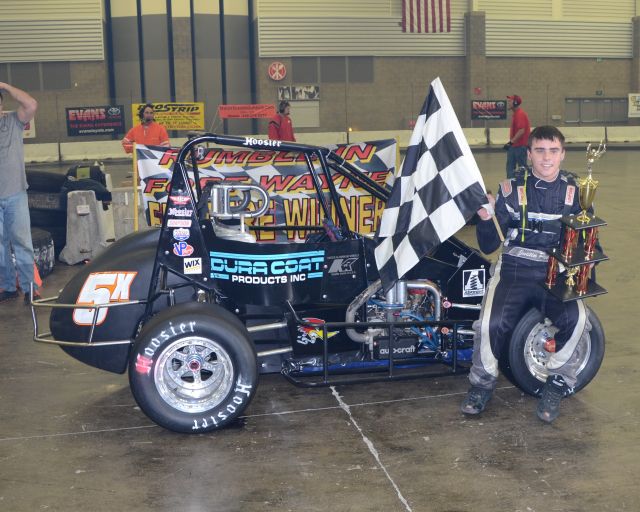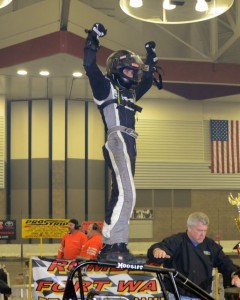 From Ron Ware
Fort Wayne, IN — (December 28, 2013) — Justin Peck is so young, he still needs his mother to tag along to sign his minor release form.
And as for post-race celebrations?
"IHOP's where it's at," the 15-year-old from Monrovia, Ind., said, grinning. "I'll stick to milk."
At the rate he's going, Peck may be emptying a bottle in the winner's circle at the Indianapolis Motor Speedway one day.
The high school freshman put his name in the record book Saturday night, surviving a late-race duel with Russ Gamester to become the youngest winner in the 16-year history of the Rumble in Fort Wayne indoor midget classic.
One day earlier, Gamester, 47, had become the event's oldest winner.
"Indescribable," Peck said as a parade of fans asked for a photo or autograph. "Best deal I've ever had. I hope every young kid coming up can have the same experience I did."
Peck made an auspicious debut at the Memorial Coliseum Expo Center last year, finishing second on Friday and third on Saturday while also sailing into the turn one fence.
"He's been telling me all fall he's going to win the Rumble," his father, Steve, said.
Peck, driving a Volkswagen-powered Beast for Michigan's Steve Clay, inherited a front row starting position because of a scratch, beat pole-sitter Lynsey Liguori into the first turn and looked like he might lead all 50 laps.
But Gamester eventually reeled him in, passing Peck on the inside with eight laps to go when the youngster got into turn two too hard.
"I thought I was done," Peck said.
Instead, Gamester developed an engine problem, and Peck nudged his way past with just two laps remaining. Gamester's engine finally blew in turn four on the last lap, relegating him to a ninth-place finish.
Mike Fedorcak, subbing for the injured Tony Stewart, wound up second, with Grant Galloway, Billy Hulbert and Derek Bischak completing the top five before a near-capacity crowd.
Gamester was trying to join Stewart (2006 and '11) and Billy Wease ('09) as the only drivers to sweep the weekend features.
"That close," Gamester said, grimacing. "(But) I couldn't ask for anything better. This weekend meant so much to me, my dad (Gary), my brother (George) – the whole family."
Peck erased the record of Bobby East, who was 17 when he won in 2001.
Liguori and her husband, Joe, gained distinction as both made the 16-car feature. But they also became the first husband and wife to crash each other out, tangling on the backstretch in the early going.
Race organizer Tony Barhorst designated the event a "Salute to Tony Stewart" in recognition of the three-time NASCAR Sprint Cup champion's devotion to short track racing. Stewart was on hand with his midget team and said he's progressing well from his badly broken leg, suffered in an August sprint car crash. He said he's confident he'll be ready for the Daytona 500 in February.
And Peck? He expects to race USAC and POWRi midgets on dirt in 2014 as he continues on a path that he hopes will lead to Daytona or Indianapolis.
"I don't even know what I was doing when I was 15," the 59-year-old Fedorcak mused. "But I wasn't racing."