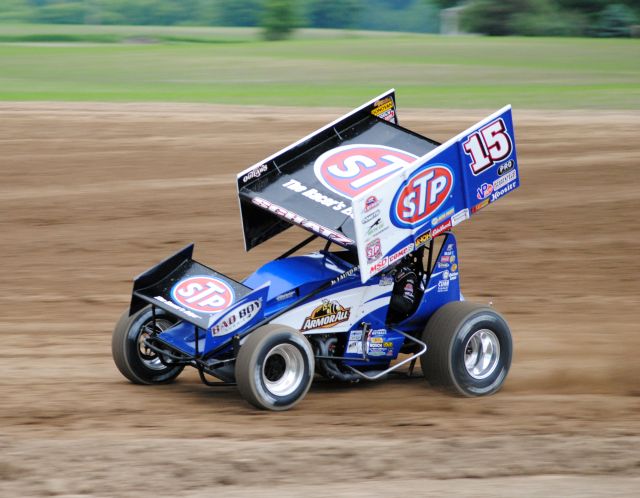 "DRIVER OF THE YEAR" FOR 2013… FOR SIXTH TIME IN CAREER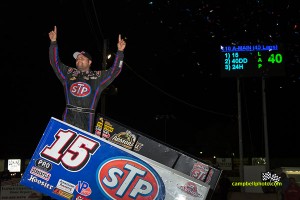 From Bob Baker
Knoxville, IA — (January 15, 2014)  –  For the sixth time in his career, Donny Schatz of Fargo, North Dakota, was voted the "Driver of the Year" by the North American 410 Sprint Car Poll voting panel of media members, promoters, sanctioning officials and manufacturers.  The 2013 Knoxville Nationals winner, who had 23 wins with the World of Outlaws (WoO), earned thirteen (13) of the twenty-three (23) first-place ballots cast in the year-end poll.
Those drivers ranked second through fifth, respectively, are 8-time WoO winner and overall WoO champion Daryn Pittman of Oklahoma, Paul McMahan of California, Tim Kaeding of California, and Central Pennsylvania Point Series and Williams Grove Speedway champion Fred Rahmer of Pennsylvania.  Rounding out the 'top ten' for the season are Craig Dollansky, 1997 "Driver of the Year" Sammy Swindell, All Star Circuit of Champions (ASCoC) champion Dale Blaney, Joey Saldana and 14-time "Driver of the Year" Steve Kinser, respectively.  Daryn Pittman earned ten (10) first-place votes, while his sprint car owner Kasey Kahne will take the "Team of the Year" honors.
Christopher Bell of Oklahoma will receive the "Wild Card Award" for his exciting '410' sprint car performances in 2013.
Dominic Scelzi of California, a competitor with the Golden State King of the West Series, has earned the "Rookie of the Year" award in the '410' division of the North American Sprint Car Poll.  Due to a tie in voting, Roger Slack & Tony Stewart of Eldora Speedway and Brian Stickel of Knoxville Raceway will share the "Promoter of the Year" honors.
Phil Plant of Ti22 Performance/GF1 chassis will earn the "Builder/Manufacturer of the Year" honors for the '410' poll.  For the second year in a row, the "Media Member of the Year" award will go to the team of Kendra Jacobs and Steve Post of the Motor Racing Network's "Winged Nation" program.
The North American 410 Sprint Car Poll is an annual awards program of the National Sprint Car Hall of Fame & Museum.  All awards will be distributed in the spring of 2014 at tracks throughout North America.  The awards were announced on the second day of the Lucas Oil Chili Bowl Midget Nationals in Tulsa, Oklahoma.
Final 2013 North American 410 Sprint Car Poll
rank, driver (first place votes), hometown, state/province, points
1., Donny Schatz (13), Fargo, ND, 1780
2., Daryn Pittman (10), Owasso, OK, 1640
3., Paul McMahan, Elk Grove, CA, 526
4., Tim Kaeding, Campbell, CA, 481
5., Fred Rahmer, Salfordville, PA, 408
6., Craig Dollansky, Elk River, MN, 389
7., Sammy Swindell, Memphis, TN, 278
8., Dale Blaney, Fowler, OH, 258
9., Joey Saldana, Brownsburg, IN, 244
10., Steve Kinser, Bloomington, IN, 214
11., Greg Hodnett, Memphis, TN, 160
12., Brian Brown, Grain Valley, MO, 145
13., Tim Shaffer, Aliquippa, PA, 108
14., David Gravel, Watertown, CT, 50
15., Kyle Hirst, Sacramento, CA, 49
tie, Brian Montieth, Phoenixville, PA, 49
17., Kyle Larson, Elk Grove, CA, 41
18., Bronson Maeschen, Pleasantville, IA, 38
19., Billy Balog, Fairbanks, AK, 37
20., Kerry Madsen, St. Marys, NSW, AUS, 35
21., Mark Dobmeier, Grand Forks, ND, 34
22., Jason Sides, Bartlett, TN, 30
23., Jonathan Allard, Chico, CA, 28
24., Cody Darrah, Red Lion, PA, 26
tie, Brad Sweet, Grass Valley, CA, 26
Also receiving multiple votes:  Lance Dewease, Jac Haudenschild, Danny Holtgraver, Chad Kemenah, Kraig Kinser, Don Kreitz (Jr.), Danny Lasoski, Terry McCarl, Craig Mintz, Shane Stewart.