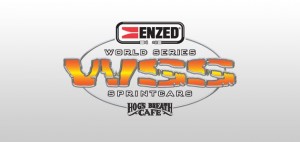 From WSS
Lismore, AU — (January 18, 2014) — South Aussie Luke Dillon recorded an emphatic win in one of the most hectic main events this season in Round 8 of the ENZED World Series Sprintcars Championship at Lucas Oils Lismore Speedway tonight.
In front of a huge crowd Dillon piloted his Diamond Bay Motorsports #26 Maxim to a hard fought win over 8 times WSS champion Brooke Tatnell in second and Warrnambool's Jamie Veal recording a career-best third place to round out the podium.
Though Dillon was naturally ecstatic with the victory, Brooke Tatnell clearly didn't share in the jubilation, fuming over his view that Dillon had passed him 'on the infield' in turn four as they came up on a lapped car.
"I passed the lapped car on the outside and as he (Dillon) came through on the inside I got showered with dirt and dust as we came off turn four on to the main straight," Tatnell declared, "and the only way you can kick up dirt and dust like that at this place is when you run on the infield. I know that Luke doesn't race like that but in my view he clearly passed me on the infield. In my opinion that move cost us this race."
Tatnell led the field for the first four laps in his Toyota Genuine Parts #2 KMS Cool before Dillon slipped by.
Though the lead duo went back and forth in their quest for the lead spot, timing monitors will show that Dillon led every lap from five to thirty – a reality that doesn't really reflect the see-sawing battle that he and Tatnell had for much of the race.
For Dillon, it was finally a reward for showing raw car speed and yet another Revolution Racegear "Quick Time" Award in qualifying (his fourth).
He also posted the fastest ever lap time at Lismore Speedway with a smoking 11.011s lap that was spectacularly close to the first ever 10-second lap in the Amadio Wines Top 8 Shootout – a lap that earned him pole position alongside Tatnell in the A-Main.
"This is a win for my guys," he grinned from ENZED Victory Lane, "I can't thank them enough for how hard they've been working to get us up the front each night. It's so good to finally get this."
Jamie Veal was rock solid in the Heytesbury Stockfeeds #35 entry after building up a new car in the week leading up to Lismore.
"I'm so grateful for the effort all our boys have put in during the week to make this happen. The car felt good from the minute we rolled out tonight and it's a great result to get a podium at a place we'd never been before. It feels good to head home for the Classic next week with this kind of car speed."
James McFadden had to fight hard for his eventual fourth place in the #1 Totally Workwear Cool after a spirited battle with Veal, Shane Stewart and live wire Luke Oldfield in the JB Automotive #17 machine.
Oldfield sped forward from his fifth row start to at one point fourth before the defending two-time WSS champ steadied the ship and pulled away from the former V8 Dirt Modified racer who has plenty of experience around the unique Lismore layout.
For his swashbuckling driver Oldfield earned the "Hog's Breath going the whole hog" award.
Shane Stewart showed some encouraging signs in the new Maxim chassis built underneath the Milwaukee Power Tools livery to finish fifth ahead of Oldfield and then a career best finish for NSW youngster and WSS rookie Jackson Delamont in seventh place.
The always smiling 19 year old from Young in NSW was grinning an even toothier grin than normal after the race.
"That was awesome," he beamed, "I love this place!"
For his effort Delamont earned the American Racer Hard Charger award and a new right rear American Racer tyre.
Eighth home with a flat left front tyre was dual WoO Champion Jason Meyers in the Steve Caunt Racing KPC ahead of Steven Lines in a disappointing by his own standards ninth position with Daniel Pestka tenth in the #27 Gawler Farm Machinery J&J.
Lines broke an axle in his second heat which in turn sheared off the right rear wheel on his Halls Haulage #3 KPC and the problems clearly complicated his evening with the team missing their Amadio Wines Shootout entry soon after and then slipping back slightly from their initial fourth row starting spot in the 30 lap A-Main.
Dylan Jenkin finished eleventh in the Gericke Bulk Handling Cool ahead of Andrew Scheuerle (Ausdeck Patios Cool) in twelfth, Sam Walsh's Crimsafe #17 XXX in thirteenth, Daniel Harding's #12 Rentco entry fourteenth, WSS debutant Michael Sauer in fifteenth, Queensland budget racer Brodie Tulloch in the Autobarn Browns Plains #74 in sixteenth, Paul Morris' Supercheap Autos J&J seventeenth, Peter Lack's #58 G&W Racing entry eighteenth and Jordyn Brazier and Garry Brazier registering DNF's with separate mechanical failure in their respective #21 cars.
The only stoppage of the thrilling A-Main was on lap nine when Peter Lack struck the back straight wall and spun the car to a stop.
The only red light stoppage of the night came in earlier heat racing when Tamworth youngster Luca Cox struck the wall in his #91 entry not far from where Steven Lines ground to a halt when his axle broke.
Two drivers played their "Joker" cards tonight – Jackson Delamont and Daniel Harding.
Championship points now sees Dillon close down the lead that James McFadden holds to just 95 points but interestingly fourth, fifth and sixth placed Brooke Tatnell, Shane Stewart and Jamie Veal have yet to play their "Joker" cards whereas Dillon and McFadden have.
1. James McFadden 2082*
2. Luke Dillon 1987*
3. Steven Lines 1918*
4. Brooke Tatnell 1903*
5. Shane Stewart 1563*
6. Jamie Veal 1499*
7. David Murcott 1457
8. Daniel Pestka 1455*
9. Robbie Farr 1431
10. Dylan Jenkin 1362*
11. Jackson Delamont 1335*
12. Garry Brazier 1140*
13. Daniel Harding 1130
14. Ian Madsen 998
15. Brad Keller 962
16. Brad Sweet 923
17. Jordyn Brazier 813*
18. Kyle Hirst 801
19. Donny Schatz 777
20. Luke Oldfield 758
* Indicates WSS contracted driver.
The ninth round of the 2013/2014 ENZED World Series Sprintcars Championship is slated for Speedway City in Virginia for the George Tatnell Cup on Saturday, February 8.