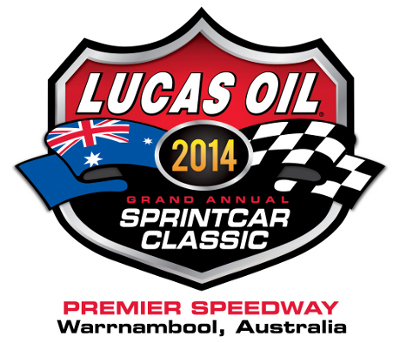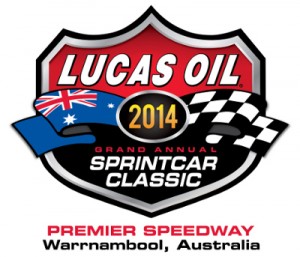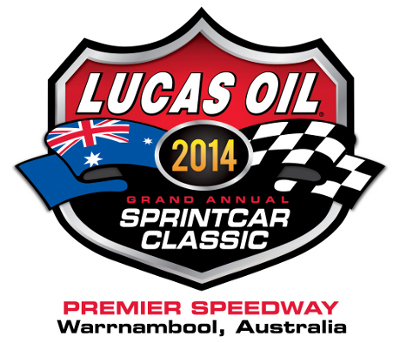 From Premier Speedway
Warrnambool, AU — (January 25, 2014) — Warrnambool's Jamie Veal dominated the second Oval Express Australia / America Cup presented by Oval Express magazine at Sungold Stadium last night in the penultimate evening of the 42nd Lucas Oil Grand Annual Sprintcar. Classic.
On a racy surface Veal's car was lightning fast as he led all but three laps of the 30 lap final running the top groove to hold American Jason Meyers off for second and a ever-steady Max Dumesny for third in front of a huge crowd of 7100 people.
Veal made his intentions clear very early as he raced from grid position four to make a low pass on firstly Dumesny and then leader Egel to lead the race on the fourth lap.
Meyers closely followed suit and jumped into second on lap 11 and was in chase of tear away leader Veal.
His chance to nail Veal came when Egel had motor expire on lap 19 and came to a halt on back straight. The next came two laps later when Grant Anderson got high into turn two and rolled. A rare open red light was then allowed and after five hectic minutes crews had made the necessary repairs to help their drivers and cars get home.
With 10 laps to run Veal led from Meyers, Dumesny, Darren Pittman, Paul McMahan, Steven Lines and Darren Mollenoyux with Sweet up to ninth from 18th and Tatnell had climbed to 11th from 17th.
At the restart Veal took off with Meyers in pursuit and Dumesny in third and Pittman fourth. With two laps done Matt Muir suffered a collapsed front end and caused a late race stoppage but Veal had the race sewn up.
Other major finishers were Tatnell in seventh, Sweet eighth, McCarl ninth while Warrnambool's Quentin Tanner drove his best race to make the final and finish 18th of the 20 car field.
"It's just a dream come true. I've been watching this race for years and to win was just about keeping focused. I was happy to keep up high and it as just easier to go around the top," Veal said.
Just prior to the feature Brooke Tatnell and Grant Anderson roared from the front in the 20 lap B Main. It would be the three-time Classic winner Tatnell hold off a hard charging Brad Sweet who raced from 16th to second while Grant Anderson and Danny Reidy also made the transfer to the feature.
The C Main saw David Gravel and Brad Sweet come from the front row and after a comfortable early race lead Gravel was hauled in by Sweet who fought back hard late in the race to win. Sweet suffered badly after a flat left rear cost him valuable points in his final heat. Third was Sydney's Darryl Campbell and Jake Tranter fourth, all making the B Main transfer.
In time trials Warrnambool's own Darren Mollenoyux was out in the eighth group and set the early pace to record the fastest time of an 11.700 second lap from USA's Paul McMahan, Max Dumesny and defending Classic champion Steven Lines. Three Americans all tagged the turn three wall being, Brad Sweet, Daryn Pittman and Shane Stewart with Sweet dropping part of his torque tube.
Heat winners were Darren Mollenoyux, Terry McCarl, Max Dumesny, Steven Lines, Jamie Veal, Matt Egel, Glen Sutherland, Brooke Tatnell and Jake Tranter.
The Super Rods 15 lap faerie was won by Shane O'Shannessey from Howard Stansfield and Michael McDonald.
Tonight's finale will be the 40-lap final paying a cool $30,000 to win following one final round of heats and two D, C, B mains all presented by Lucas Oil, KRE Race Engines, G J Gardner Homes and Lady Bay Resort.
The Top Ten in combined points:
1. A1 James McFadden 558
2. W26 Luke Dillon 556
3. N99 Tim Kaeding 552
4. V5 Max Dumesny 540
5. V35 Jamie Veal 534
6. USA15 Donny Schatz 530
7. S97 Paul McMahan 524
8. S4 Trevor Green 522
9. N9 Jason Meyers 520
10. V10 Kyle Hirst 512
Premier Speedway will again be the place to be this Australia Day for last of the three huge days and it is "Where History Happens."
For more details phone General Manager David Mills 0408 529 625
Website – www.premierspeedway.com.au