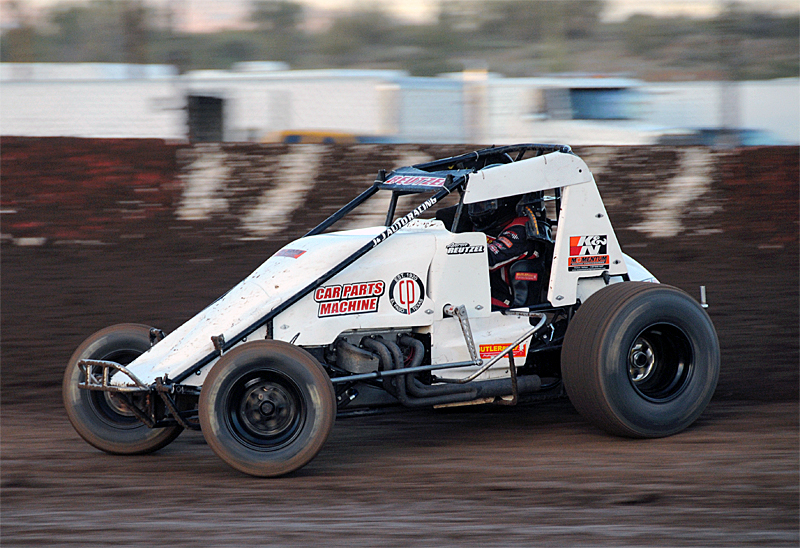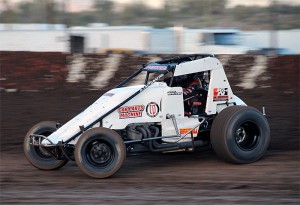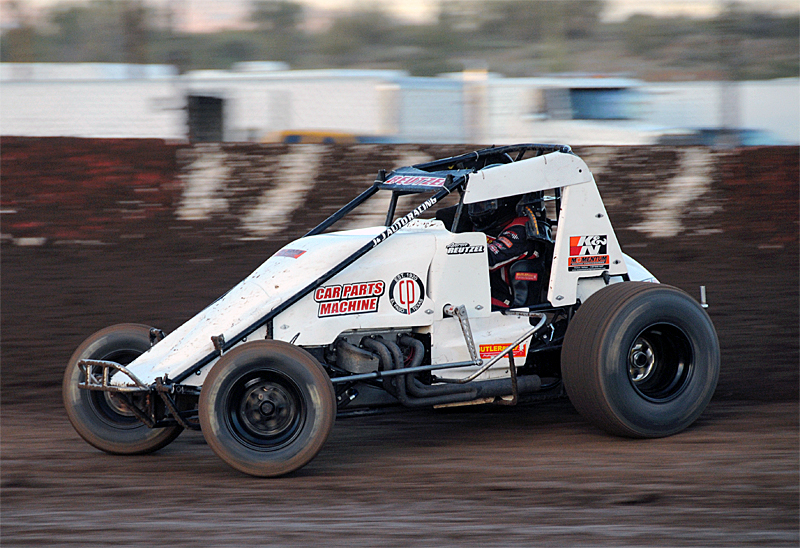 From Lonnie Wheatley
Peoria, AZ — (January 28, 2014) —  Slinging the clay in a non-wing Sprint Car isn't exactly Aaron Reutzel's bread and butter.  Not that one would have guessed that though after the Clute, TX, driver passed 32 cars over the course of three USAC Southwest vs. USAC West Coast Non-Wing Sprint Car features at Canyon Speedway Park over the weekend.
While the primary focus of an ambitious 2014 schedule will be capturing the Lucas Oil ASCS National championship, Reutzel got a jump start on the season by taking Bob and Christie Miller's El Paso-based Car Parts Machine/Stafford Performance No. 21a Sprint Car to Peoria, Arizona's Canyon Speedway Park for Winter Challenge action.
And, with less than a handful of previous wingless Sprint Car starts in the books, Reutzel kicked things off with a bang in Thursday night's practice session.
"We hung it in the fence," Reutzel explained after a parts failure resulted in a wild ride into Canyon Speedway Park's turns three and four retaining fence.
"Those two poles were brand new before this weekend," track promoter Kevin Montgomery later pointed out of the noticeably repaired fencing.
While Reutzel's ButlerBuilt seat did its job in keeping the driver safe, the chassis didn't fare as well.  "A big thanks goes to Dave Ellis for helping us get it back together," Reutzel explained.  "This one will be done after Winter Challenge, it's straightened up enough to just get by but that's about it."
Reutzel did more than just get by though through the first three races of the Winter Challenge, racing from deep in the field each night to post three consecutive top-ten finishes aboard the BC Fundz/Danny Sanders Construction/Wright Way Logistics Sprint Car.
"We just need a little luck on the draw so we don't have so far to go in the feature, with the quality of cars here it makes it really tough to come from the back of a heat race each night," Reutzel explained.
Heat race finishes of fifth on both Friday and Saturday and then seventh on Sunday increased the difficulty level come money time.
But the past ASCS Gulf South Regional champion responded in strong form each night, charging from 16th to seventh on Friday night, 16th to sixth on Saturday night and then rallying from the 20th starting position to claim seventh on Sunday.  Thirty-two cars passed over the course of the weekend easily ranked as the top passing mark among the Sprint Car ranks for the three-race set.
And the team was ever so close gaining a few more positions and a podium finish.  "We had a top-three car on Saturday night and got caught up in some sliders with Charles Davis, Jr., otherwise we would have been right there."
Then on Sunday night, "I passed Charles in turn two then I just barely missed the bottom in three and four right after that.  He got back by and then a couple more guys made mistakes in front of him and he got up to second, that could have just as easily been us."
Reutzel and crew that included Ryan Beechler and Marty Breiten were still pleased with the opening weekend results given the team's lack of non-wing experience. 
"We're all wing guys so this is pretty new to us," Reutzel explained.  "We threw a baseline wing setup on it and adjusted from there.  With the car damaged from the practice night flip, it never felt real comfortable up top but we were able to get it dialed in pretty good on the bottom side of the track.
"We're really thankful Bob (Miller) let us come race," Reutzel continued.  "He just had brain surgery, so he let us take all the stuff and go race and I can't thank him enough for that.  All we had were some setup notes to go off of."
The Miller No. 21a is a mount Reutzel will wheel occasionally in down-time from ASCS National Tour action in 2014.  And the opening weekend results were impressive with finishes of seventh, sixth and seventh with 32 feature positions gained against a stout field of USAC Southwest and USAC West Coast Sprint Cars.
2014 Quick Stats:  3 races, 3 top-tens.  Currently 8th in USAC Southwest vs. USAC West Coast Sprint Car Winter Challenge points. 
Up Next: Three more nights of USAC Southwest vs. USAC West Coast Non-Wing Sprint Car at Canyon Speedway Park's Winter Challenge loom for Aaron Reutzel and the Bob and Christie Miller No. 21a this Thursday, Friday and Saturday.  Thursday and Friday's features both offer up a $2,000 winner's share with Saturday's Winter Challenge finale worth $5,000 to the winner.
"From when we first came here with ASCS a couple of years ago, this is a completely different racetrack," Reutzel commented of the 1/3-mile Canyon Speedway Park clay oval.  "With the wall around the track now, this is a really racy place.  I really like it, but it's still tricky to read, it's kind of a crapshoot on what it's gonna do from night to night and through the course of a night."
Keep on Track:  Keep track of Aaron Reutzel's on track-action including schedule and results at http://www.aaronreutzelracing.com/, on Facebook at https://www.facebook.com/pages/Aaron-Reutzel-Racing/117666254913127 or on Twitter at @AaronReutzel.  You can also e-mail Aaron at aaronreutzel@yahoo.com.