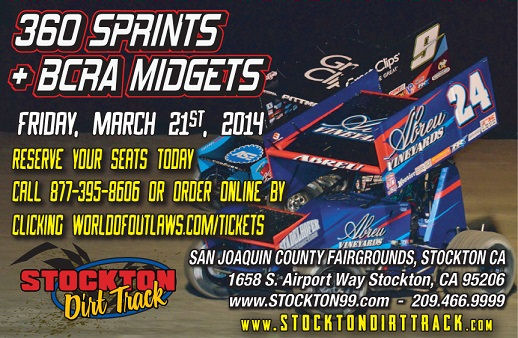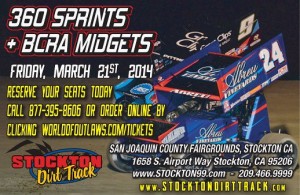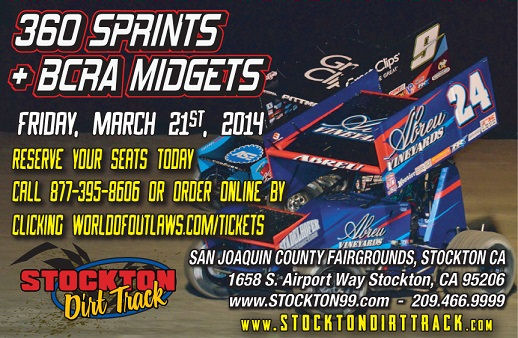 By Gary Thomas
Stockton, CA – February 1, 2014…Northern California's newest dirt track facility is set to open its second season of competition in a big way on Friday night March 21, with Winged 360 Sprint Cars & BCRA Midgets taking to the Stockton Dirt Track, which fires-off a huge double-header weekend that finds the World of Outlaws STP Sprint Car Series at the 3/8 mile oval on Saturday March 22.
There will also be some solid money on the line for both divisions during the Friday evening "FVP Western Spring Shootout" prelude, highlighted by the Winged 360 Sprint Car portion paying $3,000-to-win & $400-to-start the A-main. The runner up in the feature will earn $1500, with third place paying $1200, fourth place $1,000 and fifth place $900. The 360 Sprints will run a "King of the West Series" style format during the night, which includes qualifying, heat races, a dash, LCQ and A-main.
The Winged 360 Sprint Car Dash for the night is also being backed by Panella Racing Engines and features a total of $1000 up for grabs, which will be broken up as follows: $500 to the winner, $300 to second place and $200 to third place.
The Panella Racing Engines 360 Dash will be lined up by random draw with the heat race winners and next so many fastest qualifiers (depending on number of heats) who transfer from their heat to give us eight cars. If four heats are run it will be the four heat winners & top-four fastest qualifiers who transfer. If three heats are run it will be the three heat winners and top-five fastest qualifiers that transfer.
The BCRA Midgets will also run a special Dash sponsored by Terry Tarditi of T&T Trucking in Lodi with $800 on the line, which will be broken up as follows: $250 to the winner, $150 to second and $100 to third through sixth in the rundown. Tarditi is a past BCRA champion & has been a longtime supporter of the series. The stipulation to be eligible for the T&T Trucking Dash is that to run it, the owner & driver must be a current BCRA Member. The top-6 fastest qualifiers will make up the dash and draw for starting spots. If a non-BCRA Member is among the top-six, then the next member up in the qualifying rundown will be awarded the spot.
The Friday March 21 opener in Stockton is the only show in the state on that night for Winged 360 Sprint Cars & Midgets, meaning a packed pit area of race cars is expected for the event.
Last year's KWS finale / "Tribute to Gary Patterson" winner Rico Abreu is one of many drivers looking to take home the money on Friday March 21. The talented 21-year-old has a possibility of pulling double-duty during the night in both a Sprint Car & Midget. Abreu is coming off an impressive outing at the Chili Bowl Midget Nationals in Oklahoma, where he ran as high as third in the Saturday finale driving for Keith Kunz Motorsports. The always exciting competitor last year became the first driver to win the Dave Bradway Jr. Memorial, the Tribute to Gary Patterson & the Johnny Key Classic all in the same season.
Other possibilities hoping to steal the top-spot from Abreu on Friday March 21 will include defending King of the West 410 champion Kyle Hirst, seven-time Civil War champ Andy Forsberg, three-time King of the West titlist Jonathan Allard, three-time USAC Silver Crown champ Bud Kaeding, past Taco Bravo Ocean Sprints champ Shane Golobic, reigning Taco Bravo titlist Brad Furr, last year's June Stockton Dirt Track winner Willie Croft, the "Human Highlight Reel" Geoff Ensign and many more. It's sure to be one the biggest single-night Winged 360 Sprint Car shows of the season.
Last November's Winged 360 Sprint Car event brought 39 entrants to the Stockton Dirt Track and was claimed by San Jose's Tim Kaeding over Abreu and a hard charging Geoff Ensign from Sebastopol. In qualifying Chico's Jonathan Allard broke the existing 360 track record by clocking a 14.400 around the Stockton clay.
It will be the second ever BCRA Midget event at the Stockton Dirt Track after last year's debut in April was claimed by Stockton's very own Jonathon Henry over Visalia's Greg Bragg and Sean Dodenhoff. Scott Pierovich & Taylor Simas rounded out the top-five in the main event that night. Bakersfield's Shannon McQueen set the track record in qualifying at a time of 16.513. Midget racing is routinely some of the best & most exciting you'll see in any form of motorsports and fans should be in for a treat on Friday March 21. Information on the historic Bay Cities Racing Association (BCRA) can be found at
http://www.bcraracing.com/
Two-night adult General Admission tickets for the March 21 & 22 "FVP Western Spring Shootout" weekend are available for just $50 & two-night Reserved Grandstand tickets cost only $70. Single-night tickets & box seats are also available. Children prices are available in GA only. To purchase two-night package advance tickets log onto
http://dirtcar.ticketforce.com/ordertickets.asp?p=447
 or call (877) 395-8606. Last year's World of Outlaws event held on a Friday was a sell out and with this season's outing moving to a Saturday, fans are encouraged to get their tickets now for the best seats possible.
Fans who pre-buy their March 21 & 22 weekend tickets will also be in a drawing for a special chance to have dinner with 20-time World of Outlaws champion Steve Kinser. Stockton Dirt Track promoters Tony & Carol Noceti are offering a once in a lifetime opportunity for five select couples to have "Dinner with the King" at the El Rancho Inn – Steak & Lobster House on Thursday night March 20 at 7pm.
The drawing will work simply as follows. Five names will be randomly drawn out of the pre-ticket sales for the Stockton Dirt Track March 21 & 22 weekend. Those lucky winners will be invited to the special dinner at 7pm on March 20 with Steve Kinser at the El Rancho Inn – Steak& Lobster House, which is located off Charter Way/MLK Blvd and Mariposa Road in Stockton, California.
The deadline to pre-buy your March 21 & 22 weekend tickets and still be eligible for the special "Dinner with the King" drawing is Thursday March 13.
The Stockton Dirt Track is a lightning fast 3/8 mile clay oval and is located on the San Joaquin County Fairgrounds in Stockton, California. It is built inside a one-mile horse track and boasts one of the nicest dirt track facilities in the state. Camping will also be available during the weekend with a number of great spots for RV's and Campers on the fairgrounds. Camping reservations can be made by contacting
916-370-9417
.