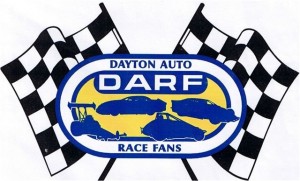 From Cheryl Dalhamer
Dayton, OH — (February 5, 2014) — Building off an old axiom, 'less is more', Dayton Auto Race Fans (DARF) Board Members have announced that their annual Toys for Kids car show is switching to a one-day format this year – Saturday, March 8, but with increased activities compressed into the new format.   Lang's Chevrolet in Beavercreek (OH) has again donated their dealership as host of the fundraising event that benefits needy children within Greene County.
For one busy day, from 9 a.m. to 8 p.m., the dealership is turned into an active pit area, with race cars representing a broad spectrum of the sport on display.   That variety can often include everything from vintage racers, to quarter midgets and go karts to open wheel Sprint Cars and full-bodied Late Models; machines that race in circles or go straight and with dirt or asphalt no barrier.
Not only will the cars be on display, but the drivers of them are being invited to an autograph session at 6 p.m.
Earlier in the day, all 'wannabe' racers are invited to participate in an outlaw pinewood derby.   Racers of all ages are encouraged to participate in this fun downhill chase, and with no tech rules, innovation will become the key word.   This unique twist offers fans to compete against drivers to find out who can come up with the best combination to reach the finish line first.
DARF President Rick Monroe is excited with the new format.   "Change is always tough, but compacting this traditional two-day show into one has created a lot of new interest.   People are fast-paced today and tying up their entire weekend was becoming an issue, so we are going full-speed ahead with one day.   There will be plenty to do in a short time; something for everyone, including a neat closing ceremony where we honor and recognize the participants.   There aren't too many sports that allow this intervention of participants and fans, we're excited."
Active race teams interested in putting their cars on display and offer additional exposure for their sponsors, are encouraged to contact Monroe at (937) 541-9006 for more details, while the vintage race car owners should contact Bernie Coppock (937) 469-3089.