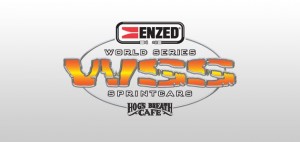 From WSS
Perth, AU — (February 14, 2014) — Despite a painful shoulder injury he sustained earlier in the night South Aussie Steven Lines drove to his third main event win in Round 10 of the ENZED World Series Sprintcars Championship at The Perth Motorplex Kwinana Beach tonight.
In his second heat race a mystery object struck the right side of Lines' Halls Haulage #3 KPC and the impact drove his full containment seat hard into his right shoulder where it partially dislocated.
Despite the painful injury the gritty Mt. Gambier racer still managed to secure the Amadio Wines Top 8 Shootout win shortly after and begin the 30 lap main event from pole position alongside Jamie Veal.
It was Veal who led early in his Mototech / SWI Engineering #35 Maxim in the main event before Lines flew around the outside in turn four on lap 8 where he was never headed from there.
"My team give me a great car every time we come out on the track," he explained from Victory Lane, "I get the easy job of driving it. My arm's not too bad but I guess we'll see how it feels in the morning. My safety equipment did the job and now we can move on to tomorrow night's round at Bunbury and keep this Championship rolling."
Jamie Veal had a good run going on Lines late in the race but Cameron Gessner's power meeting with the turn three and four wall brought on the red lights with only 8 laps to go.
Any advances that Veal had been making on the leader soon vanished at the restart as Lines simply drove away.
"I won't say I wasn't disappointed when the reds came on," explained Veal, "you can't afford to give a driver like him (Lines) any ground with clear track, he'll do exactly what he did just then. I can't thank my boys enough for giving me a good car tonight. I'm keen to get to Bunbury tomorrow and continue our good form."
Brooke Tatnell moved the Toyota Genuine Parts #2 Cool into an eventual third place in what was a big and important drive from his original nesting spot on the fifth row of the grid.
"Full credit to Linesy for his drive tonight, and Jamie is doing a really great job lately too.  We're better at the slick stuff than this hooked up rough stuff tonight. I had to remind my crew chief that I'm 42 and not 22 so we could free the car up a bit," Tatnell quipped.
Ian Madsen earned himself the "American Racer Hard Charger" award with a stirring drive from position #16 to fourth in the Kenerick Racing #29 after earlier running second in the B-Main.
Luke Dillon placed the Diamond Bay Motorsports #26 Maxim into fifth and James McFadden pipped Dylan Jenkin for sixth in full view of the chequers as the two time and defending WSS champ fought to keep his Championship aspirations alive as Lines drove away with the win.
Matt Egel impressed on debut in the Muir Motorsports #53 to run a solid 8th place whilst David Priolo wasted little time in storming back from the rear (he changed a left rear tyre on the restart on lap 22) to finish 9th.
Jamie Maiolo placed 10th ahead of Carl Dowling in 11th, Jason Kendrick 12th, Daniel Pestka 13th, Kye Scroop 14th and Shane Norris the last car running in 15th.
DNF's included Cameron Gessner (crash), Shaun Bradford (motor) Robbie Farr (mechanical) Ian Loudoun (flat tyre) Garry Brazier and Jackson Delamont.
American Racer Hard Charger Award: Ian Madsen
Amadio Wines Top 8 Shootout: Steven Lines
Revolution Racegear Qualifying: James McFadden
Hog's Breath Café "going the whole Hog" award: Shane Collins
The points going into tomorrow's 11th round of the Championship at QUIT Bunbury Speedway are:
Steven Lines             2770
James McFadden      2598
Luke Dillon               2526
Jamie Veal                2368
Brooke Tatnell         2360
Dylan Jenkin                        1973
Shane Stewart          1868
Robbie Farr               1767
Daniel Pestka                       1761
Jackson Delamont    1705
David Murcott           1701
Garry Brazier           1446
Daniel Harding         1383
Ian Madsen                1252
Jordyn Brazier          1051