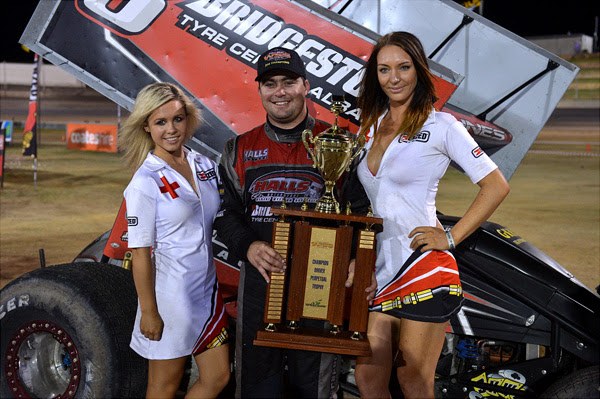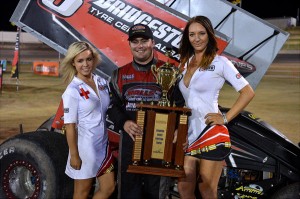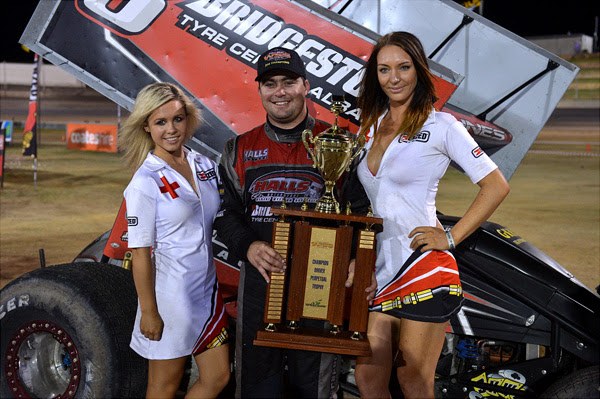 From WSS
Over 130 people were on hand at the Burswood on Swan Function Centre in Western Australia last night as WSS teams and drivers were presented with a host of awards and honors.
Representatives from ENZED, Hog's Breath Cafe, Carline, fans, friends and families in attendance were treated to a superb three-course meal and complimentary wines thanks to series partner, Amadio Wines.
2013/14 ENZED World Series Sprintcars Champion Steven Lines and the Halls Motorsport Team headlined the event, collecting the WSS perpetual trophy and the coveted WSS Team Championship.
"This is for our guys," beamed the new champion, "Brian Hall and Craig Bennett and everyone associated with this team have given me such a great car to drive night in and night out. This is such a great result for the team, I can't thank them enough for this opportunity."
Lines also won the Amadio Wines Shootout Award with 3 Shootout wins for the year and 5 Gold Shootout appearances. Craig Bennett (Halls Motorsport) was honoured with the WSS Crew Chief of the Year Award, collecting 14 votes in total. The award is decided by a 3-2-1 voting system, with rival contracted teams all submitting their votes.
Monte Motorsport collected two awards on the night, receiving the team award for the Best Presented Team, while Shane Stewart was the overall Hard Charger, gaining 31 positions throughout A Main races in the championship.
Luke Dillon collected the Revolution Racegear Quicktime Award with 6 Quicktime Award for the series while Jamie Veal collected the Rookie of the Year trophy for his sterling effort to finish 5th overall in the WSS championship.
Finally, Veal was also presented with the coveted Driver's Driver Award, voted on by all contracted drivers in the series via a 3-2-1 voting system. Veal won the award with a total of 21 votes.
Just because the 2013/14 season is in the books, it doesn't mean the WSS action is over. WSS returns to free-to-air TV on ONE this weekend after a hiatus from the 2014 Winter Olympics, and continues on SPEED from the first Wednesday in March. Stay tuned for more news and updates from the series throughout the year.