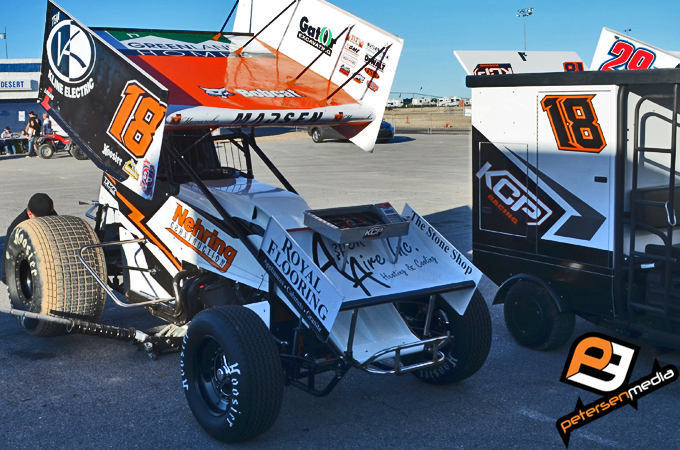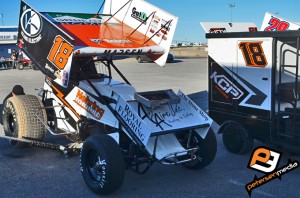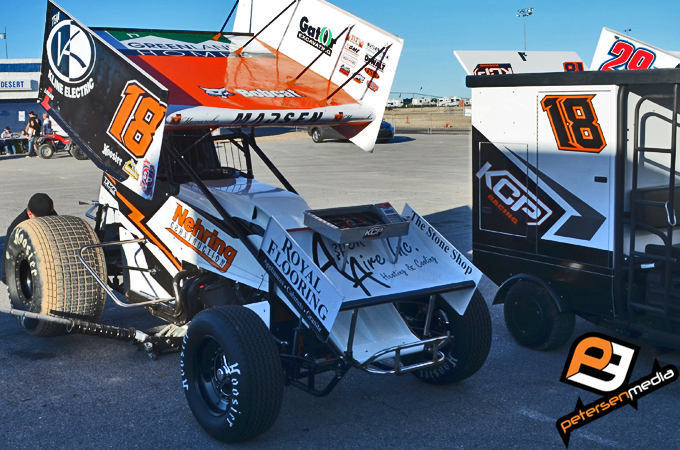 From Peterson Media
Heading west to kick off his 2014 season with KCP Racing, Ian Madsen had a weekend that he is quickly looking to forget about in Las Vegas, NV, and Tucson, AZ as the team had nothing but bad luck.
"I hope we can put this behind us as a unit, and come back out in a few weeks, and really show everyone what we are capable of," Madsen said.
Wednesday night the team took to the Las Vegas Dirt Track in Las Vegas, NV, and had mechanical gremlins all night that left them out of the feature and forced to spectate the race.
"We hurt an engine early in the night, and then in the B, we broke a spark plug, and that pretty much eliminated us from transferring from the B," Madsen said.
Back in action on Thursday night, Madsen struggled just a little in time-trials, as he wound up 21st fastest, but the Australian driver fought his way into the feature event, but that went less than desirable.
Blowing a tire, and getting caught up in another drivers wreck, Madsen went on to finish 18th in the feature event.
Making the tow to the Tucson International Raceway on Saturday for the Wildcat Shootout, Madsen had a much better start to his night as he timed in 15th fastest and ran second in his heat, putting him in the Dash.
In the Dash things took a turn for the worse as his Nehring Construction/Team Kline Electric/Logan Contractors Supply entry was involved in a wreck, that caused frame damage, forcing the team to roll their sleeves prior the feature.
Getting the machine put back together to start the feature, Madsen wound up with a 15th place finish.
"I really have to thank everyone for working so hard all winter to get the equipment ready, and for working so hard last week in what was a really trying three nights," he said. "We will regroup, and be back out in a few weeks, and hopefully be where we all think this team belongs, up front."
Ian and his KCP Racing team would like to thank Nehring Construction, Team Kline Electric, Logan Contractors Supply, Royal Flooring, Greenland Homes of Iowa, Quality Traffic Control, Factory Kahne, Rider Racing Engines, JRS Excavating, Brown and Miller Racing Solutions, Kent Performance, The Stone Shop, Aspen Air Inc. Heating and Cooling, Gator Excavating, TammyHeckart.com, Kent Performance, Revolution Race Gear,  Lucas Oil, Wings Unlimited, and Kustom Concrete Pumping for their support.
2014 BY THE NUMBERS: Starts-20, Wins-2, Top-5's- 7, Top 10's-9
ON TAP: The KCP Racing team will head to the 81 Speedway in Wichita, KS on March 29th.
STAY CONNECTED: To keep up with Ian make sure you follow him on twitter by clicking over to www.twitter.com/IanMadsen. You can also visit the teams website at www.kcpracing.com.