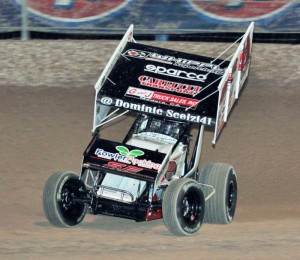 From Inside Line Promotions
Las Vegas, NV — (March 12, 2014) — Dominic Scelzi is taking the positive away from his first-ever week of racing on a half-mile track.
Competing with the World of Outlaws STP Sprint Car Series at The Dirt Track at Las Vegas last Wednesday and Thursday, Scelzi got his first experience racing wheel to wheel on a big track.
"It was a good learning experience," he said. "I got some good laps on a half mile and I learned how to race with guys on a bigger track. The biggest thing I noticed is at the smaller tracks if you miss your line a little bit in qualifying you can make it up in the next corner and be close on the times. On a half mile if you miss your line by an inch your whole qualifying time is shot."
Scelzi qualified 29th and 31st quickest, respectively, but showed noticeable improvement throughout each night.
"I was a little disappointed with my qualifying effort," he said. "The car felt great and we got better every time we were on the race track."
Scelzi finished seventh in his heat race both nights to miss locking into the main event by only two positions. On Wednesday, he began to gain comfort in the car as the night wore on and he finished eighth in the Last Chance Showdown – four spots out of a transfer.
"I was getting a feel of what I needed to feel comfortable in the car on Wednesday," he said. "Once we were able to tune myself there we were able to get a good feel for what we needed to do on Thursday."
Track conditions were very different the following night. As the team was relegated to the Last Chance Showdown, the track started to slick off and Scelzi began to move forward from his 11th starting position.
"On Thursday the track was completely different at the beginning of the night," he said. "When the track slicked off and got back to how it was Wednesday night we felt good. In the Last Chance Showdown we got even better. Unfortunately it popped out of gear about two laps in."
Scelzi had to restart at the back and he then charged to a ninth-place result.
"Toward the end of the night on Thursday I felt really good," he said. "We were fast all week. It just seemed we couldn't get qualifying down. It's something that needs to take laps."
Scelzi will compete with the World of Outlaws STP Sprint Car Series this Friday and Saturday at Thunderbowl Raceway in Tulare, Calif.
"Tulare is my favorite track and it seems like Tulare and I get along well," he said. "I'm able to have speed in every car I've had there. I have a lot of confidence going in. I feel like we should be able to make both events. The main thing we want to do is make the main event and finish the main event. Depending on how the nights start, I'd like to see a top-10 finish or maybe even two top 10s."
Fans can watch Scelzi and all of the World of Outlaws action at Thunderbowl Raceway via live Pay-Per-View on Friday and Saturday. For more information, visit http://www.DIRTVision.com.
QUICK RESULTS –
March 5 – The Dirt Track at Las Vegas in Las Vegas – Qualifying: 29; Heat race: 7 (8); B Main: 8 (9).
March 6 – The Dirt Track at Las Vegas in Las Vegas – Qualifying: 31; Heat race: 7 (8); B Main: 9 (11).
SEASON STATS –
4 races, 0 wins, 0 top fives, 0 top 10s, 1 top 15, 1 top 20
UP NEXT –
Friday and Saturday at Thunderbowl Raceway in Tulare, Calif., with the World of Outlaws STP Sprint Car Series
MEDIA LINKS –
Website: http://www.GaryScelziMotorsports.com
Twitter: https://twitter.com/DominicScelzi41
Facebook: https://www.facebook.com/pages/Gary-Scelzi-Motorsports/225890834113599