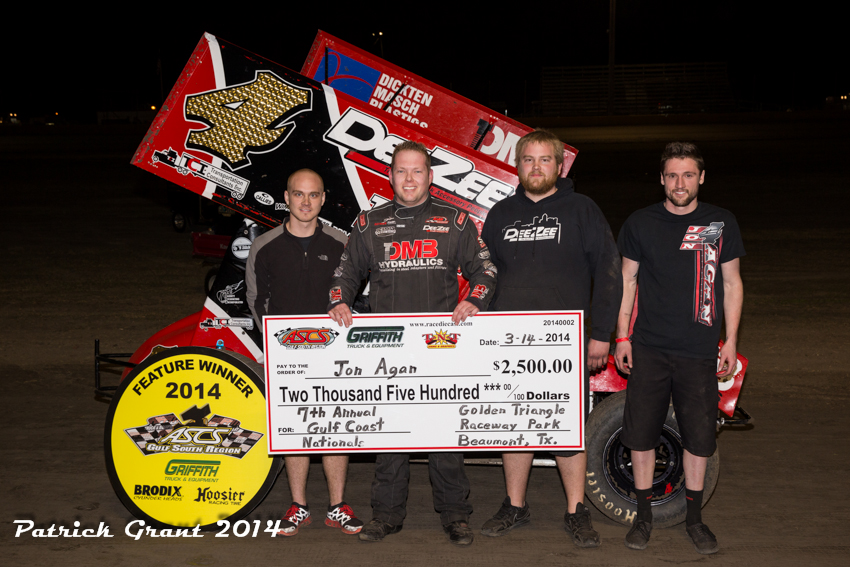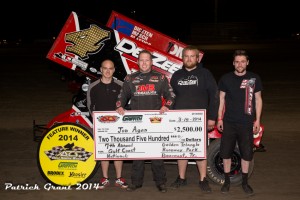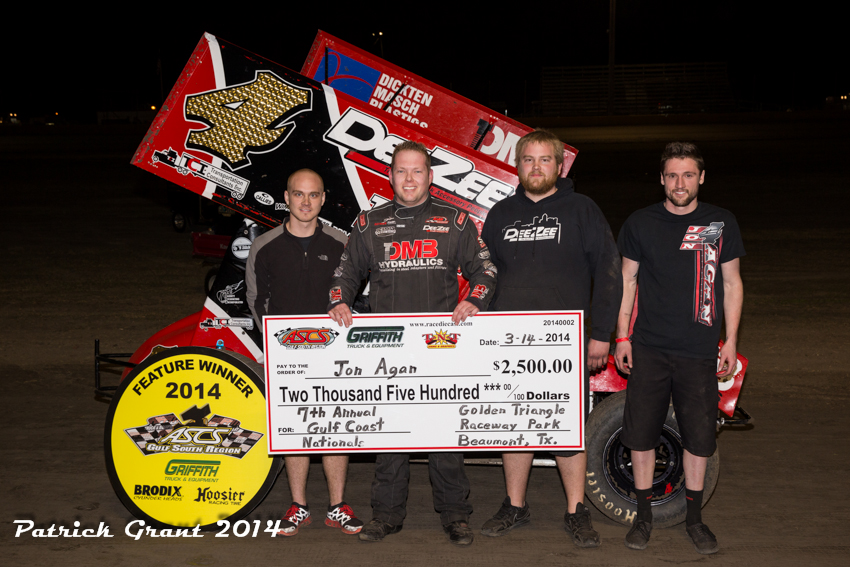 From Bryan Hulbert
Beaumont, TX — (March 14, 2014) — A long trip from Knoxville, Iowa paid off for Jon Agan who topped the Griffith Truck and Equipment Gulf South Region's 2014 season opener at the one-third mile Golden Triangle Raceway Park.
Collecting $2,500, Agan started front row with Ohio's Greg Wilson. Jumping to the point, Wilson led the first four circuits before surrendering the lead to Agan on Lap 5, falling to third ultimately as Seth Bergman raced by to claim second.
Sam Hafertepe, Jr. crossed fourth with Christopher Bell climbing from thirteenth to complete the top five. Josh Baughman cross sixth with Channin Tankersley seventh. Kevin Ramey clawed from eighteenth to eighth with Tony Bruce, Jr. in tow from seventeenth. Zane Lawrence rounded out the top ten.
Special thanks is due to track owner, Glen Johnson, who had to bring in temporary lighting to make the show possible after a recent storm created a short in the track's lighting system that didn't appear until the Friday program had begun.
The Griffith Truck and Equipment Gulf South Region is scheduled to compete on Saturday, March 15 at the Royal Purple Raceway in Baytown, Texas. For more information log onto http://www.royalpurpleraceway.com or http://www.ascsracing.com
Griffith Truck and Equipment Gulf South Region
Golden Triangle Raceway Park – Beaumont, Texas
Friday, March 14, 2014
Car Count: 35
Heat 1 (8 Laps): 1. W20-Greg Wilson; 2. 76-Zane Lawrence; 3. 17-Blake Hahn; 4. 93-Chris Sweeney; 5. 12W-Dale Wester; 6. 25M-James McNeil; 7. (DNF) 17T-Bruce Griffith Jr
Heat 2: 1. 17J-Josh Baughman; 2. 4-Jon Agan; 3. 6-J.J. Simmons; 4. 0-Tyler Courtney; 5. 1A-Kevin Ramey; 6. 13-Todd Fayard; 7. 2Y-Harry Yerrington
Heat 3 (8 Laps): 1. 19-Klint Angelette; 2. 23-Seth Bergman; 3. 31-Christopher Bell; 4. 36-John Pate; 5. 5X-Tyson Hall; 6. 10-Blake Jenkins; 7. 18-Tony Bruce Jr
Heat 4 (8 Laps): 1. 28-Channin Tankersley; 2. 24-Brandie Jass; 3. 21T-Ray Allen Kulhanek; 4. 58-Gary Floyd; 5. 11-Ty Johnson; 6. 31W-Wyatt Rector; 7. 48-Jake Martens
Heat 5 (8 Laps): 1. 15H-Sam Hafertepe Jr; 2. 2-Wes Miller; 3. 12-Scott Smith; 4. 29-Mike Walling; 5. 44-Chris Martin; 6. 28H-Mark Harris; 7. 3-Gary Watson
B Feature 1 (12 Laps, taking top 3): 1. 6-J.J. Simmons; 2. 18-Tony Bruce Jr; 3. 29-Mike Walling; 4. 48-Jake Martens; 5. 25M-James McNeil; 6. 44-Chris Martin; 7. 10-Blake Jenkins; 8. 17T-Bruce Griffith Jr; 9. 11-Ty Johnson; 10. 0-Tyler Courtney; 11. 5X-Tyson Hall
B Feature 2 (12 Laps, taking top 3): 1. 93-Chris Sweeney; 2. 1A-Kevin Ramey; 3. 36-John Pate; 4. 13-Todd Fayard; 5. 28H-Mark Harris; 6. 58-Gary Floyd; 7. 2Y-Harry Yerrington; 8. 12W-Dale Wester; 9. 31W-Wyatt Rector; 10. 3-Gary Watson
A Feature (25 Laps): 1. 4-Jon Agan[1]; 2. 23-Seth Bergman[3]; 3. W20-Greg Wilson[2]; 4. 15H-Sam Hafertepe Jr[5]; 5. 31-Christopher Bell[13]; 6. 17J-Josh Baughman[4]; 7. 28-Channin Tankersley[7]; 8. 1A-Kevin Ramey[18]; 9. 18-Tony Bruce Jr[17]; 10. 76-Zane Lawrence[10]; 11. 93-Chris Sweeney[16]; 12. 2-Wes Miller[12]; 13. 36-John Pate[20]; 14. 17-Blake Hahn[9]; 15. 21T-Ray Allen Kulhanek[8]; 16. 19-Klint Angelette[6]; 17. 29-Mike Walling[19]; 18. 24-Brandie Jass[11]; 19. (DNF) 6-J.J. Simmons[15]; 20. (DNF) 12-Scott Smith[14]
Lap Leader(s): Greg Wilson 1-4, Jon Agan 5-25
Photo Credit: Pat Grant