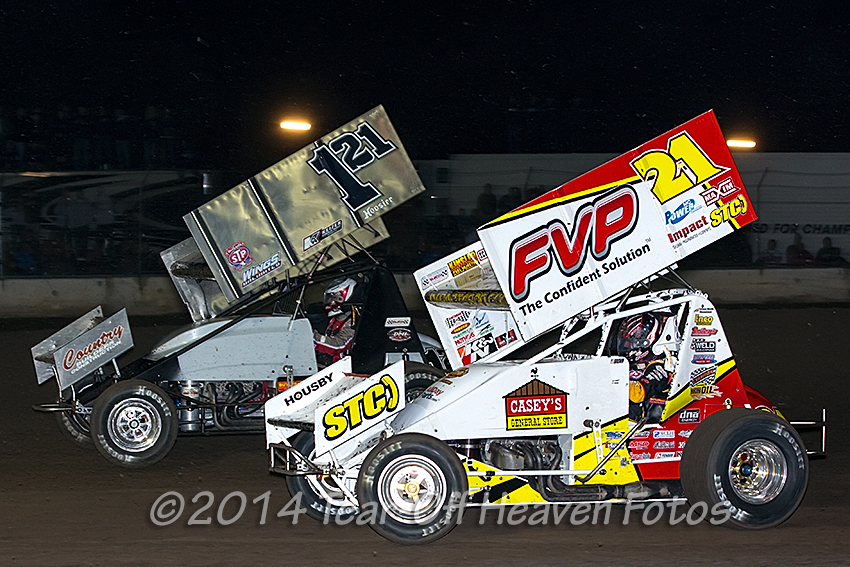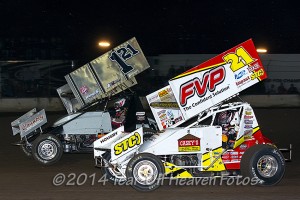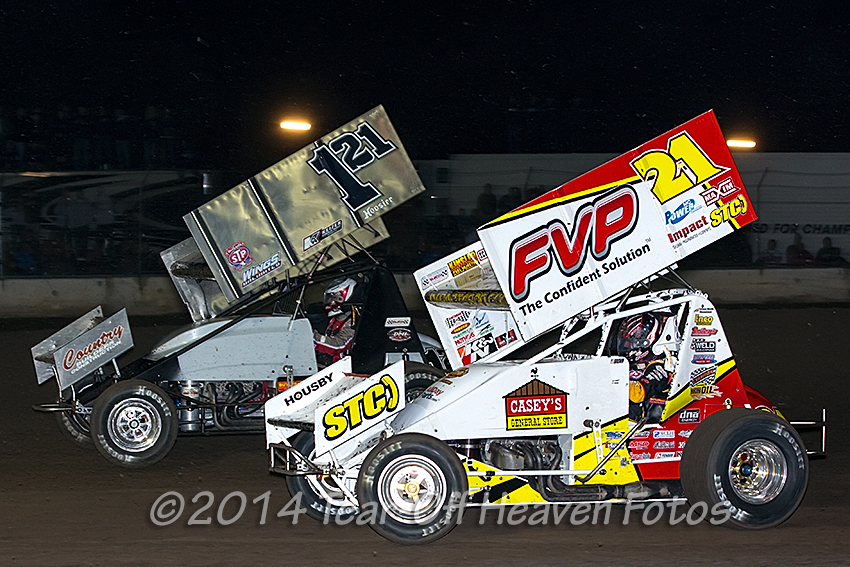 From Bill W
March 24, 2014 – The last two events have resulted in torn-up racecars for Brian Brown.  After the wind ousted him while leading the Dash in Tucson, Arizona, a competitor's wheel sent him down the backstretch in Tulare, California a week and a half ago.  It was all the Brian Brown Racing Casey's General Stores/FVP #21 team could do to get themselves to the track last Saturday night for the World of Outlaws event at the Stockton 99 Dirt Track.
FVP was a presenting sponsor Saturday at Stockton.  How did that come about?
Last year at Stockton, this was one of the biggest Outlaw shows I had ever seen.  (FVP's) Joel (Quetschenbach) and I talked about some of the events that would be good for FVP to be the presenting sponsor, and Stockton was one of them I recommended.  It's a good area for FVP, and the crowd was huge again this year.  It's great to see the fans come out when the Outlaws come to town!
To say your last two outings at Tucson and Tulare were rough would be an understatement after destroying two cars!
It was good to be back after we had had some tough luck the last couple of weeks out.  I've been banged up physically, and it was good to get back in there.
Saturday, you qualified eighth quick. 
It seems we've been qualifying in that fourth to eighth range.  It kind of puts you in a bad spot with the Outlaw format. You need to be either first or second, or ninth through sixteenth (starting in the front row of the heat).  If you don't finish in the top two in your heat, you're going to start sixteenth in the feature, like we did.
How did the heat go?
Unfortunately, the qualifying was really the highlight of the night.  I spun the tires in the heat and went back to fifth.
That got you in the feature and you finished 18th. 
Quite honestly, I was kind of in survival mode.  After the last couple of weeks we had, it was good to just get the car back in the trailer.  We still have some equipment to build up.  It's tough being so far from home…26 hours…and have two wrecks that really destroyed everything on the cars.
I know the crew has to be working overtime.
This will be a week where we can get some more things built back up.  Chad Morgan, Beau Stewart and Zach Thomas have all been doing a great job…especially last week getting a car together so we could even race at Stockton.  It will be another week we can use for me to feel better and get a car together as well.
This week you have Merced Speedway on Friday and Silver Dollar Speedway in Chico on Saturday.
Merced is the smallest track I've ever seen sprint cars on.  I don't think we even did the four-wide there last year.  It's a deal where you have to qualify in the right spot to be up front all night.  Hopefully, the weather will hold off at Chico and we can get two solid finishes turned in.
Follow Brian on the Web, Twitter and Facebook!
Follow Brian at his website located at www.BrianBrownRacing.com!
Also keep up with FVP, Casey's and Brian on Facebook and Twitter at the following links…
Twitter Links – @BrianBrown21, @FVPRacing, @CaseysGenStores
Facebook Links
Brian Brown Racing – www.facebook.com/pages/Brian-Brown-Racing/200630163294222
Casey's General Stores – www.facebook.com/pages/Caseys-General-Stores/112073528804354
FVP Racing –  http://www.facebook.com/FVPRacing?ref=ts&fref=ts
Other Web site info
Casey's: www.caseys.com
FVP: www.fvpparts.com