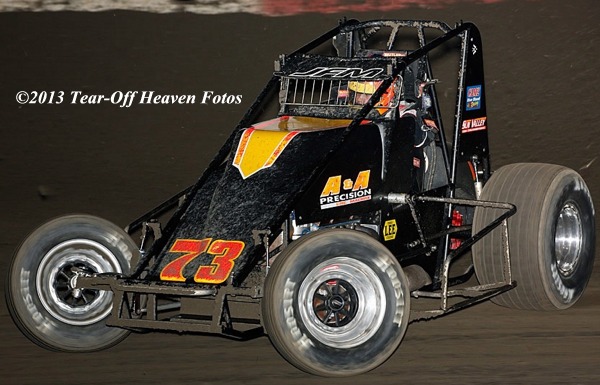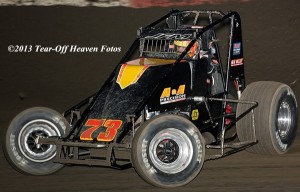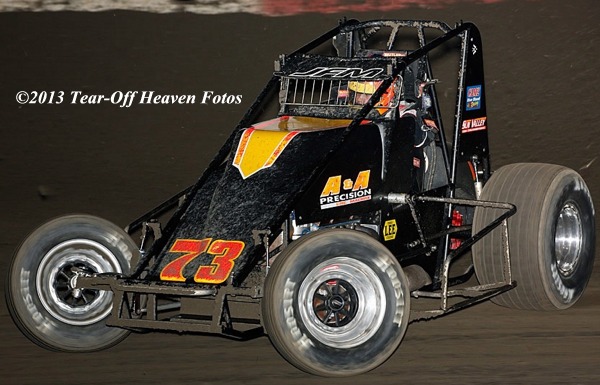 From Lance Jennings
Santa Maria, CA — (March 26, 2014) — The fourth season for the USAC Western Classic Racing Series (WCRS) will kick-off April 5th and 6th with a doubleheader at the scenic Calistoga Speedway. The action packed showcase at the Napa County Fairgrounds will also feature the famed World of Outlaw Sprint Cars as the Pit Gates will open at 1:00pm, Spectator Gates will open at 4:00pm, Qualifying at 6:00pm, with Racing set for 7:00pm.
2014 will begin a new chapter for USAC's Northern California traditional sprint car division. The WCRS has adopted the same successful rules package currently in use by the USAC West Coast Sprint Cars. Legal cars must use iron block, 360 cubic-inch engines as restricted 410s are no longer allowed. ASCS engines must have 2 3/16″ maximum inside diameter injector stacks and open cylinder head engines must use 1 7/8″ restrictors. Restrictors will not be loaned out by the series and can be purchased by calling System One at 559.687.1955. The "official" right rear tire is the Hoosier 105/16 Medium and the older Hoosier HTW/HT2s can only be used at the first two shows (4/5 Calistoga and 4/6 Calistoga). Hoosier tires must be used on all four corners and carbureted spec sprints can still use their track legal Hoosiers. The weight rule is 1,475 pounds with driver and mufflers must meet local track sound/muffler rules, typically 95 decibels and 100 feet. The complete 2014 USAC Western Classic Sprint Car Rule Book is online at
www.westcoastsprintcars.com/2014classic.pdf
.
Since September 2011, the former home track of the Northern Auto Racing Club (NARC) has hosted six Western Classic and USAC/CRA co-sanctioned events. Robert Ballou, Mike Spencer, Ryan Bernal, Kyle Hirst, Bud Kaeding, and Kyle Larson have celebrated their "Louie Vermeil Classic" victories during Labor Day weekend at Calistoga.
On the strength of two feature wins and six top-10 finishes, Hollister's Ryan Bernal earned first USAC Sprint Car Championship. Primarily racing Keith Ford's #73 Berry Pack Spike, Bernal clinched the title on September 5th at Chico in Ronnie Gardner's #93 Baldozier Racing Sled. The two-time Santa Maria Sprint Car Champion also recorded one heat race victory, one dash win, two semi-main wins, one hard charger award, and 67 feature laps led on the season. At press time, it is unknown if Ryan will be in action at Calistoga Speedway.
Shauna Hogg of Fair Oaks ranked second in the championship point standings. Driving the family owned #5 Borello Racing Engines / Jerry Crowell Racing Shocks Eagle, Hogg had a tough campaign but earned two heat race victories and one top-10 finish in 2013. As last season came to a close, the veteran driver was considering retirement.
Stockton's D.J. Johnson finished third in the point chase and earned Rookie of the Year honors. Piloting the family owned #33 Unique Breeds / Proplant Farm Services Eagle, Johnson did not win a feature but set a new 1-lap track record at Placerville on May 4th. In addition, the young driver had one heat race victory, one hard charger award, five top-10 finishes and 7 feature laps led on the year. D.J. gained valuable experience last season and will be a threat to win on any night.
Tony Hunt of Lincoln claimed fourth in the final point standings. Racing Mike Phulps' #56 Metal Works / Red Line Oil Maxim, Hunt did not win a main event but scored one hard charger award and four top-10 finishes on the season. At press time, it is unknown if the multi-time USAC Champion will be in action at Calistoga Speedway.
Sebastopol's "The Human Highlight Reel" Geoff Ensign ran fifth in the chase for the championship. Driving Annette VanLare's #5V VanLare Steering Repair / McClish Motorsports A.R.T., Ensign won at the Stockton Dirt Track on June 21st. The 2011 Western Classic Champion also had one fast time award, five top-10 finishes and 3 feature laps led in 2013. "The Human Highlight Reel" will be looking to put on a show at Calistoga's large 1/2–mile clay oval.
Riverdale's "Shifter" Landon Hurst, Bud Kaeding of Campbell, Winton's Gordon Rodgers, Marty Hawkins of Santa Rosa, and Tracy's Austin Liggett rounded out the top-10 in the standings. Among the other drivers expected to be in action are "Wild" Billy Aton, Bradley Terrell, Tim Barber, Matt Streeter, Scott Hall, Terry Schank Jr., James Sweeney, Sparky Howard, Klint Simpson, Tom Baker, Jim Richardson, "The Show" Tim Sherman Jr., and more.
Calistoga Speedway is located on the Napa Valley Fairgrounds at 1435 North Oak Street in Calistoga. Reserved Premium tickets (with fan pit pass) are $45, General Admission Adult tickets are $40, and Children (12 and under) are $10. Two day seats are also available and tickets can be purchased online at
www.worldofoutlaws.com/tickets
or calling
(877) 395-8606
. For more race event information, visit
www.calistogaspeedway.org
, or call
(916) 773-7225
.
The USAC Western Classic Racing Series thanks Amsoil, Hoosier Tire, Chris Kearns Presents, Competition Suspension Inc., Deist Safety, Engler Machine & Tool, Extreme Mufflers, Keizer Wheels, Pyrotect Racing Cells, Racing Optics, Rod End Supply, Rugged Radios, Saldana Racing Products, VanLare Steering Repair, and Woodland Auto Display for their support. If you or your company would like to become part of the series, email PR Director Lance Jennings at
lwjennings@earthlink.net
.
———————————————–
2014 USAC WESTERN CLASSIC SPRINT CAR SERIES SCHEDULE
DATE – TRACK – LOCATION
April 5: Calistoga Speedway – Calistoga, CA
April 6: Calistoga Speedway – Calistoga, CA
April 25: *Kings Speedway – Hanford, CA (Verne Brasel Classic)
April 26: *Thunderbowl Raceway – Tulare, CA
May 16: *Ocean Speedway – Watsonville, CA
May 17: *Thunderbowl Raceway – Tulare, CA (Chris & Brian Faria Memorial)
August 2: *Kings Speedway – Hanford, CA (Billet Cup / $2,500-to-Win)
August 8: *Ocean Speedway – Watsonville, CA
August 9: *Chowchilla Speedway – Chowchilla, CA
September 20: Marysville Raceway Park – Marysville, CA
October 4: Petaluma Speedway – Petaluma, CA
———————————————–
* = Co-Sanctioned Event with USAC West Coast Sprints.
This schedule is subject to change.