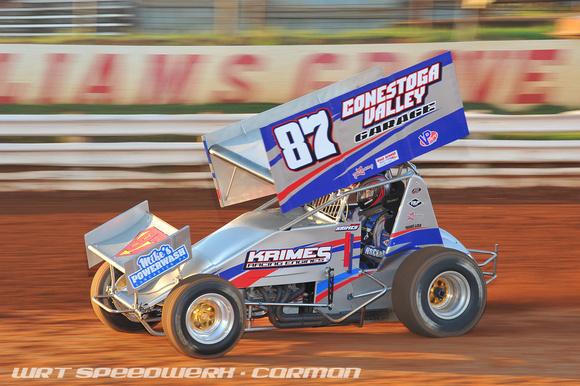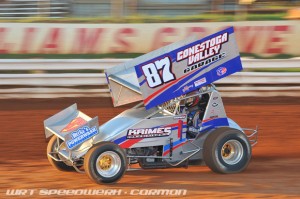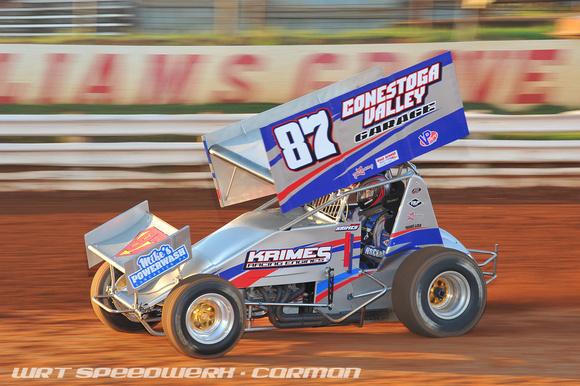 From Tyler Altermyer
Denver, PA — (March 26th, 2014) — The 75th anniversary season for Williams Grove Speedway in Mechanicsburg, Pennsylvania is set for launch this Friday evening, March 28th at 7:30PM, sharp. The world-famous paperclip shaped, half-mile dirt oval will officially kick-off it's 2014 schedule this Friday; complete with a full card of '410' and '358' sprint car competition. The most notorious names in Pennsylvania sprint car racing are ready for action; including Denver, Pennsylvania's very own, Alan Krimes. Krimes is a former Mitch Smith Memorial winner at the Williams Grove Speedway and hopes to make another victory lane appearance this Friday during the 75th Anniversary 'Opener.' The 'Pennsylvania Posse' will headline the program with a $3,600-to-win main event for the '410' sprinters.
Alan Krimes, who pilots the Midnite Antiques, Conestoga Valley Garage, Wayne Corini, Krimes Racing Engines, VRP Shocks, no. '87' '410' sprint car, will enter the Williams Grove Speedway gates in Mechanicsburg, Pennsylvania on March 28th tied for seventh (7th) in the current SPEEDWAY MOTORS/CHAMPION RACING OIL PA SPRINT CAR SERIES
Presented by Hoseheads.com point standings; on the strength of one podium finish at the Lincoln Speedway on March 15th. Alan Krimes was a five-time winner in Central Pennsylvania during his 2013 campaign.
The upcoming weekend will also include a Saturday night visit to the 'Fabulous' Lincoln Speedway in Abbottstown, Pennsylvania for 'Super' Alan Krimes. The Pigeon Hills 3/8's mile dirt oval will be hosting the '410' sprint cars; along with the Super Sportsman and Legends for a full Saturday night program on March 29th. Alan Krimes will head to Abbottstown currently fifth (5th) in the Lincoln Speedway '410' sprint car championship standings; with one top-five and one top-ten finish to his credit in 2014. The Saturday evening, March 29th program will utilize a 6:00PM starting time. Please visit Lincoln Speedway online at www.lincolnspeedway.com for more information.
To find out more information regarding the 75th anniversary season opener for Williams Grove Speedway, including gate times and ticket prices, please visit 'The Grove' live on the web at www.williamsgrove.com.
The Midnite Antiques/Conestoga Valley Garage/Wayne Corini/Krimes Racing Engines/VRP Shocks '87' team will be a part of all of the action each and every weekend in the heart of 'Pennsylvania Posse' territory. Fans can keep up with Alan Krimes during his entire 2014 season – right here at 'FullyInjected.com Presented by Westview Motors.' Or be sure to check out Alan Krimes' official online home at:www.ak87racing.com
Recent Highlights: Finished Second (A-Main) During $3,500-To-Win 'Icebreaker 30' at Lincoln Speedway (PA)