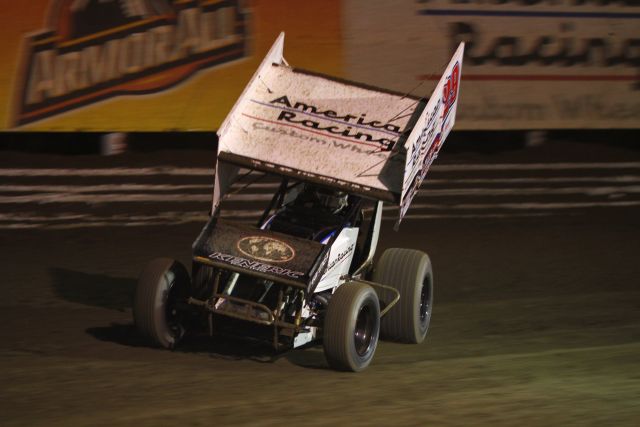 PETERSEN MEDIA
 Looking to pick up his second consecutive feature event win on Friday night, contact with lapped traffic ahead of him, collected Kerry Madsen, and knocked him out of contention at the Merced Speedway.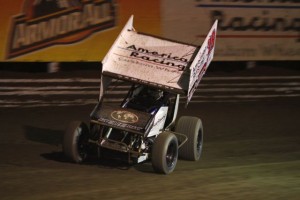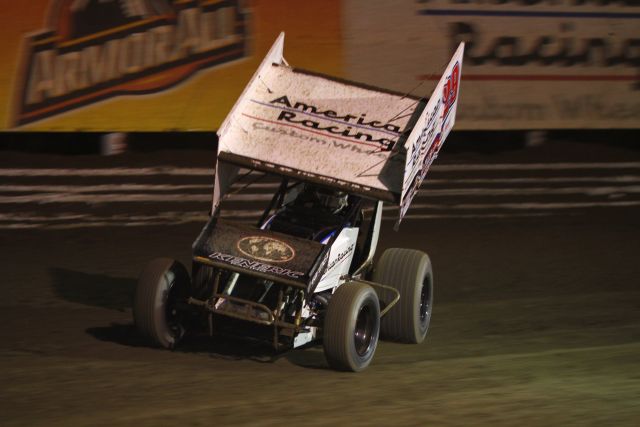 Timing in ninth fastest in time trials aboard his Keneric Racing/American Racing No. 29 machine, Madsen found himself on the ever-important front row of his heat race, with only heat winners transferring to the Dash.
Winning the drag race into turn one in his Dash, Madsen would in fact cruise on the pick up the win, and earn a spot in the Dash, where he would start on the front row.
Starting the 40-lap feature event on the front row, by way of his second place finish in the Dash, Madsen chased after early race leader, Kyle Hirst, challenging for the lead on the seventh lap, before the caution flew.
Back underway, Madsen raced his way into the lead on the 14th lap, and began to pull away from the field until disaster struck on the 18th lap.
A group of cars ahead of him got together, and with nowhere to go, Madsen made contact and got up on his side, forfeiting the lead, and causing damage to his machine.
Though he would make it back out, Madsen would limp around and end his night with a 20th place finish.
"We had another insanely fast racecar, and I think we were the car to beat," Madsen said. "I hate it for my guys, and everyone involved, but we had nowhere to go, and ended up crashed."
If fans would like to receive weekly releases directly to their inbox, please send an email to sales@petersenmediainc.com with Kerry Madsen in the subject field.
2014 BY THE NUMBERS: Starts-17, Wins-4, Top-5's- 8, Top 10's-11
ON TAP: Madsen and his Keneric Racing/American Racing team will be in action on Saturday and Sunday night at the Calistoga Speedway in Calistoga, CA.
STAY CONNECTED: Keep updated with Kerry Madsen, Keneric Racing, and American Racing in a variety of interactive ways-
American Racing
Facebook- www.facebook.com/amercanracingwheels
Instagram- @AmericanRacing
Twitter- @AmericanRacing
Keneric Racing
Facebook- www.facebook.com/KenericRacing
Twitter- @KenericRacing
Kerry Madsen
Facebook- http://www.facebook.com/pages/Official-Fan-Page-for-Kerry-Madsen/101145169933686
Twitter- @KMR29
AMERICAN RACING: American Racing is an iconic brand and a wheel industry leader in craftsmanship, engineering, innovation and performance. Founded in 1956 as a manufacturer of bespoke magnesium and aluminum racing wheels, its roots date back to the golden era of hot rodding. American Racing is a Wheel Pros brand. Wheel Pros products are sold worldwide in more than 20 countries on four continents and through a U.S. network of more than 25,000 authorized dealers. It is one of the world's largest suppliers of branded custom wheels, performance tires and related accessories for cars, SUVs and light trucks.