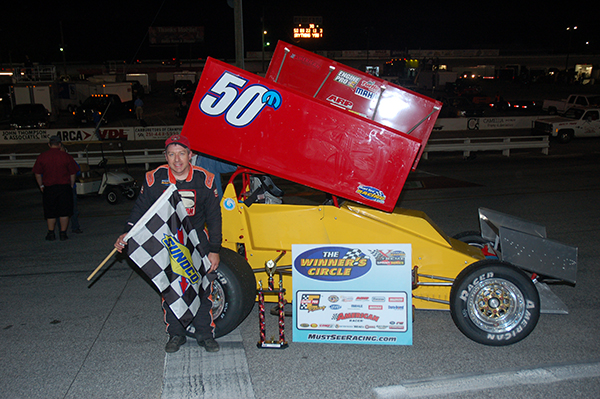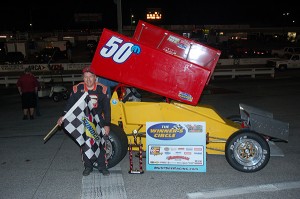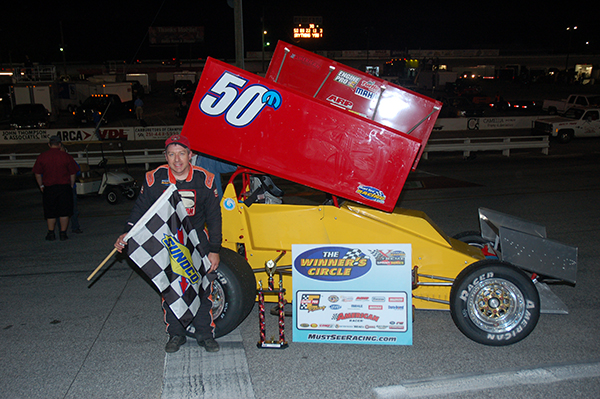 From David Sink
Irvington, AL – (April 12, 2014) – Brian Gerster made a clean sweep of the final event of the 3rd annual Southern Shootout Saturday night at Mobile International Speedway. The event was the second event on the 2014 Must See Racing Xtreme Sprint Series calendar. Gerster lowered the Mobile International Speedway track record in the process when he turned a lap of 13.918 seconds around the 1/2 mile speedway.
The feature event was a thriller to say the least with no less than four different leaders during the coarse of the 30-lap feature. Dave Baumgartner got the jump and lead the opening two laps before being overtaken by Jimmy McCune. McCune took the point and lead through lap thirteen. Jo Jo Helberg and McCune put on a furious battle for several laps. McCune refused to give the lead up. Helberg eventually wrestled the lead for good and appeared in control until blowing a right rear tire on lap twenty-two and ending his bid for the victory. Gerster, who had worked his way up front from the tenth starting position assumed the lead and never looked back. The event became a war of attrition, but the huge crowd that was on hand witnessed several battles for position throughout the feature event.
"It was a good night to start the season off" explained Gerster in victory lane."I started pretty far in the back on a really good race track. RAM Engineering guys did a great job and I'm glad I got to drive the car. Our tires looked good.We got through the night and ran all thirty laps coming from tenth.We didn't have an issue with the tires and they held up great" concluded Gerster.
Fifteen-year-old Garrett Green mad Must See Racing history for the second consecutive night. Green finished an impressive fifth. Green became the youngest driver to start a Must See event in addition to becoming the youngest driver to have finished in fifth position.
Heat races were won by Gerster, Todd Fayard, and Helberg. For more info on Must See Racing please visit the website at www.mustseeracing.com
A MAIN RESULTS
POS LN # DRIVER LAPS
1 10 50M Brian Gerster 30
2 2 88 Jimmy McCune 30
3 3 22D Troy DeCaire 30
4 6 13 Todd Fayard 30
5 7 3 Garrett Green 30
6 12 18 Jim Sheets 26
7 4 7H Jo Jo Helberg 22
8 5 07W Jacob Wilson 18
9 9 26 Aaron Pierce 16
10 8 07L Ryan Litt 16
11 15 22 Johnny Gilbertson 11
12 13 41 Ty Decaire 6
13 1 38 Dave Baumgartner 4
14 11 81 Sport Allen 1
15 14 15 Richie Orr 0