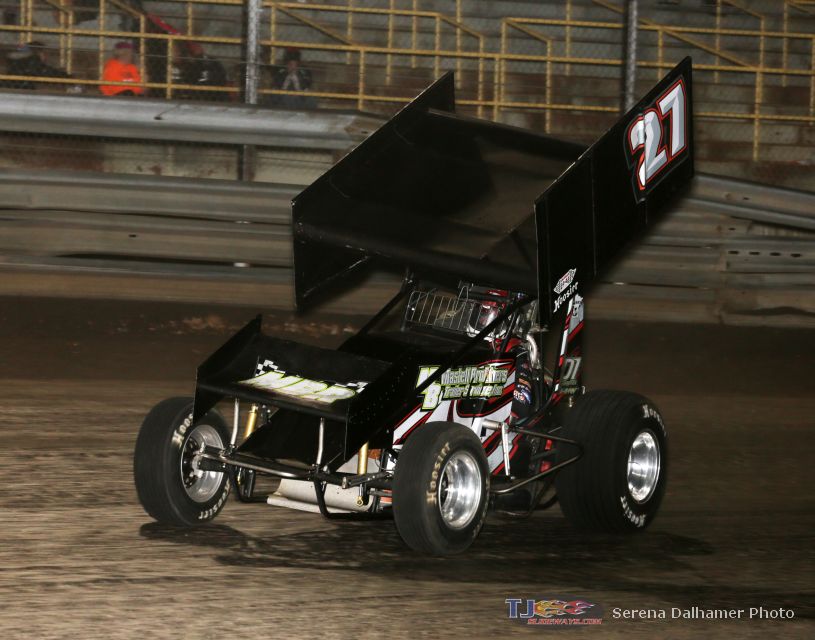 By Bill W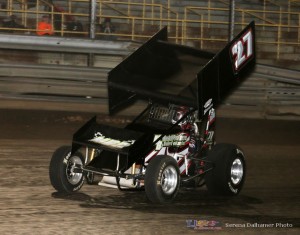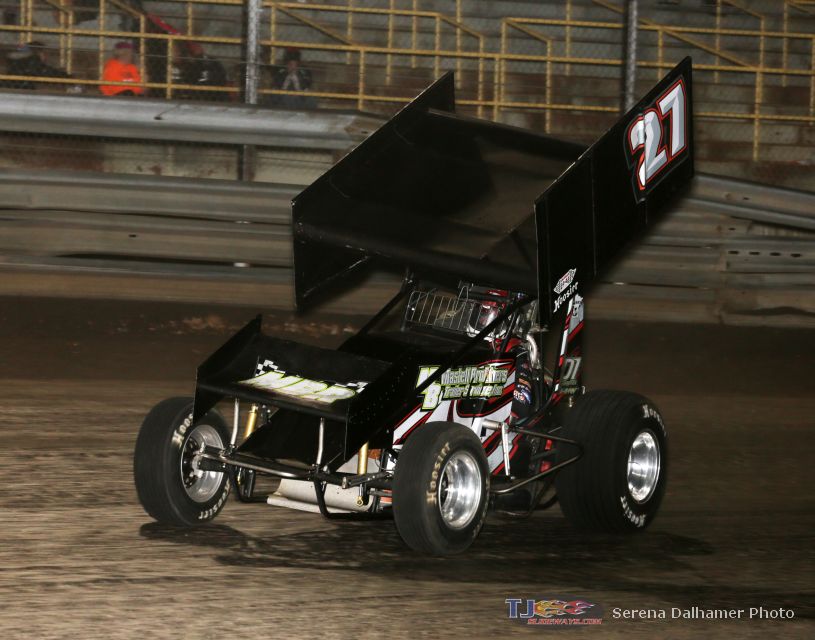 April 21, 2014 – For Carson McCarl, it isn't the way he envisioned it or wanted it to happen, but his first 360 win came at the Southern Iowa Speedway with the Sprint Invaders last Wednesday night.  After leading the feature much of the way, but crossing second, apparent winner Jonathan Cornell was DQed afterwards, handing Carson the win in Oskaloosa.  The Altoona, Iowa driver followed that up with a feature run at the Knoxville Raceway Saturday night, where he plans on towing again this weekend.
Things started well in Oskaloosa with the Sprint Invaders.  "We started on the pole of the heat," says Carson.  "We were able to get the win there.  In the Dash, we got a bit of a bad start, and ended up fourth.  The way the redraw worked though, it worked out well.  We started on the pole of the feature."
Carson shot out to an early lead in the feature on the big half-mile.  "I was really having trouble with a hole in turn one," he says.  "I really couldn't figure it out.  I was trying to go below it.  Then I tried to go above it.  (Jonathan) Cornell was catching me at that point."
In lapped traffic, Carson ducked under the hole and a lapper.  "I was trying to go under a lapped car in that spot and he went around me," he says of Cornell.  "He kind of left me behind there.  I was able to move around a little bit searching for stuff.  I found a little bit of rubber in one and two.  He was still banging the cushion, so we caught up to him right away and passed him."
Back in the lead, he encountered lappers again.  "I came up behind lapped traffic again," says Carson.  "I figured if I just got in line behind them, he wouldn't be able to get around me again.  Unfortunately, he made the middle stick and got back by.  Then, (Jon) Agan and I went at it for awhile.  It was a really fun race."
As the top three went through tech, Cornell was DQed for a wing infraction, and Carson claimed the victory.  "He got disqualified," says Carson.  "It sucks to win like that.  It just doesn't feel the same.  We weren't the first to cross the finish line, but I'll guess we'll take it.  We have a really fast car right now, and we'll get another win soon."
It was the first time Carson had qualified for a race since last year at Knoxville, and he timed in 16th quick on Saturday.  "The motor we have right now has a lot of shows on it," he says.  "It was really heavy there for qualifying.  Knoxville is tough this year.  It seems a lot of guys have a lot of smoke underneath the hood.  That put us behind the 8-ball for the rest of the night."
Starting on the pole of his heat, he would grab the early lead, but checker fourth.  "I got out to the lead there, but I made a mistake in turn three and got a little sideways," says Carson.  "A couple of guys got by me.  Later in the race, Justin Henderson got by me too."
He would finish 15th in the main event.  "I really struggled in the feature," says Carson.  "We had the car really tight, and I was loose coming off (the corners).  I just never got comfortable.  Next week, we'll have a different motor, and I think we'll be a lot better."
Carson would like to thank Mastell Brothers Trailer Service, Inc., Deanfield Farms (Gary and Sally Dean), Berryhill Racing, Vortex, Rossie Feed & Grain, Hoosier, DeBerg Concrete, HRP, Engler Machine, Phil and Vivian, Rider Racing Engines, Justice Brothers-Gillund Enterprises, Country Builders Construction, CM Rock, Bayaire Industries, Hinchman Racewear, Schoenfeld Headers, BMRS, Crow Safety, Butlerbuilt, KSE, Aurora Rod Ends, Chris Spaulding – Attorney at Law, Bell and Jocko's for all their help!
Visit Carson on the Web!
Keep up to date on Carson's racing at www.CarsonMcCarl.com!
Twitter: @CarsonMcCarl
Carson's Releases!
Stay up close and personal with Carson McCarl's racing. To receive Carson's Releases, send an e-mail to sprntcar@hotmail.com with "Carson" in the subject line.