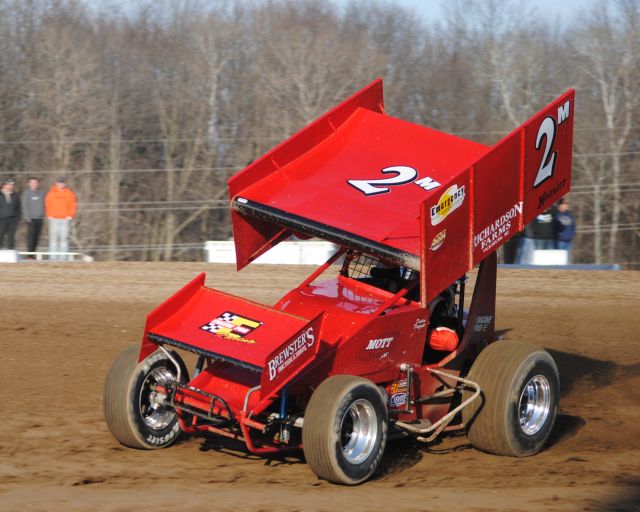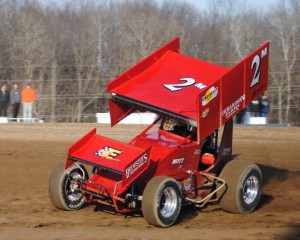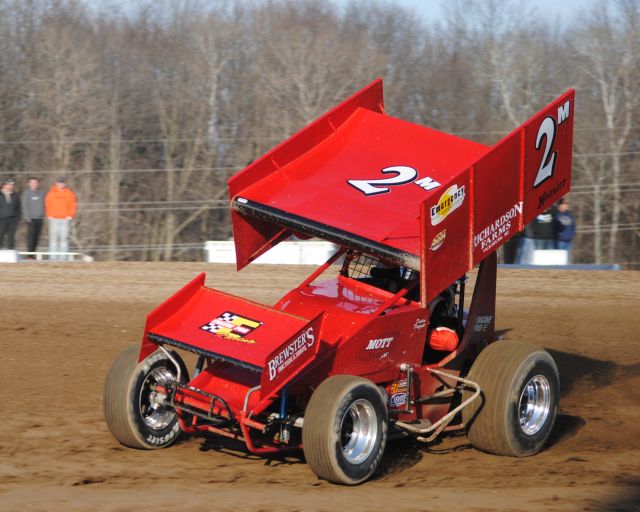 By T.J. Buffenbarger
Crystal, MI – (April 26, 2014) – Dustin Daggett survived multiple caution and red flags along with a torrid battle for the lead to win the season opening event for the Engine Pro Sprints on Dirt presented by ARP Saturday at Crystal Motor Speedway.  Daggett avoided an opening lap skirmish, chasing Ryan Ruhl down through traffic to take the lead.
Chase Ridenour and Shawn Dancer started on the front row for the 25-lap main event.  During the initial attempt to start the race Ridenour spun in front of the field and collected Kyle Sauder, Brad Lamberson, John Gall, and Andy Chehowski with Sauder getting upside down.  Sauder, Gall, and Chehowski were abl to make the call for the restart.  Under red flag conditions Brett Mann was disqualified from competition when his crew worked on the car while it was positioned on the racing surface.
This moved Ruhl up to the pole with Dancer alongside.  At the start it was Doug Zimmerman racing into the lead, but could not hold his momentum going into turn three and slid off the race track to bring out another caution flag.  Zimmerman restarted at the tail of the field.  Another attempt at a complete restart saw Andy Chehowski flip end over end down the backstretch to bring out another red flag.   Chehowski emerged from his car uninjured.
The fourth attempt to start the feature brought a single file restart and Ruhl take the lead with Dancer and Daggett in pursuit.   Daggett took second position away from Dancer on lap four and worked on chasing down Ruhl for the lead.  Ruhl however was working lapped traffic to perfection and was able to maintain his advantage over Daggett until getting picked by Gavin Hunyady.  Daggett was able to dive under Ruhl, but could not take the lead.  Ruhl then maneuvered to the bottom coming off turn for to pass Hunyady while Daggett was unable to clear him.  While this allowed Ruhl to open up some breathing room, it was short lived as Ruhl and Daggett raced three wide through slower traffic with Daggett taking the lead.
Ruhl remained in close pursuit until the caution appeared for Dancer sliding off the track in turn four with only three laps to go.    Even with the lapped cars being sent around to the tail of the field Daggett was able to pull away from Ruhl to take the victory.  Ruhl crossed the line in second but his car was too light at the scales during the post-race weigh in, giving second spot to Sauder, who raced up to second after turning over on the opening lap.  Gregg Dalman, Jason Blonde, and Gall rounded out the top five.
Dalman, Zimmerman, Daggett, and Dancer won the four qualifying heat races, Mann won the dash, and Troy Chehowski won the B-Main event.
Engine Pro Sprints on Dirt presented by ARP
Crystal Motor Speedway – Crystal, MI
Saturday April 26, 2014
Hoosier Tire Heat Race #1 (8 Laps):  1.  Gregg Dalman, 2. Brett Mann, 3. John Gall, 4. Jay Steinbach, 5. Troy Chehowski, 6. Gavin Hunyady.  DNS:  Marques Huffer.
Lane Automotive / Comp Cams Heat Race #2 (8 Laps):  1. Doug Zimmerman, 2. Ryan Ruhl, 3. Chase Ridenour, 4. Robert Huisken, 5. Kirk Cheney, 6. Brett Lane, 7. Tank Brakenberry.
Speed Pro Heat Race #3 (8 Laps):  1. Dustin Daggett, 2. Kyle Sauder, 3. Jason Blonde, 4. Kyle Pitts, 5. Jim Lingar, 6. Craig Karazim.  DNS:  Ralph Brakenberry.
ARP Fasteners Heat Race #4 (8 Laps):  1. Shawn Dancer, 2. Brad Lamberson, 3. Joe Geibe, 4. Ryan Kirkendall, 5. Andy Chehowski, 6. Eric Smith, 7. Chris Pobanz.
(Top 16 in passing points overall in the heat races transferred to the A-Main)
Nitro Black Dash (4 Laps):  1. Brett Mann, 2. Jason Blonde, 3. John Gall, 4. Joe Geibe (Finish determined starting spots 9-12 in the A-Main)
Engine Pro B-Main (10 Laps):  1. Troy Chehowski, 2. Andy Chehowski, 3. Kirk Cheney, 4. Gavin Hunyady, 5. Craig Karazim, 6. Brett Lane, 7. Tank Brakenberry, 8. Jim Lingar, 9. Chris Pobanz.  DNS:  Eric Smith, Ralph Brakenberry, Marques Huffer
Engine Pro / ARP A-Main (25 Laps):  1. Dustin Daggett,2. Ryan Ruhl, 3. Kyle Sauder, 4. Gregg Dalman, 5. Jason Blonde, 6. John Gall, 7. Kyle Pitts, 8. Joe Geibe, 9. Doug Zimmerman, 10. Gavin Hunyady, 11. Troy Chehowski, 12. Shawn Dancer, 13.Robert Huisken, 14. Kirk Cheney, 15. Jay Steinbach, 16. Ryan Kirkendall, 17. Andy Chehowski, 18. Brett Mann, 19. Brad Lambertson, 20. Chase Ridenour.