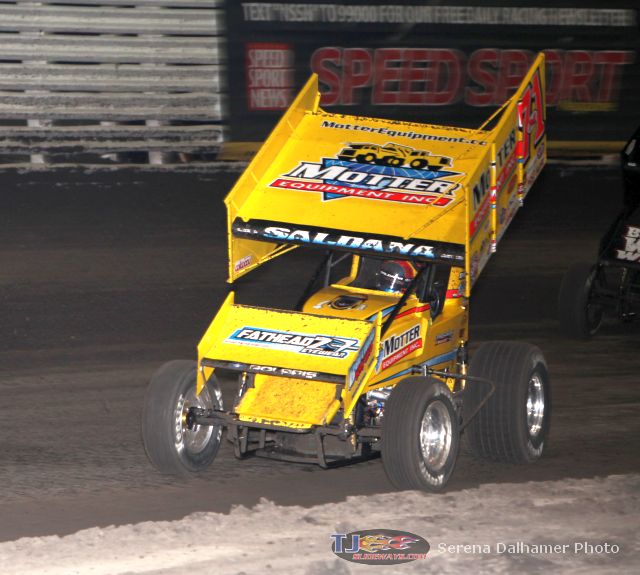 By Susan Arnold
ROSSBURG, Ohio (April 29, 2014) – The Eldora Speedway half-mile is one of the most well-known and revered race tracks on the World of Outlaws circuit. It is most famous for hosting the King's Royal and the Knight before the King's Royal during the summer.
The Outlaws will be in Rossburg May 2-3 getting down and dirty on a track that will test the best.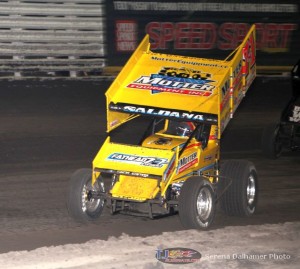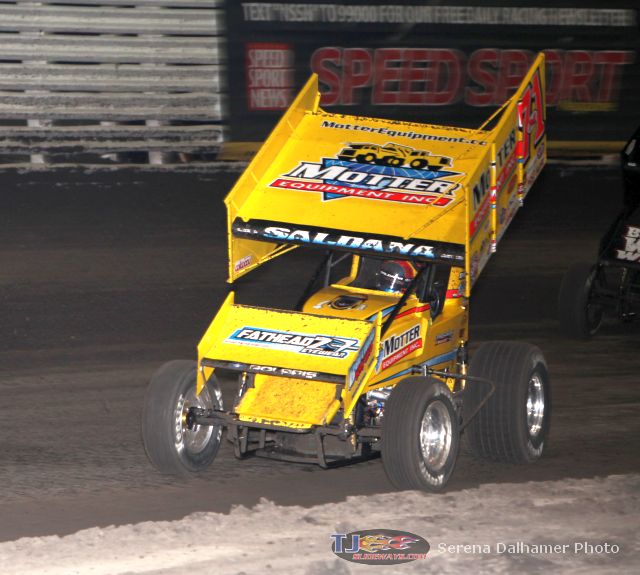 Veteran shoe Joey Saldana has delivered some of his best performances at Eldora – he has more than 150 starts and has earned 22 wins – but he has also suffered some serious physical injuries.
"I think more about the good than the bad," said the driver of the Motter Equipment HE&M Saw Beltline Body Shop 71M.  "I focus on the highlights of Eldora.  I have paid my dues at this track.  I have been on both sides of the fence. I have won here; I've been close and lost.  But when you get hurt, you can't lose sight of the fact that you can still come back and win.  In 2010 I had to be air lifted out of Eldora and after going through so many months recuperating and not being able to race, I realized how much I missed it and how much I really wanted to race.
"I have been fortunate to have found a team owner, Dan Motter, who really believes in me.  Dan has put together a championship caliber team.  We may not have the financial resources that Kasey Kahne or Tony Stewart's teams have, but everything we have is first class.
"We have a team that digs hard and we all get along really well.  It's a tribute to everyone's efforts that we have won two events this season, have accumulated 10 quick times, and we're leading the point standings going into Eldora.
"When you figure this team wasn't even a glimmer in anyone's eyes until December of 2012, it's remarkable that we've achieved everything we have.  The team is working well and it's a fun time for us."
Saldana claims that winning his first King's Royal at this track in 2002 (he wore the crown again in 2006) made him feel relevant as a sprint car driver and someone who belonged in World of Outlaws racing.  Actually the 2002 season was a good one for Saldana and ironically he is paired with the same crew chief under the Motter Motorsports banner as he had that season. Davey Whitworth made the tuning calls then that earned them 32 quick times, a career high for Saldana.  With 10 quick times in the history books now and not a quarter of the season complete, Saldana and Whitworth are on pace to surpass that record.
"We are lucky to have Davey's knowledge to draw from and Sean Strausbaugh and Tommy Waseleski are providing tremendous support.
"All the drivers in this series have great talent and good equipment.  It's hard to win an Outlaws race, so when you do, you know you've earned the victory.  There are no gifts.
"I love racing Eldora," concluded Saldana. "This weekend will give us an opportunity to collect some data for the King's Royal weekend coming up this summer. I am a huge fan of the track."
The Motter Equipment HE&M Saw Beltline Body Shop team earned victories at Perris, Calif. and Salina, Okla.
Only 19 points separate the top four in point standings.